One of the many reasons that this stunning island is so unforgettable is its diversity; the experience you'll enjoy in the north is completely different to that in the west. From the food to the architecture, each part of Sicily is hyper-local and proudly retains its own personality.
And so, even if you have visited Sicily before, we guarantee that the storied town of Trapani will offer a new perspective. Trapani's western location means it's actually closer to Tunisia than the Italian mainland, a fact which has infused the culture with Northern African and Moorish influences, present in the ingredients cooked and the artisans you'll see still honouring time-honoured traditions today.
As its position hugs the coastline, Trapani has long been a buzzing port for seafood, making this cuisine a central part of the town's DNA. Historically, it has always been recognised as a famous hub for tuna and coral fishing, as well as salt and wine production, making it a dream-like place to host our cooking holidays.
Throughout the week, our Flavours guests will wander the port and see fisherman presenting their daily catch, as well as explore the food markets to select the freshest produce to cook with back at the villa.
While soaking up the town's sun-blasted streets, ornate palazzos and fascinating mix of churches and temples (a reflection of the many invasions the town has withstood over time), we will also take a trip to Marsala, known for its surrounding vineyard and production of Marsala wine since the 1700s.
With its ornate blend of cultures, Trapani is a world of its own and we invite you to experience it with us through tastings, cookery lessons and excursions to the nearby sites.
Your Accommodation
Villa Ager is a stunning villa with a private swimming pool situated on the edge of Buseto Palizzolo, a small, hilltop village just 20 kilometres away from Trapani. This exclusive villa is located in a sunny, quiet but not secluded place and has amazing country views. Its wide terraces and the wonderful swimming pool are the ideal spots to enjoy this lovely landscape.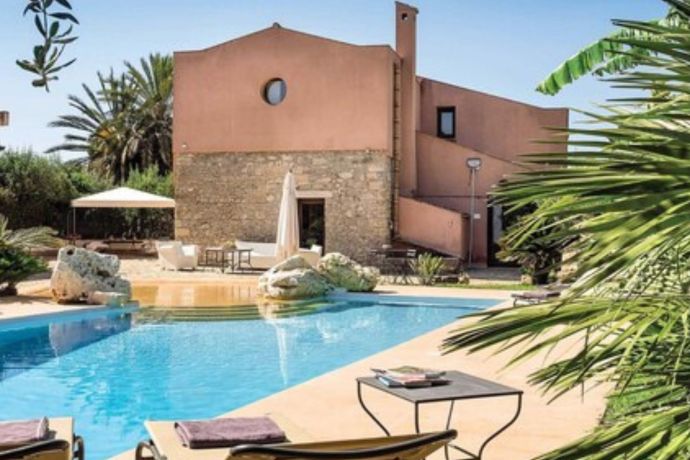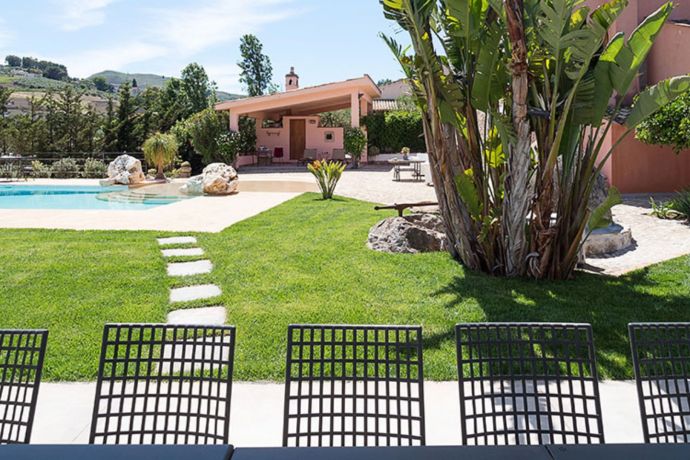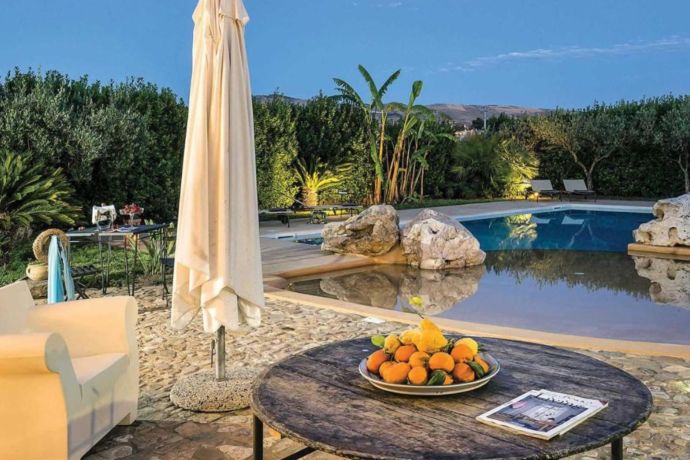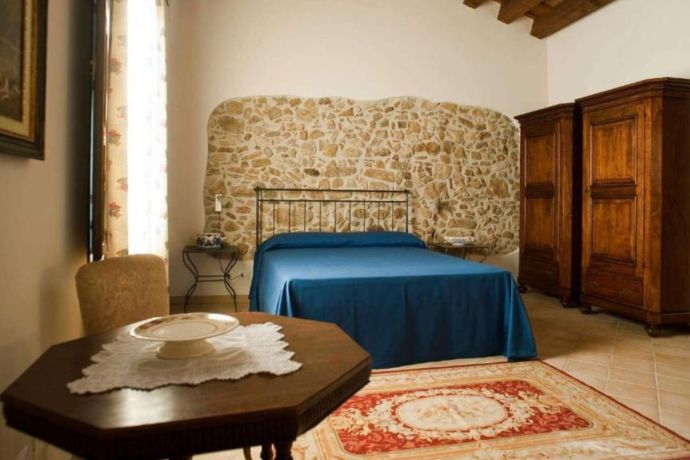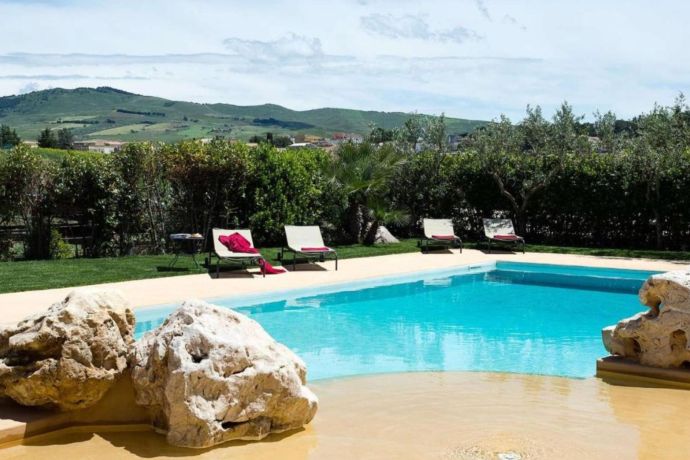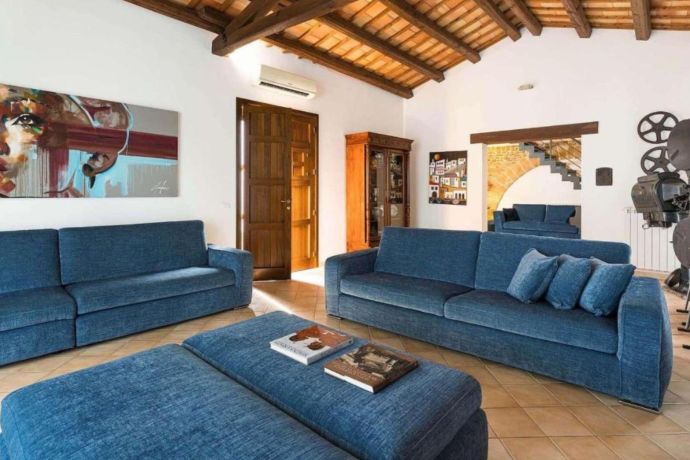 Your holiday price of £1,899 includes:
Five cookery lessons with our local Italian chef
Private, en-suite accommodation in our Sicilian villa
Sample some of Sicily's finest wines at a private wine tasting
Day trips exploring historic and beautiful villages
Private transport throughout the stay
Group airport transfers *
* Provided you are able to meet them. Please ask for transfer times.
Dates still to be confirmed for 2024
Cooking Holiday in Trapani - Itinerary
---
Day 1 -
Benvenuti! Welcome to Sicily! You will arrive at the villa where you can settle in, meet your chef and host and enjoy welcome drinks. Dinner this evening is at the villa, prepared by your chef.
---
Day 2 -
After breakfast, you will have your first cookery lesson with your chef, enjoying the results for lunch. You are free in the afternoon to relax by the pool, or take a wander around the grounds of the villa. Dinner is prepared for you this evening at the villa.
---
Day 3 -
Today we will visit Trapani, known as the City of Salt and Sail and nearby village, Erice. offering a magnificent view of Trapani, the Aegadian Islands and San Vito Lo Capo. You will enjoy lunch out a local restaurant. Return to the villa later in the day and dinner will be prepared for you at the villa.
---
Day 4 -
After breakfast, you will be in the kitchen for your second cooking lesson with your chef and enjoy the results for lunch. This afternoon you will visit the Saline of Trapani, (salt pans). The salt pans of Trapani are one of the most important coastal wetlands, offering peace and shelter to many migratory birds. Dinner tonight is prepared by your chef back at the villa.
---
Day 5 -
This morning you will enjoy another cooking lesson, and enjoy the results for lunch. Then you`ll be heading to Marsala, known for its famous wine, this city is rich in history and baroque architecture. We will enjoy dinner in a local restaurant.
---
Day 6 -
After breakfast, you will enjoy a visit to a local vineyard for a tasting and tour and lunch. Dinner tonight is prepared by your chef.
---
Day 7 -
Following breakfast, you will have your final cookery lesson then lunch. Enjoy your last afternoon relaxing at the villa and in the evening, a special farewell dinner prepared by your chef.
---
Day 8 -
After breakfast, our transfer will collect you and take you back to Palermo Airport for your flight home. Arrivederci!
---
Travel Information
We have found the best flight options for you to book that will meet our complimentary transfer. Please see the details below to help with your travel plans:
On the first day of  your holiday your transfer driver will  meet you in the arrivals hall of  Palermo Airport at 12.45pm (Direct flights from Edinburgh with Ryanair and London Gatwick with Easyjet  are all good options)
On the final day of your holiday, you will be collected and taken back in time for flights departing from Palermo Airport from 10am onwards. (Direct flights to Edinburgh with Ryanair and London Gatwick with Easyjet are all good options)
All your questions answered
For more information about Flavours Holidays: