Our Pilates Holidays Instructors
Our Flavour's Pilates courses on our Pilates holidays in Italy are led by experts who teach body control (or the equivalent) Pilates, a form of Pilates that has many physical advantages; such as toning your body to combating back problems and is suitable for any age or ability. Why not read more about our inspiring instructors below?
Isabelle Russo
Isabelle was introduced to Pilates whilst studying dance at university. With a strong background in classical modern dance and ballet, it was a natural transition to channel a passion for movement and the body into teaching Pilates. Originally from New York, Isabelle did her classical training through USPA. She loves working with the Classical Pilates system, alternating movements of strength, with movements of flexibility, to strengthen and lengthen the body. Isabelle's sessions provide a dynamic workout that engages the mind and body to help clients feel good, strong, and confident.
Isabelle's next available holiday dates are:
Pilates in Morocco 20-27 April 2024
Pilates in Tuscany 28 September-5 October 2024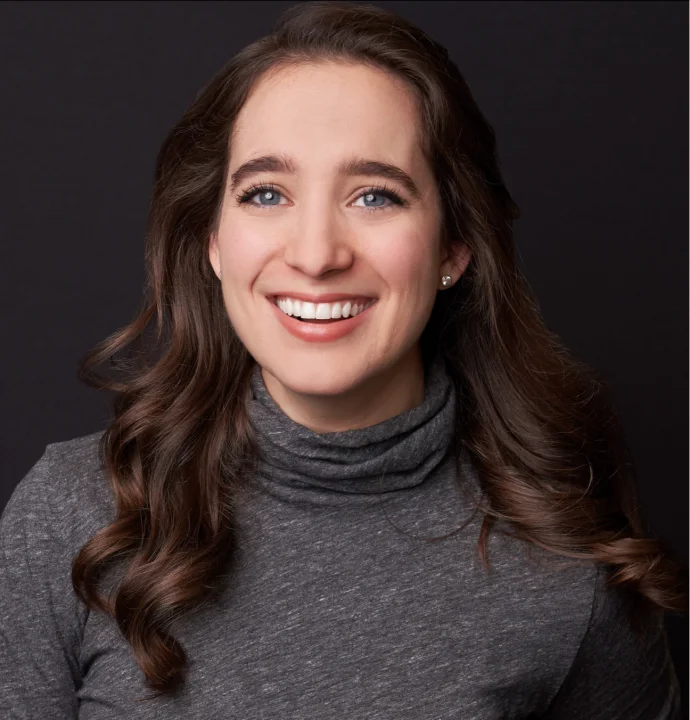 Isabelle's Qualifications
Full Comprehensive Classical Pilates
Full Comprehensive Mat Pilates
Mat pilates with small equipment (ball, weights, magic circle, roller, bands)
Pre/post natal
Pilates for the older person
Pilates for Scoliosis
Susie Gale
Having worked in a stressful marketing job and constantly plagued with back and neck pain, it was suggested that Susie tried practicing Pilates. From the outset she was hooked and became such an avid student, she dropped out of the corporate world and retrained as a Body Control Pilates teacher, at one of the foremost 'schools' of Pilates.
Some 16 years later, Susie has a thriving business, teaching group classes, and private and corporate clients across the UK and Europe. She relocated from Cheshire to Dumfries & Galloway in 2012 and works in her garden studio teaching mat work and Reformer sessions, overlooking the Solway Firth.
Her classes are taught with precision but most importantly with a sense of humour. Susie says ' I can't promise you a new body in a week but I can introduce you to the joys of Pilates and hope to share my passion with you that could start you on your own Pilates journey. I can also encourage existing Pilates devotees to think in a different way to enhance their practice.'
Susie's next available holiday dates are:
Pilates in Morocco 13-20 April 2024
Pilates in Sicily 12-19 May 2024
Pilates in Puglia 15-22 June 2024
Pilates in Sicily 25 August-1 September 2024
Nordic walking in Seville 2-9 November 2024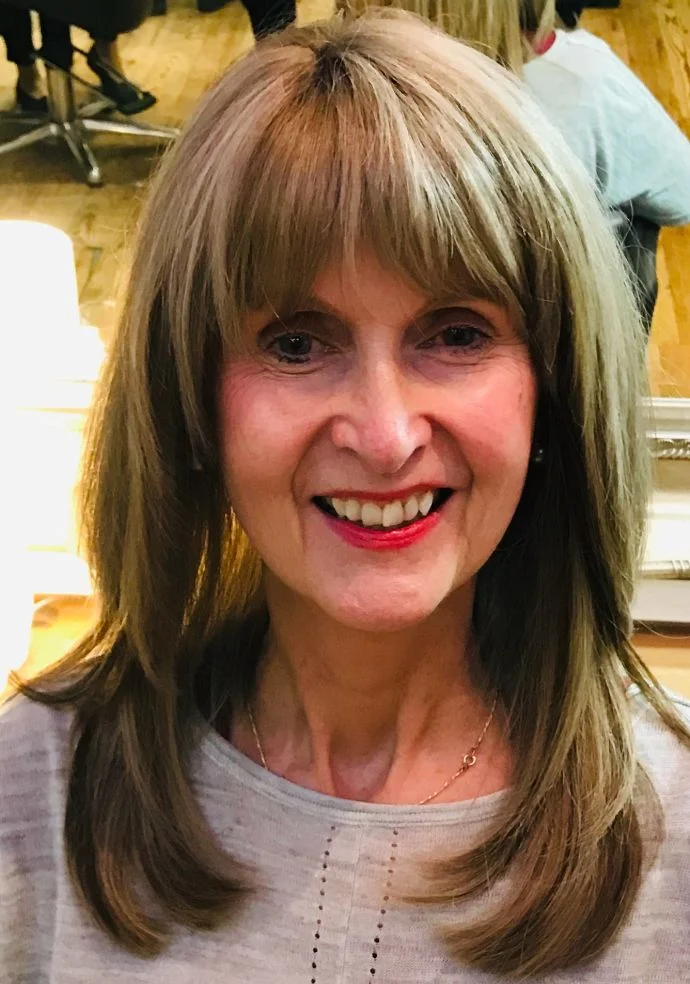 Susie's Qualifications
Body Control Pilates Level 3 Certified
Intermediate & Advanced Matwork Teacher
Matwork Equipment
Reformer Trained
First Aid/CPR Certification
Nordic Walking UK Qualified Instructor
Diane Parrilla
Diane formally trained with the Royal Ballet School in London. After an injury in 2002, she trained to become a qualified Body Control Pilates instructor and since then has continuously developed her knowledge.  "The great thing about a Pilates holiday is that it's not just about Pilates. Besides high-quality lessons, you will have the opportunity to see beautiful sights and learn how to cook fabulous Italian food."
Diane's next available holiday dates are:
Pilates in Sicily 5-12 May 2024
Pilates in Seville 15-22 June 2024
Pilates in Tuscany 7-14 September 2024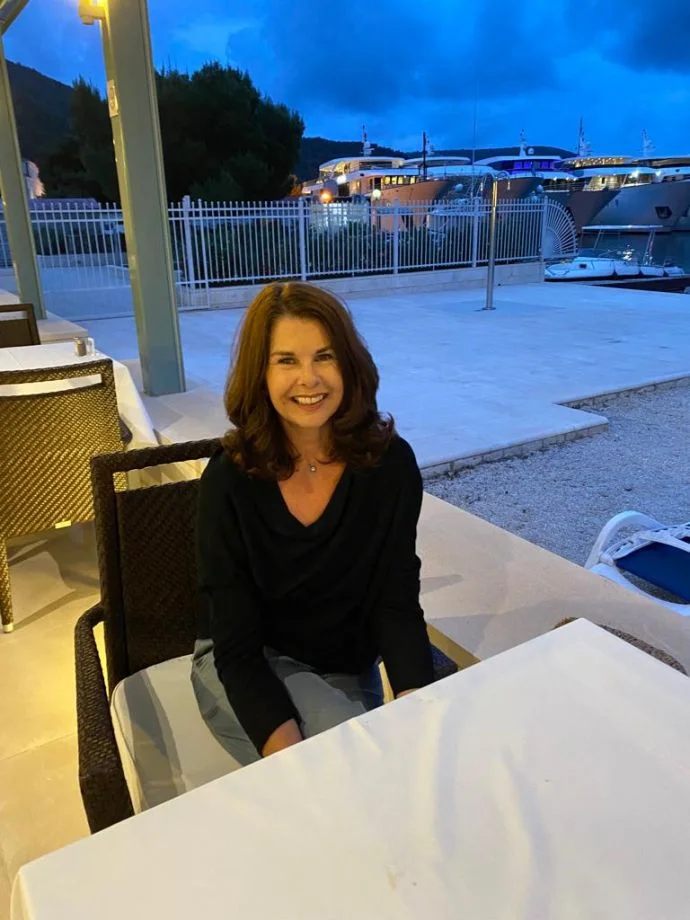 Diane's Qualifications
Body Control Pilates Matwork Instructor Level 3
Certified Back 4 Good Practitioner (register of exercise professionals level 4)
Back Care professional
Pilates for older persons, MS, osteoporosis and hypermobility
Equipment courses including balls, circles and foam rollers
Supervising teacher for Body Control
Reformer qualified
Intermediate to advanced matwork
Catherine Crompton
Catherine discovered Pilates after being diagnosed with prolapsed discs in her lumbar spine, the prognosis was either surgery or help herself. She chose to try the latter, to rehabilitate herself with the help of gentle Pilates exercises. Having suffered back pain for many years, she decided to train to become a Pilates teacher, knowing that the method really can help with many types of medical conditions including stress and anxiety for people at any stage of their life.  Having lived in Italy makes teaching there the perfect scenario, combining two of her great loves, Italy and Pilates. "There's nothing better than telling my clients to float their arms up to the bright blue sky and really meaning it."
Catherine's next available holiday dates are:
Pilates in Seville 8-15 June 2024
Pilates in Tuscany 31 August- 7 September 2024
Pilates in Sicily 13-20 September 2024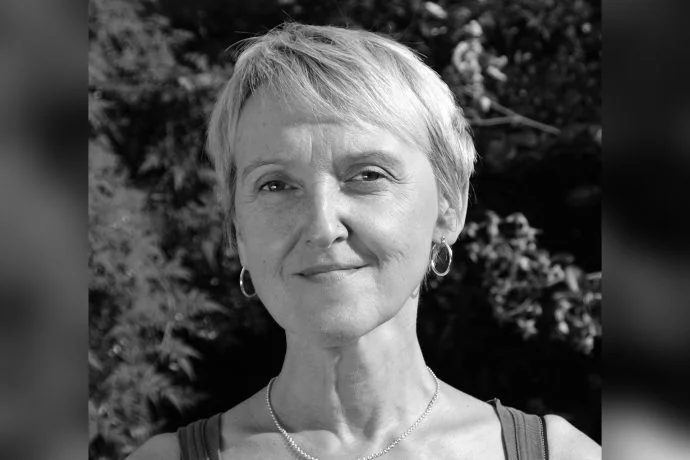 Catherine's Qualifications
Body Control Pilates Level 3 Matwork certified.
Level 4 Pilates for Lower Back Pain - Back Care Professional.
Register of BackCare Professionals.
Pilates for Bone Health (Osteoporosis).
Pilates for the Older Person.
Matwork Pilates with all Small Equipment.
Rebecca Methley
Has been practising Pilates since 1997 after being directed towards Pilates following a back injury. Favourite activities include running, swimming and golf. Decided to qualify to teach pilates following recovering from breast cancer and finding pilates the key to returning to full strength and activity. Enjoys seeing clients develop strength and flexibility and incorporate pilates into everyday life. Pilates in beautiful surroundings is food for the body and soul and I love passing on all I have learnt about keeping myself healthy and strong enough to face whatever life throws at me.
Rebecca's next available holiday dates are:
Pilates in Puglia 1-8 June 2024
Pilates in Seville 22-29 June 2024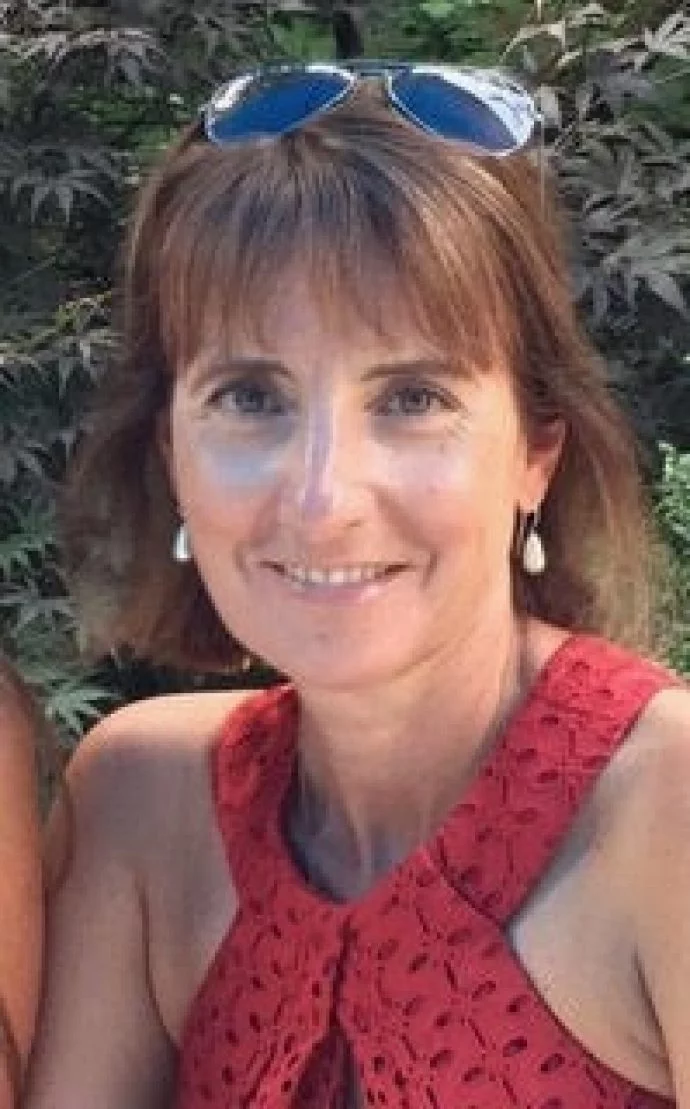 Rebecca's Qualifications
Active IQ Level 3 Diploma in Matwork Pilates
Level 3 Matwork Body Control Pilates
Body Control Pilates for Golfers
Body Control Posture Unravelled I
Body Control Small Ball and Toning Circle
Basic Life support
Amanda Parr
Amanda is a highly experienced Body Control Pilates instructor and firm believer in incorporating Pilates into your daily routine so it becomes a way of life.
"I have been teaching Pilates since 2003, having qualified as a teacher after a car accident caused a neck injury. I soon found Pilates addressed the whole body and not just helped my neck injury. I enjoy teaching, and run a small studio at home, working closely with local physios in the area. Teaching Pilates in Italy, is the best, a chance to get to know the guests and structure lessons to suit everyone, and exercising outside in the glorious sunshine".
Amanda's next available holiday dates are:
Pilates and Nordic walking in Seville 9-16 March 2024
Pilates and Nordic walking in Puglia 20-27 April 2024
Pilates in Tuscany 1-8 June 2024
Pilates in Sicily 15-22 September 2024
Pilates in Sicily 22-20 September 2024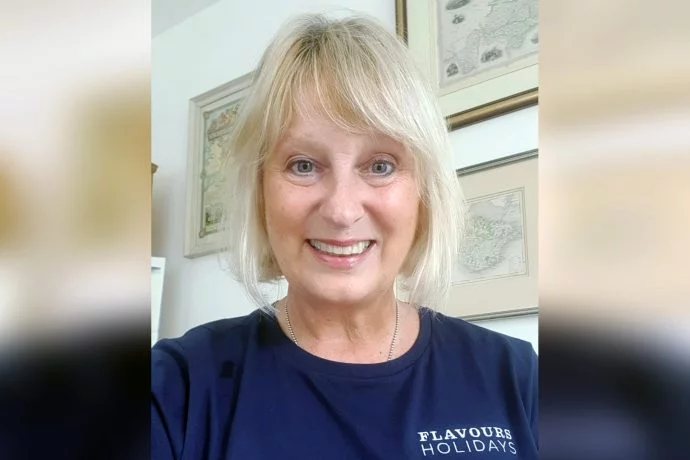 Jo Luckman
Until 2002 Jo had a very successful career as a nurse specialising in Renal nursing but suffered from chronic lower back pain as a result of years of lifting heavy patients and equipment around.
She discovered the wonderful world of Pilates and fell in love with it. Not only did it change her body shape, but it well and truly sorted out her back pain.
She loved it so much, she decided to train as an instructor with Body Control Pilates. She has continued to develop and extend her skills by attending courses run by Body Control Pilates as well as workshops in the Franklin Method under the New Pilates School amongst others.
Jo teaches in and around Dorking in Surrey. Her clients have included Olympic athletes and international equestrians.
Jo loves wild swimming and playing tennis
Her other passion is playing saxophone and gigs regularly with a couple of Big Bands in the South of England.
"What I love about teaching Pilates on a Flavours retreat is seeing my guests improve so much over the course of the week as they develop their technique and strength, as well as seeing them totally relax and really enjoy themselves. My classes are all about having fun as well as working hard!"
Jo's next available holiday dates are:
Pilates in Tuscany 08-15 June 2024
Pilates in Puglia 31 August-7 September 2024
Pilates in Sicily 29 September-6 October 2024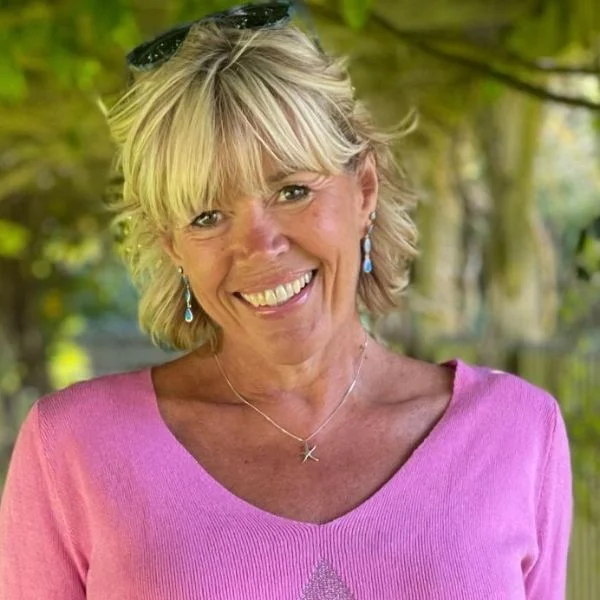 Jo's Qualifications
Body Control Pilates Matwork
Pilates in pregnancy
Matwork equipment courses including balls, bands, toning circles, Swiss balls, balance boards
Teacher specific training courses with En Avant Pilates Therapy
Franklin Method pelvis and psoas workshop
Pilates and the brain workshop
Jackie Lindsay
Jackie has over 30 years of Nursing & Midwifery experience. She trained as a fitness instructor with the YMCA in 1996, studied Sports & Remedial Therapy in Dumfries in 2000 & qualified as a Pilates teacher with Rachel Holmes in 2006. She is also a trained phase IV instructor in Cardiac Rehabilitation & an Aqua-cise teacher. Recently, she trained in Diamond Pilates with Cherry Baker & now delivers Pelvic Health workshops in her area. She has her own business as a Sports & Remedial Therapist, also teaching 8-10 Pilates classes a week. Having attended Pilates holidays in the sun for the past 4yrs… 'there is nothing quite like doing Pilates outside in beautiful sunshine.'
Jackie's next available holiday dates are:
Pilates in Puglia 11-18 May 2024
Pilates in Seville 1-8 June 2024
Pilates in Tuscany 5-12 October 2024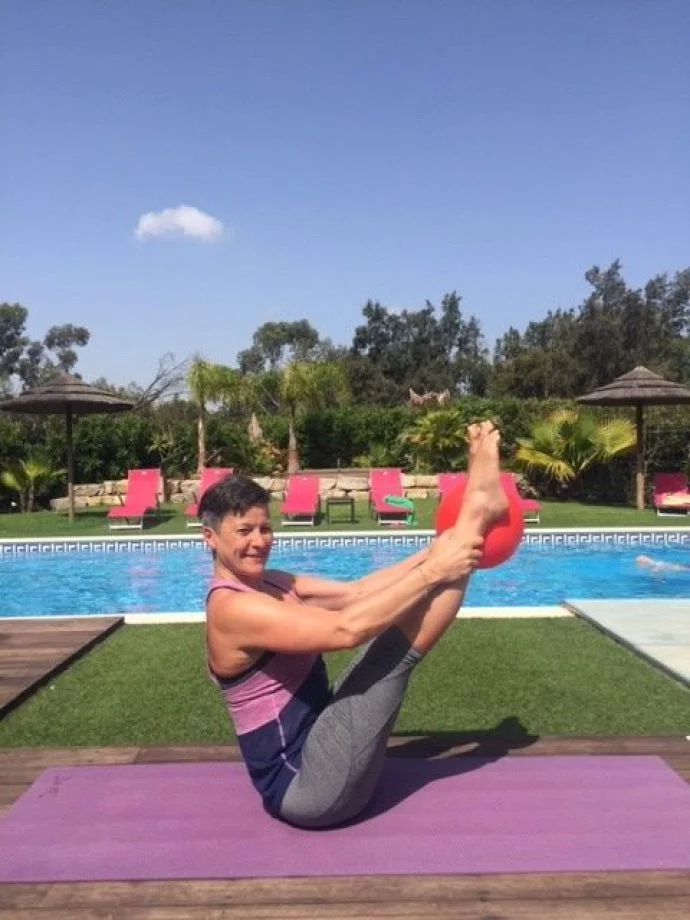 Jackie's Qualifications
Pilates Level 3
Matwork Pilates with balls, bands & foam rollers
Diamond Pilates
CPR Certificate
Member of Register of Exercise Professionals
Ann Chester
Ann Chester worked in fitness for several years before qualifying with Body
Control Pilates in 2003.
She has 20 years' experience of teaching a spectrum of clients from
professional sports people and actors to 'Back Care' patients referred by local
physiotherapists.
Ann Chester says – "I love teaching people to move their bodies in a healthier way – to feel stronger and more confident."
Ann's next available holiday dates are:
Pilates in Puglia 25 May -1 June 2024
Pilates in Sicily 23 -30 June 2024
Pilates in Sicily 30 June- 7 July 2024
Pilates in Puglia 21-28 September 2024
Pilates in Puglia 28 September- 5 October 2024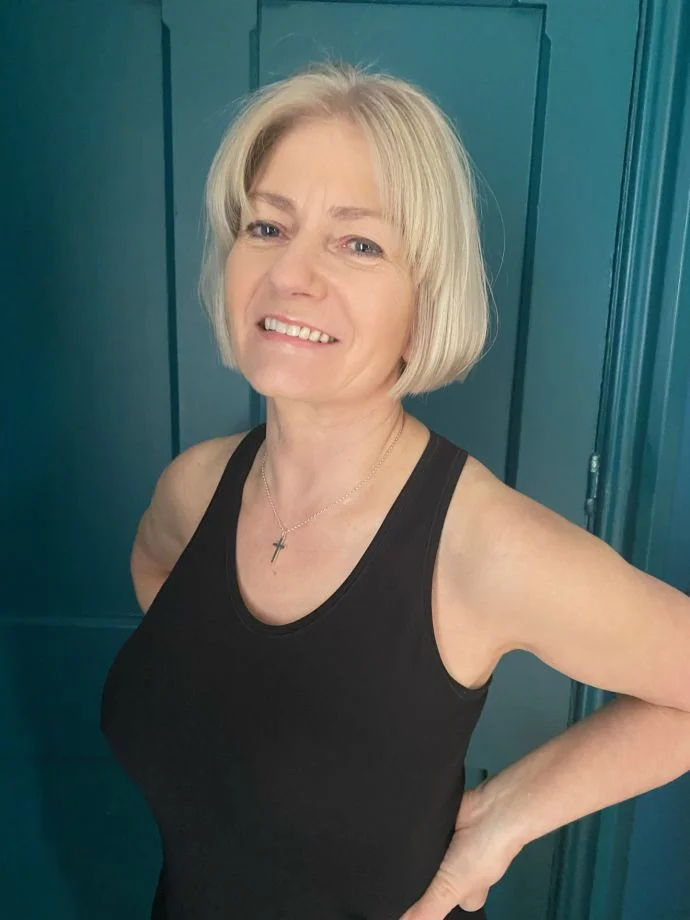 Ann's Qualifications
Body Control Pilates Level 3 Matwork certified
Body Control Pilates Matwork Master Teacher
Level 4 qualification – Pilates for Lower Back Pain
Pilates for Bone Health
Pre/Post Natal Pilates
Reformer Qualified
Small equipment courses
Sharon O'Hanlon
I have been teaching Pilates since 2008. Like many teachers, I discovered the amazing benefits Pilates can offer following an accident which lead to a complete lifestyle change. Having worked in the pharmaceutical industry for 11 years as well as being a holistic therapist and trainer, I knew I needed to find something that would strengthen both the body and mind without the need for medications and surgery. Pilates works! As a Reiki Master, I like to meditate daily and would love you to join in.
Sharon's 2024 dates are:
Pilates in Sicily 4-11 May 2024
Pilates in Sicily 11-18 May 2024
Pilates in Seville 21-28 September 2024
Pilates in Seville 28 September – 5 October 2024
Pilates in Sicily 6-13 October 2024
Join Sharon for an online Pilates Class»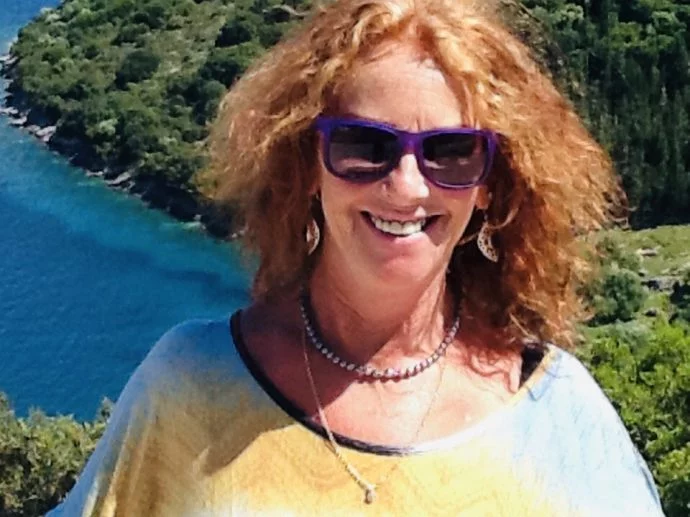 Sharon's Qualifications
Body Control Pilates Mat Level 3. 2008
European Register Exercise Professionals
Level 4 Pilates Teacher
Reiki Master & Teacher
Holistic Therapist
Sports First Aid
British Heart Foundation Heart Start
Louisa Harris
Pilates became a lifeline for Louisa during a mentally and physically stressful Human Resources Management career. Corporate life has caused many literal and metaphorical headaches, and shoulder and neck pain. Help from various practitioners brought a quick fix of short-term relief but Louisa began to realise that unless she changed her ways and movement habits longer term nothing could change significantly. Pilates helped to ease aches and pains and provided a welcome relief from everyday stress. It made her feel so much better physically and mentally and she wanted to learn more and be able to help others benefit too so began teacher training with the prestigious Body Control Pilates in 2008. Since then Louisa has had the honour of helping hundreds of people learn to move and feel better, either working in person (in and around Milton Keynes, UK) with studio equipment or matwork classes or online. Empowering them to rediscover the power of their mind and body connection, providing the tools to tune inwards to address their needs to ultimately move better and feel better.
Louise's next available dates are:
Pilates in Tuscany 11-18 May 2024
Pilates in Tuscany 18-25 May 2024
Pilates in Sicily 9-16 June 2024
Pilates in Sicily 22-29 September 2024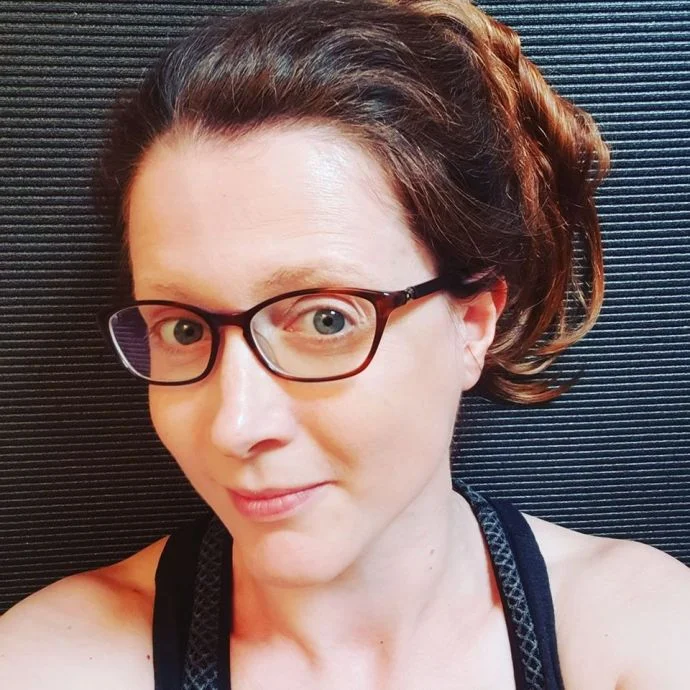 Louisa's Qualifications
Body Control Pilates Trained Level 3 Matwork certified
Back 4 Good Back Care Practitioner plus Pilates for Scoliosis
Intermediate & Advanced Matwork
Pilates for Older Person, Osteoporosis and Bone Health
Pilates for Golfers
Pilates for Equestrians
Pre/Post Natal Pilates
Pilates for Menopause
Pilates with props such as overball, bands, foam roller, magic circle
Studio Equipment: Reformer, Cadillac, Chair & Arc
Hatha, Restorative & Yin Yoga
Sports Massage Therapy L3 & L4
Jules Hardman
Jules discovered the benefits of Pilates back in 2001, when she was working as an art director for a fashion mail order company. Long hours in front of a computer, frequent long haul flights and staying in hotels, Jules found Pilates helped her to relax, improve her posture and flexibility. Best of all she could still carry out the exercises in the comfort of her hotel room whilst away on location shoots. Jules became seriously addicted and passionate about Pilates and in 2009 when she was thinking about a change of career realised that it seemed the natural choice to spread the word and train to be a Pilates teacher. She's based in Cheshire and teaches 14 classes per week as well as 1:1 private lessons. The great thing about teaching Pilates for Flavours Holidays is every guest has a 1:1 private lesson as well as daily group lessons. Getting to know the guest and watching them progress during the course of a week is very rewarding.
Jules' next available holiday dates are:
More dates are available – call 0131 343 2500 for further details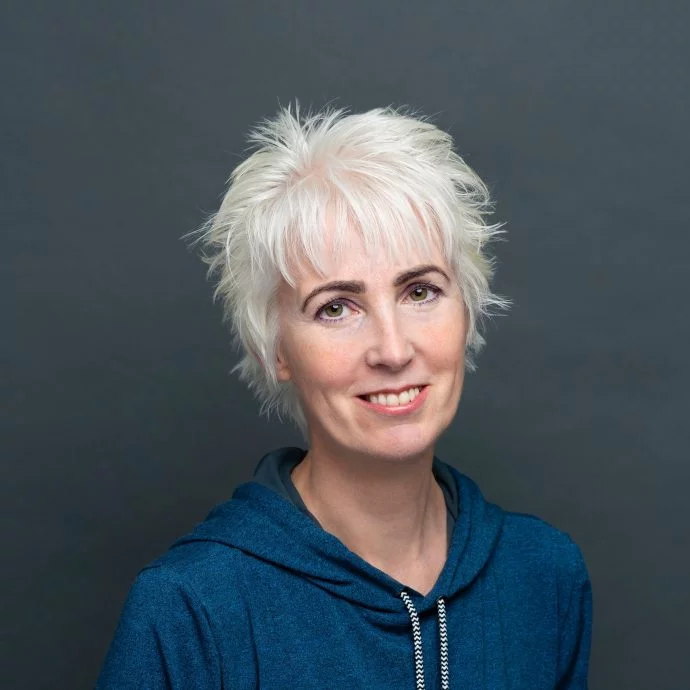 Jules' Qualifications
Body Control Pilates – Level 3 and APPI
Intermediate Matwork
Ultimate Pilates Technique
Standing Pilates
High Intensity Power Pilates
Small Equipment & Foam Roller
Reformer on the Mat using Pilates Bands
Pilates for Older Persons, Osteoporosis and Bone Health, Pregnancy, Horse Riders, Skiing, Runners, Cyclists, Scoliosis
Ruth Partington
Ruth initially trained as a nurse in London, before moving into the fitness industry, qualifying in gym instruction, exercise to music and personal training. She's also worked in health club management and instructor education.
Ruth's been teaching Pilates for over 20 years, qualifying with Body Control Pilates® in 2003. She loves its precise, intelligent approach and the great results it delivers across all ages and fitness levels. Ruth currently runs her own Pilates business in Cheshire, teaching in person and online. Her clients range from the very fit, to those recovering from injury or with chronic health conditions. She aims to make her classes enjoyable, effective and safe for everyone.
She loves teaching on Flavours holidays, where guests can immerse themselves in the benefits of Pilates, in beautiful, relaxing surroundings without the distractions of daily life.
Ruth's next available dates are:
Pilates in Sicily 19-26 May 2024
Pilates in Sicily 26 May-2 June 2024
Pilates in Puglia 22-29 June 2024
Pilates in Puglia 29 June-6 July 2024
Pilates in Tuscany 14-21 September 2024
Pilates in Tuscany 21-28 September 2024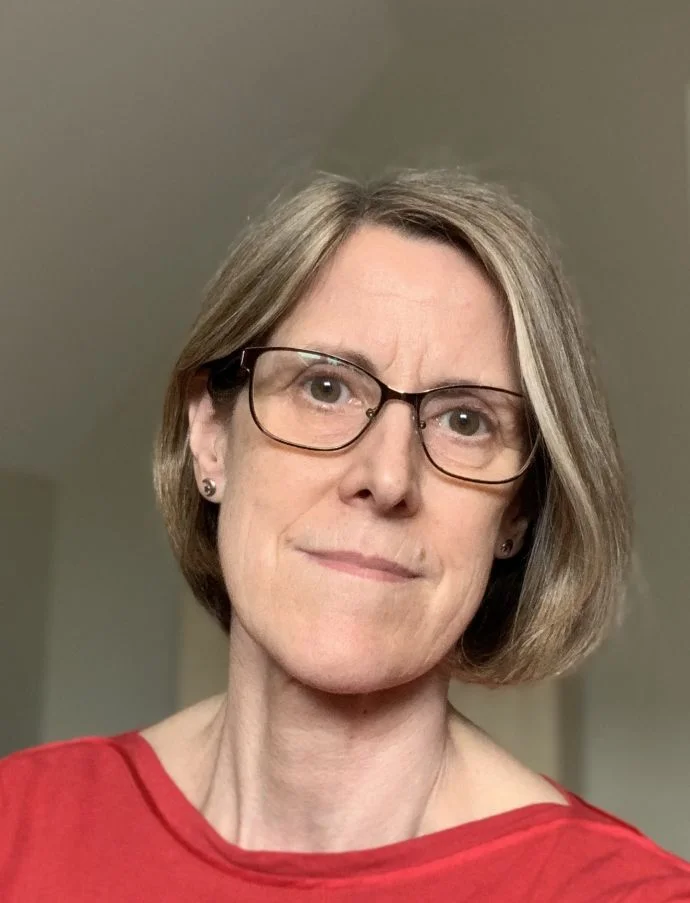 Madelaine Rourke
Madelaine has been teaching Pilates for more than 12 years. After going to weekly classes for about 3 years she decided to give up her sedentary day job and train to be a Body Control Pilates Mat teacher. Having previously run her own studio she now teaches at a Physio Therapy clinic where she continues to teach mat Pilates and one-to-one sessions with patients who have a wide range of injuries, and illnesses and they all share the desire to be the best version of themselves. Madelaine has had the privilege of having lots of experience teaching clients living with and beyond Breast Cancer, those with Osteoporosis, SpinalScoliosis and is currently delving deep into how the stages of a woman's life can change their bodies and the way we need to exercise.
In one short sentence…she loves Pilates, and loves teaching Pilates, especially in the sunshine!
Madelaine's next available dates are: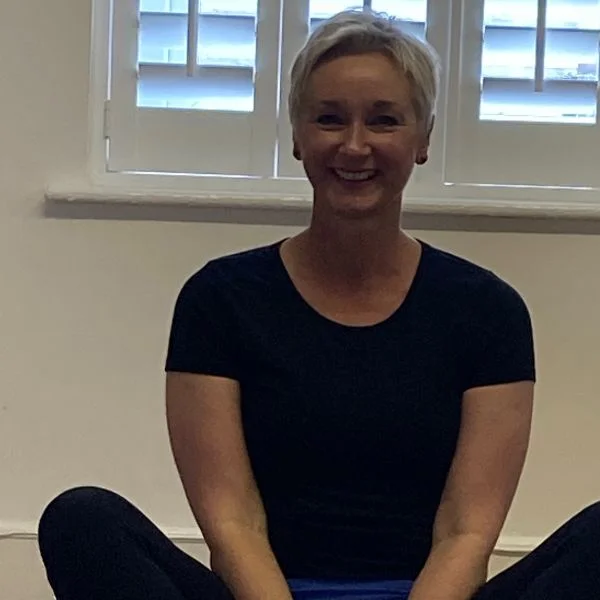 Madelaine's Qualifications
Body Control Pilates Level 3 certified
Intermediate Matwork
Advanced Matwork
Pilates for Bone Health (Osteoporosis)
Standing Pilates
Pilates for Scoliosis
Pilates for Menopause
Pilates for people living with and beyond breast cancer
Reformer Pilates
Matwork with small equipment - balls, circles, foam rollers
All your questions answered
For more information about Flavours Holidays: