Our favourite wellness podcasts for this year have been chosen, and here they are. Looking at a variety of topics including the myths around women's health, how to practice gratitude, and why the first hour of the day is the most important. We hope you enjoy listening along and if you're interested in reconnecting with your mind and body, take a look at our Pilates holidays in Italy and Spain which promote wellness and self-care surrounded by beautiful scenery and with like-minded people.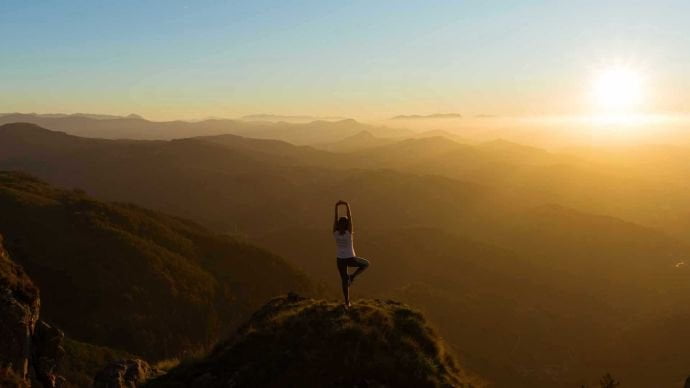 Thankfully, mental and physical well-being is a huge part of the conversation in 2023. You can learn a lot about your mind and body. How to cope with mental illness. Why sleep matters.  Habits to follow for more happiness and health.
Within the wellness sphere, podcasts play a significant role. There are thousands of podcasts available which aim to educate and inform, as well as extend a friendly hand of encouragement, to anyone who wants to improve their relationship with themselves.
You name it, they've got one; personal trainers, nutritionists, therapists, comedians, presenters, chefs, psychiatrists, and many more have dreamed up a corner of the podcast universe for themselves. The brilliant thing about this is whether your interest is in the benefits of stretching or why we need to let go of perfectionism, there'll be a podcast for you.
1. Body Stuff with Dr. Jen Gunter
Debunking myths around health and wellbeing
To say that Dr. Jen Gunter is a Canadian OB/GYN and pain medicine physician is true, but it would be an understatement. Gunter has been called 'Twitter's resident gynaecologist' and 'the Internet's OB/GYN'. She is a fierce advocate for women's health and has written three books that demystify much of the incorrect information surrounding this topic, with two becoming instant NY Times bestsellers.
In her podcast, Body Stuff, she debunks health myths surrounding both female and male bodies. Such as needing eight glasses of water a day, what detoxing means, and what happens to your body during menopause. There are two seasons currently available created in collaboration with TED Talks. They will teach you things you never knew you needed to know about your own body. Tune in to get a better understanding of everything from how sleep affects us to why tastebuds are so important.
Listen here: Body Stuff with Dr. Jen Gunter on Apple Podcasts
2. On Purpose with Jay Shetty
Emotional wellness at its best
Jay Shetty is the monk-turned-viral sensation who is preaching a message of purpose. At 25, he left an unfulfilling corporate job to live with monks for three years. He slept on the floor, meditated for sometimes eight hours a day, and woke up at 4 am every day. He says that time enabled him to change his thinking and practice gratitude, mindfulness, and stay positive. Now, he has a best-selling book and is a keynote speaker. He also has a. hit podcast with guests such as Alicia Keys and Jessica Alba, alongside coaches, doctors, and therapists.
Episodes are released twice a week and either feature an inspirational or educational story as told by a celebrity or expert or offer a 'how-to approach' to building a better mindset such as overcoming being a perfectionist or creating better time management habits. After listening to these podcasts we are sure you will agree why this is one of our favourite wellness podcasts.
Listen here: jayshetty.me/podcast/
3. Power Hour with Adrienne Herbert
Motivating podcast to improve our fitness and overall wellbeing
The wake-up time of 'successful people' has been the topic of many a conversation. Michelle Obama famously shared that she can rise as early as 4.30 am to get started on her day, but author Adrienne Herbert swears by just one less hour in bed to help you achieve your goals.
In this weekly podcast, Herbert speaks to coaches, innovators, and creatives about their morning routines to decipher which habits can help us lead better lives. If you've always wanted to learn a language, write a book or achieve a fitness goal, Herbert hopes to motivate you to spend one hour a day pursuing your passion.
Listen here: adrienne-london.com/podcast
4. Feel Better by Deliciously Ella
Wellness and diet advice
Since her break-out foodie blog in 2012 which saw Ella Mills (née Woodward) document how a plant-based diet transformed her health, 'Deliciously Ella' as she is widely known has become a byword for wellness. Her aptly-named podcast, Wellness with Ella, invites guests such as personal trainer Alice Liveing and psychotherapist Jessica Baum to share their stories of transformation and the practices and habits that helped them get there. With over 140 episodes covering everything from sleep advice and our relationship with alcohol to intrusive thoughts and women's health. If you need any more convincing, just read the reviews. One user calls it "the best health and wellness podcast I've ever listened to" and is one of our favourite wellness podcasts
Listen here: Feel Better podcast by Deliciously Ella
5. The Joe Wicks Podcast
Enabling us through exercise
Who wouldn't like to know the elusive secret to feeling healthy and happy? Well, in his self-titled podcast, this is what Joe Wicks attempts to find out. In each episode, Joe asks his friends or experts in the wellness industry what keeps them feeling mentally or physically strong. It could be a day of cooking their ultimate comfort foods or watching their favourite films without interruption from the rest of the family, or it could look more like a personal best on the treadmill. Joe speaks to all the nation's sweethearts from presenter Katie Piper and Bake Off's Nadiya Hussain to singer Sam Ryder and legend Sir Tom Jones.
Listen here: Joe WIckes Podcast
6. Spiralling with Katie Dalebout and Serena Wolf
Emotional wellness discussed
We all know how it feels to sweat the small (and not-so-small) stuff. Whether it be a cringe-worthy moment that you just can't shake off or the feeling that you made the wrong decision at work, there are everyday things that leave us… spiraling. In this podcast, friends Katie and Serena have a light-hearted chat about all the things that have caused them anxiety this week. The friendly message is to those struggling with anxiety that they're not alone. This podcast highlights the seemingly low-key things that can trigger those with anxiety and normalises talking about it.
Listen here:  Spiralling with Katie Dalebout and Serena Wolf
7. Happier with Gretchen Rubin
Enabling us to be happier
Gretchen Rubin is a law, graduate-turned-author-turned-happiness expert. In the last ten years, she has amassed a tens-of-thousands strong audience across her five New York Times Bestseller books, award-winning podcasts, and various other platforms including social media, panel discussions, and appearances as a keynote speaker. While her mediums are varied, the topic is always the same: happiness and the human condition. Gretchen is fascinated by what makes people tick and in her podcast, Happier with Gretchen Rubin, she discusses the habits that can improve your life, always with her sister Elizabeth Craft.  The podcast is broken down into helpful segments like "Try This at Home," "Know Yourself Better," and "Happiness Hacks," as well as mini episodes throughout the week which offer just a two-minute story that will make you happy.
Listen here: Happier with Gretchen Rubin
8. The Habit Coach with Ashdin Doctor
Create habits to improve your overall health
This podcast is one of our favourite wellness podcasts because it helps us to improve our motivation skills and learn to see things through. Ashdin Doctor will teach you how to create simple habits that can improve your health, sleep, productivity, nutrition, and relationships. The short, five-minute episodes are bite-sized as well, so it's an easy way to focus on your wellness and fit in while getting ready in the morning, or simply brushing your teeth!
Listen here: The Habit Coach with Ashdin Doctor on Apple podcasts
9. Happy Place with Fearne Cotton
Learn to see the bigger picture
In 2017, after decades of growing up on our TV screens presenting everything from Top of the Pops to Comic Relief, Fearne Cotton showed us another one of her talents. With the publishing of her book Happy, she set in motion the wheels for what is now one of the biggest brands of its kind in the UK. The Happy Place podcast offers exercises on how to let go of everyday stresses, a book club, a festival, an app, and a podcast, all of which look at ways to be happier. On the podcast, which has been running for nearly six years, Fearne interviews everyone from Stephen Fry to Hilary Clinton on what happiness means to them. It's a fascinating listen and is intended to help us all let go of the here and now to consider the bigger picture.
Listen here: Happy Place podcast with Fearne Cotton
10. Unlocking Us with Brené Brown
Reflect on your emotional habits
Brené Brown has spent 20 years studying how emotions and experiences bring meaning to our lives, and this is the focus of her podcast; Unlocking Us. The podcast revolves around courage, vulnerability, and conversation as Brené speaks with people from all walks of life to learn and be challenged. This podcast will have you reflecting on the universal experience of being human and help you to connect with the world around you – a truly inspirational listen.
Listen here: Brene Brown Unlocking Us podcast
11. Off the Gram with Meaghan Murphy, Jamie Hess, and Heidi Kristoffer
Listen to different wellness-focused podcasts with expert guests
How many Instagram followers do you have when you combine a legendary women's magazine editor, a TEDx and Keynote speaker, and a viral yoga guru? The answer is nearly half a million. This was exactly the foundation of one of our favourite wellness podcasts; Off The Gram. As well as doing their day jobs listed above, Meaghan Murphy, Jamie Hess, and Heidi Kristoffer are all also wellness influencers. After sharing much of their advice on their social media profiles separately, they decided to create a podcast so they could do it together. There are over 150 episodes ready to listen to and each one looks at a different wellness-focused question or welcomes an expert guest.
Listen here: Off the Gram on Apple podcasts
Contact us for more information
We hope you enjoyed reading some of our favourite wellness podcasts for this year. If you would like some more information regarding our Pilates holidays please contact us here or call us at +44 (0)131 343 2500. 
To find out more about all the holidays Flavours has to offer please download our latest brochure here.