"Amazing locations, fantastic food and generous & enthusiastic hosts, chefs and teachers" is how one of our travellers summed up her holiday. From Italian cooking courses in Tuscany to painting holidays in Venice – we always give our absolute best to book your perfect holiday. To see this recognised in the Food and Travel Magazine Awards is a great honour. To mark the final week of voting, we asked our guests & staff why Flavours Holidays should be tour operator of the year!
What our staff say about our Italian cooking holidays…
"When you have a holiday with Flavours you immediately understand that's not an ordinary thing but a journey, a deep experience in the Italian culinary culture, a unique event where different people join together the emotion and the happiness of life. Flavours gives you the chance to get and live Italy's beauty. In other words, a leading tour operator that creates a trend." Sunshine, Italian Chef at Flavours Holidays
"I think that Flavours Holidays are quite unique in terms of the atmosphere that is created amongst the people. What guests normally tell me is that they feel like travelling with friends and not at all on a package holiday. Especially, singles who are often worried to travel alone bond, thanks to the Flavours formula, very easily with the others and soon feel part of a group." Franca, Italian Host at Flavours Holidays
"… I think that Flavours should be the tour operator of the year because it's different from all the other tour operators… The others make people do holidays, Flavours makes you feel a holiday. And, also, the holiday keeps its promise… It makes you taste the true FLAVOUR OF ITALY." Lara, Italian Coordinator at Flavours Holidays
"Flavours Holidays gives people the opportunity to see and experience the real Italy through our authentically tailored itineraries, our inspiring destinations and our passionate staff!" Jess, Sales Executive at Flavours Holidays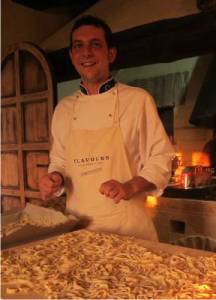 And, of course, the most important thing is what you think about our holidays. And here are some responses from our loyal guests!
"I choose Flavours Holidays because they offer a bespoke Italian experience. I enjoy the fact that I feel as though I am living like a local rather than simply being a tourist & that I get to immerse myself in the Italian culture. This is made possible by the amazing locations, fantastic food and most importantly by the generous & enthusiastic hosts, chefs and teachers on each holiday. They ensure that each trip is unique and unforgettable." Paula, Flavours Holidays guest
"My Flavours holiday this past New Year in Sicily was quite perfect. Absolutely everything – single room, all food and drink, cookery lessons and trips (e.g. to a fish market, wine tasting, chocolatier, and even to Inspector Montalbano's favourite restaurant) – was included in the price. The group size (eight guests) was just right for a solo traveller like me. And Livia, ourFlavours host, looked after us all beautifully." Jeannette, Flavours Holidays guest
"I was recently widowed and wanted to go on holiday on my own with a company I could trust. A friend recommended Flavours and I knew from the first phone call to the office that I was in safe hands. Your office staff were so helpful and reassuring and the customer care was second to none as demonstrated by the phone call on the Friday before I flew out to Sicily on the Sunday to check that everything was all right.
Whilst out in Sicily this excellent customer care continued. Flavours staff were very welcoming, worked very hard and were always available should support be needed. The organisation of the holiday including the cookery lessons and the excursions was excellent.
Accommodation was very comfortable and clean, with amazing attention to detail. I liked the all inclusive nature of the holiday and felt that it was very good value for money as the food and wine were second to none. In fact, I enjoyed my holiday so much that I have already booked another one for next year! I would recommend Flavours without hesitation, especially for the single traveller. Thank you for a great holiday, already looking forward to my next one." Flavours Holidays guest
Thank you very much for all the lovely responses. Voting for the Travel & Food Magazine Awards will close on the 25th of August. So, if you agree with our guests and staff and also think that we deserve to become tour operator of the year then please vote for us here.
At Flavours Holidays, we offer authentic holidays in Italy. Under the guidance of skilled teachers, you can experience Italian food and art while getting inspired by beautiful landscapes. To find out more about our cooking holidays in Italy, or our other organised Pilates, painting and singles holidays, contact a member of our friendly team today.