With over 400 holidays running every year, Flavours works with many trusted partner in our destinations and they are what we call our 'extended Flavours family and include villa owners, drivers, local restaurants and local vineyards to name a few. We have been reaching out to our trusted partners on a regular basis and keeping in touch and sharing stories of life during this period. For most of our partners, the Flavours season from March to October is their livelihood and they have been encouraged and thankful for the positive messages and support from Flavours and their guests.
This blog is the fourth of our lock-down diaries from those trusted partners where they share stories, plans and hopes for the future.
Interview with Contessa Maria Teresa Vespignani Boselli, the lovely owner of Villa La Vespa.
Villa la Vespa is a beautifully restored farmhouse situated in the heart of the Tredozio region on top of one of the highest hills in the area. This amazing villa is famous not only amongst our guests, it turns out Celebrity Chef Gino D'Acampo cooked up a storm with the Contessa at the villa in the foodie capital of Italy. Contessa Maria Teresa is always on hand to welcome our guests and make sure they have an unforgettable experience.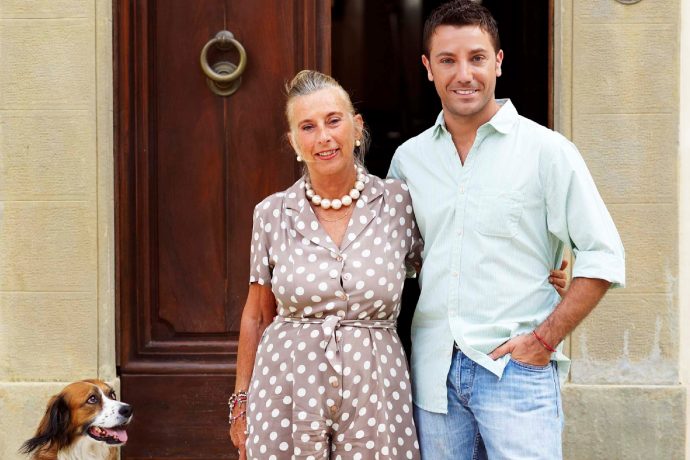 What has life been like during lock-down for you?
During lockdown, I have spent my time in Milan where I usually spend the winter months. Milan and the Lombardy region have been hit hard by the pandemic but I have tried to stay positive and not become overwhelmed by it all.
I live alone with my beloved dog Minù, and he has been my lifesaver because it forces me to go out, in fact, given the restrictions we have to undergo, it allows me to go out several times a day. I live in the centre of Milan and my walks with Minù through the deserted streets make me think even during this time Milan appears to be dazzling and alive. It's different, I like it and I enjoy it.
Thankfully, the Tredozio region where Villa La Vespa is based has had no cases of the virus so I am very much looking forward to getting to the countryside and enjoy the splendour of Bologna.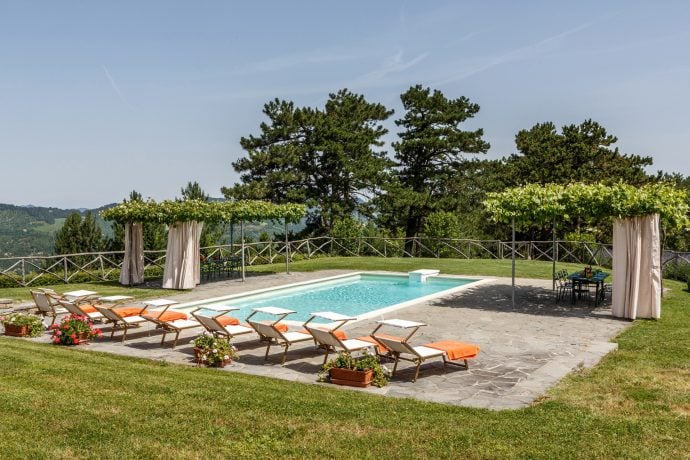 How do you keep in touch with everyone?
Even though I live alone I am keeping in touch with my two daughters, two grandchildren and many friends by phone and video chat. Thanks to technology, you can still see their faces even though you can't see them physically and can give them a 'virtual' hug.
Any top tips to survive the lock-down to share with us all?
Stay safe and stay in touch with your family and friends.
What is going to be the first thing you do as you phase out of lock-down?
As soon as the lock-down is over, I will make my way to my villa in Bologna and wait for the first group of guests to arrive. Just the thought of it makes me so happy!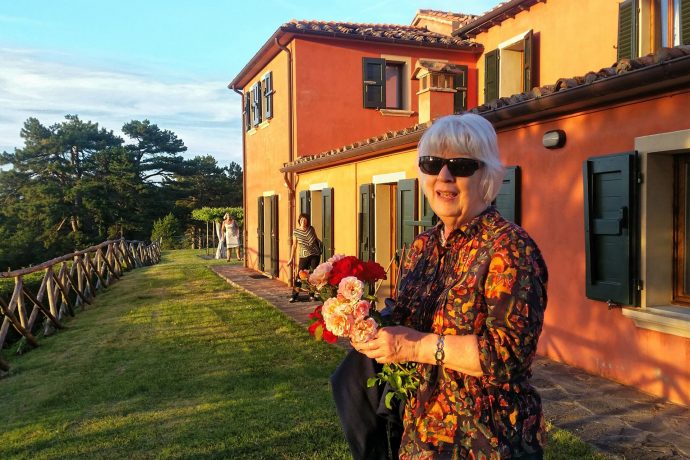 Can you share a favourite memory with our groups?
No problem at all, I love entertaining our guests and make sure they are happy and enjoying spending time with us.
Something I do for each new group is to invite them every Wednesday late afternoon for a tour of Villa La Collina, my house, which ends with an aperitivo watching the sun set.
When I lived in my hometown of Florence I used to work as a tourist guide taking a large group of tourists, (all nationalities from British to Americans, from Chinese to India and so on), around town showing them the many masterpieces of Renaissance art and architecture in these amazing city homes. From its most iconic sight the Duomo cathedral with the terracotta-tiled dome by Brunelleschi and the bell tower by Giotto, to the Galleria dell'Accademia which displays Michelangelo's "David" sculpture and of course not to forget the Uffizi Gallery which exhibits Botticelli's "The Birth of Venus" and the Da Vinci's "Annunciation" and many more.
My most frequent phrase was 'follow my hand' and I must admit I do miss those years walking around town followed by a big group of people, travelling by big buses around the narrow streets of Florence.
Having said that, a bit of 'tourist guide' is still in me and I can jump back in time to my twenties by taking our lovely guests around Villa la Collina.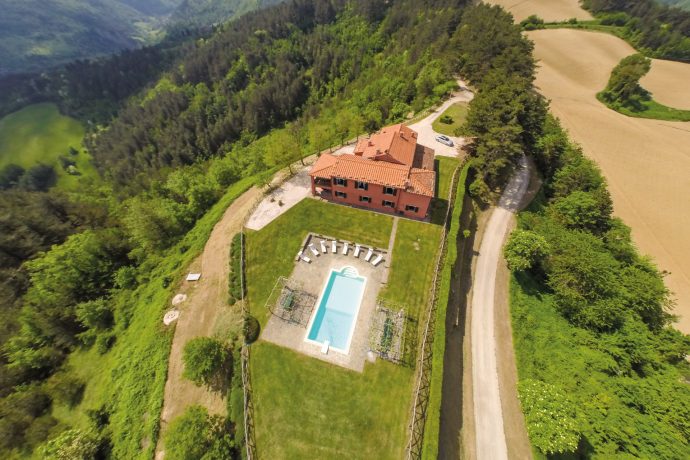 The villa is filled with lots of paintings and sculptures by my grand-father Giuseppe Graziosi who was a very good and well known artist, he studied in Paris with the Impressionists and I am happy to show his works to our guests. The tour goes on into the ballroom and the "camera del pozzo" where there is a ghost, but I will tell the rest of the story another time.
After the tour is over I love to sit down in the garden of the Villa to talk to our guests and hearing their stories, where they come from, about their families and what do they usually do on their day to day life while we drink our local Sangiovese and eating salame, prosciutto and cheese from my farm.
For me this is a very important part of what I do, to make sure our guests enjoy their stay and feel part of this little corner of paradise.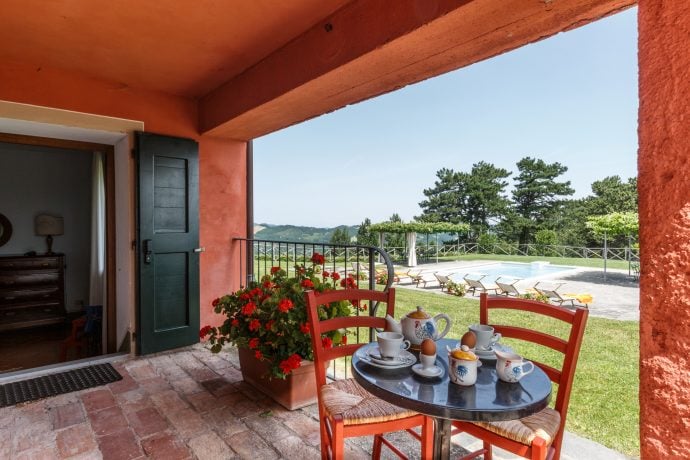 Are you missing Flavours guests and do you have any message for them?
I do miss Flavours guests, but I'm sure I will see them very soon. I will be waiting for them with a warm welcome. My goal and that of my team is to provide impeccable and warm hospitality. We always do our best for our guests.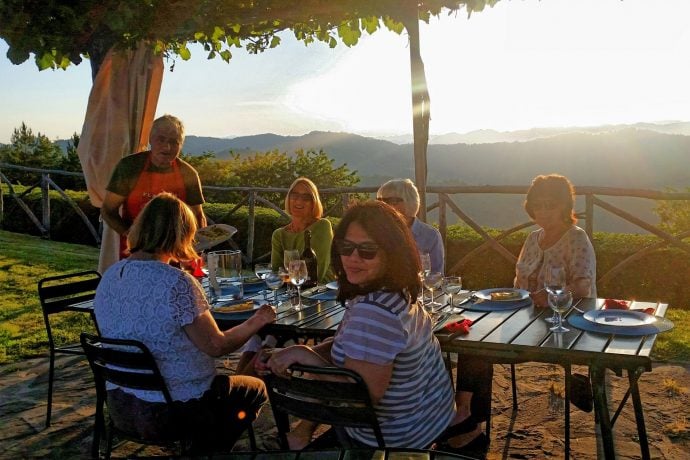 How are you going to welcome Flavours guests back?
I'm planning something special, something they will remember. It will be a surprise for the guests to welcome them back to Bologna. Right now, even if I don't get to see you all, I would like to send my best wishes and keep well.