With over 400 holidays running every year, Flavours works with many trusted partner in our destinations and they are what we call our 'extended Flavours family and include villa owners, drivers, local restaurants and local vineyards to name a few. We have been reaching out to our trusted partners on a regular basis and keeping in touch and sharing stories of life during this period. For most of our partners, the Flavours season from March to October is their livelihood and they have been encouraged and thankful for the positive messages and support from Flavours and their guests.
This blog is the sixth and last of our lock-down diaries from those trusted partners where they share stories, plans and hopes for the future.
Interview with Abel Ibáñez, the charming Manager of Villa El Molino
Flavours launched Seville as a new destination in 2019 and our home away from home is the stunning Villa El Molino. This luxury nineteenth-century Oil mill recently restored in the heart of the Natural Park Sierra de Aracena y Picos de Aroche, has fast become a favourite amongst our guests for its true Andalusian charm. Abel is the manager of this amazing estate and he is known for going above and beyond to ensure all guests have the perfect stay at the villa. In this interview, he shares stories with us on life beyond lockdown and looking for the positives in this situation.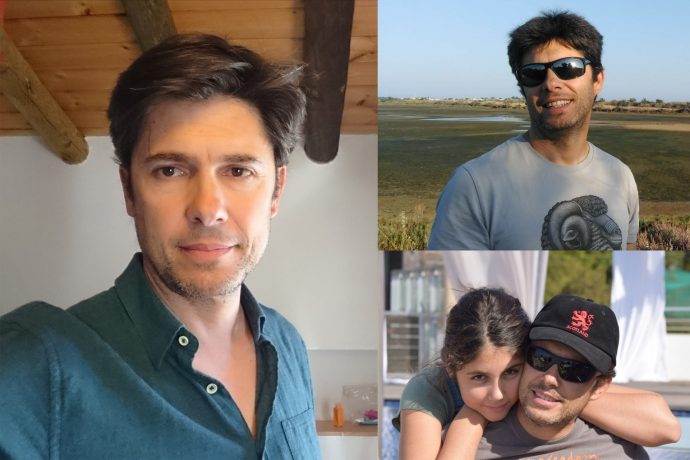 What has life been like during lockdown for you?
The situation is obviously difficult for everyone however we are looking at the positive aspects. It has actually given us time to spend together as a family and in this regard it has been a real improvement in the quality of our life. My wife is normally travelling all the time for work and now she is working from home as am I and we can focus on our two teenage daughters and balancing the home schooling. We are lucky that we live in the countryside with lots of open space and can continue to work the land and farm and the land is especially beautiful during these spring months. Aracena our main town has had very few cases of the virus and for that we are thankful.

What is life like now as you are coming out of lockdown?
Spain is famous for its hospitality and families frequent outdoor bars to share stories and catch up on a daily basis but that had not been the case during this period. Now the town is coming alive again with people sitting in bars, chatting, laughing and drinking. Things are different of course with the tables 2 metres apart and no olives to share and people are wearing masks but they are meeting each other which is the main thing. We can meet up to 10 people outside and next week we can start to go back to the beach so slowly life is getting back to normal.

How do you keep in touch with everyone?
Like everyone we have been doing zoom calls and quizzes with family and friends. We have also been playing Parcheesi over zoom which is a very popular game in Spain. Lately we have been doing fancy dress parties over zoom to keep everyone entertained. This has been a lifeline for us.
Any top tips to survive the lockdown to share with us all?
We found that following a routine really helped get us through lockdown and I found that people struggled when they didn't have any focus for the day. As I said, we have been lucky to continue working every day in the farm and we have encouraged our children to keep to their school routine and plan the day accordingly. We have enjoyed family lunches and dinners together which had been a rarity in the past.
What is going to be the first thing you do once lockdown is fully over?
My family lives in Seville so we haven't seen them in months so we are very excited to spend some quality time with our extended family. In this next phase we can also have friends round for lunch and our daughters are especially excited to see their friends and have a barbeque.
Are you missing Flavours guests and do you have any message for them?
Yes we are missing all our guests because we spend so much time making sure everyone runs perfect for them and they enjoy the wonders of El Molino and the surrounding countryside. We are here waiting for you and looking forward to seeing them all.

How are you going to welcome Flavours guests back?
My main focus will be to organise whatever your guests need to feel safe and secure in the comfort of El Molino and I will be on hand as always if they need anything to make their stay perfect.