All the fun, closer to home
We think that the best UK staycations involve activities in stunning locations, with plenty to do,
a spot of relaxation, fantastic food and a few like-minded people.
Read on for some inspiration for the best summer holiday staycation ideas – just that bit closer to
home.
1. Find your staycation zen on Loch Lomond
Loch Lomond is one of Scotland's most picturesque places. Spend 5 days here on a Flavours Wellness
Retreat in exceptional accommodation with beautiful big rooms and amazing views of the loch. This
summer staycation involves daily Pilates sessions – outdoors if the weather allows – complemented
by Nordic walking in the surrounding countryside, stopping for lunch along the way, plus plenty of
time to relax. A skilled chef makes all your meals, including the best homegrown food and drink
Scotland has to offer. This one's a real treat to yourself – and who doesn't fancy that right now? Like
all Flavours holidays it's a small-group trip with likeminded fellow guests, and a host on hand to help
out with everything.
2. Surf into summer
Discover your inner water baby on a UK staycation surf holiday. Step into the waves for a
reviving and uplifting daily surf lesson, and gain fitness and strength. Learning a new skill is
great for our mental health at any age.
3. See Scotland by train
Scotland is home to several iconic rail journeys – most notably from Glasgow to Fort William, taking
you through the spectacular Highlands. Another one worth popping on the staycation bucket list is
the Jacobite steam train over the Glenfinnan viaduct and on to Mallaig.
4. Sleep in a tree house on your staycation
Great for getting back to nature, a tree house cabin can be both a relaxing and adventurous way to
spend your holiday. The UK is dotted with wonderful cabins – staying in the treetops should give
several mental and physical benefits, reducing anxiety and stress; it's also a lot of fun.
5. Stroll along the coast
Walking can lighten our mood, strengthen muscles, improve sleep and help with weight loss. Our
many UK coastal paths are well kept and perfect for an inexpensive UK staycation, and for seeing a
new part of the world – anywhere from Cornwall to Fife. While you walk, listening to the waves is a
good way to escape from your daily worries.
6. Stay by the sea
Waking up and looking out to sea is a well-known mood booster, and always relaxing. Some of the
most popular coastal spots in the south of England are very booked up, so try a new part of the coast
up in Scotland this summer. The Scottish east coast is beachy with some great fishing villages, the
west offers mountains and dramatic views.
7. Find your inner beauty in a spa hotel
For those who prefer a little less action, a spa holiday should do the trick for your UK staycation.
Relax with daily treatments, gentle pool swims, and beautification, then enjoy simply being away
from home in a luxury hotel room and not having to cook. Eat healthily(ish) and you'll go home
feeling fully rejuvenated.
8. Wet and wild with the family
A kayaking or canoeing staycation holiday on a UK river should get the blood flowing. Both are great
for families – giving the opportunity for camping by the river, a bit of healthy competition by racing
other family members, and maybe even the excitement of a few low-level rapids. You'll see the world
from a new river-level perspective, too as you meander downstream.
9. Food-lovers break
Escape to the Scottish Highlands for 5 days of foodie fabulousness. Staying near picturesque
Aberfeldy, you'll enjoy the best food Scotland has to offer and sample a dram or two of the
local water of life – whisky. You'll be in the kitchen with our chef cooking local produce, but
we'll also show you food highlights around the Highlands. This part of Perthshire is home to
many wonderful local producers and several wee foodie havens.
10. Explore under the sea
Snorkelling and diving in the UK may not have occurred to you before – but it's hot on the staycation
wish list. Brave the water in a wetsuit and see what lies beneath! You'll definitely feel more
connected to nature. The Scilly Islands are a wonderful (and warm) place to start an underwater
scuba or snorkel adventure. For hardier souls, there are some great wrecks to dive off Scotland's
coast.
11. Discover the wildlife (and whisky) of Scotland
Wildlife and whisky are integral to Scottish culture. There's so much beautiful wild countryside here
that birds of prey, deer, red squirrels and more are abundant, as is sea life and seabirds. Come and
explore on foot – taking boat trips to see the sea life. Don't forget a pair of binoculars and also to
sample a few distilleries along the way.
12. Take a dip – it's all the rage
What was once called swimming outdoors is now known as wild swimming, and is the most popular
free sport around. There are plenty of staycation spots that allow for swimming in lakes, lochs, the
sea and the occasional (not too fast-flowing) river. Best is to join a staycation swimming holiday with
a guide. Jump into the fad and make your staycation all about wild swimming in the UK. You'll
definitely feel fitter and more energised, as well as very refreshed and closer to nature. What's not to
love? (Though remember, be careful if you're not an experienced swimmer.)
13. Go glamping
One level up from camping, glamping means luxury tents and generally a chance to experience all
the good bits of camping without having to stoop or end up in a soggy puddle. It's a life of freedom,
with many sites in wonderful coastal locations, or deep in a forest or in the beautiful UK countryside.
14. Get creative in Scotland
This wonderful holiday on the shore of Loch Lomond in luxury accommodation is a taster
break – giving you the chance to try several creative pursuits with the help of an expert in
each. It doesn't matter what level you're at, they'll teach you tips and tricks to improve. The
5-day Flavours staycation taster break offers all guests sessions in painting, photography,
walking and cooking. Your tutors will inspire you to develop your skills, while also having
time and space to feel like you're on holiday, enjoying the best food and drink Scotland has
to offer.
15. Go for a sea kayaking staycation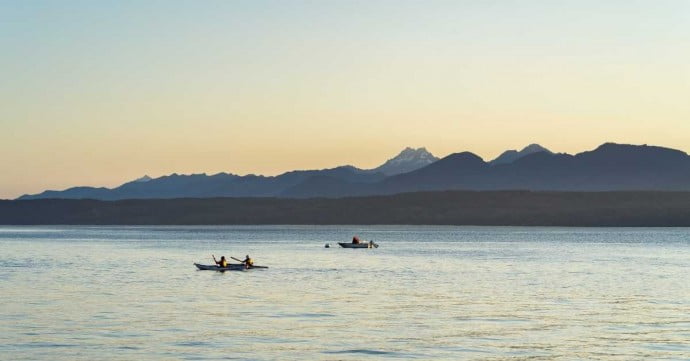 Take to the water on some of Scotland's wildest and most beautiful sea lochs between the
Sound of Mull and the Rough Bounds. You can expect stunning scenery, great paddling,
wildlife sightings and a lot of laughs as a guide leads you through marine wildlife reserves,
past ruined castles and gorgeous sandy beaches. This popular itinerary is based on the
central section of the Scottish Sea Kayak Trail.