This week we explore the 7 deadly sins of Italian cuisine or the most common mistakes people make when they cook Italian food.
1 Overboiling pasta
Take pasta out while it still's al dente and place in into the sauce to finish the cooking process. Continue to cook the pasta in the sauce until it reaches the consistency that you like – you can add some water if the sauce becomes too thick.
2 Don't throw away stale bread
Italians use it in Panzanella salad, a healthy and super quick salad originating from Tuscany. Here's how you can make it:
-Soak some stale bread in water, squeeze it and crumble it into a mixing bowl.
-Add some chopped tomato, cucumber, basil, salt , pepper and extra virgin olive oil.
3 You should never drink cappuccino after a meal
Italians drink cappuccino only before 10:30 in the morning, never after in the afternoon!
4 Salad dressings, ketchup or cream in a pasta dish
As you can see in a blog we've previously posted, this may seriously offend some Italians!
5 Garlic bread
For the Italians, it's sacrilege to put butter on your bread before a meal. They will always use extra virgin olive oil instead. Believe it or not, garlic bread as we know it in the UK is actually not a traditional Italian accompaniment to a meal – the locals eat bruschetta (toasted bread) rubbed just with garlic and drizzled with a dash of olive oil instead
6 Pesto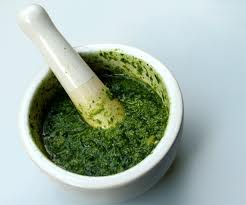 It is probably the world's most popular sauce but Italians don't use pesto as we would in the UK or America, as they never serve pesto to dip their bread!  They will only serve it with pasta dishes
Here's how you can make your authentic, home made pesto 
7 Ingredients
We saved the most important tip for the end as fresh ingredients are key to Italian food and Italians would never, ever use frozen ingredients!