So you have spent a couple of days in Florence, you've stood next to the Leaning Tower of Pisa and enjoyed an ice cream or two, but you want to explore more of Tuscany…where should you go?

This historic and plentiful region of Italy has so much to offer tourists and continues to be one of the most popular regions of Italy.
The best time to visit Tuscany, if you want to avoid the crowds is spring (March, April, May) or late autumn (October and November.)
Whether you love food and wine, Renaissance art, or medieval architecture, Tuscany truly ticks all the boxes.
The classic tourist route runs south of Florence, taking in the medieval towns of San Gimignano, Siena and the smaller hilltop towns of Montalcino and Pienza, ending in Arezzo. For a path towards the coast, Lucca and Viareggio are must see places before reaching the sea.
San Gimignano
As you approach the towers of San Gimignano, it may look like you are approaching a medieval Manhattan. Small, but beautifully formed, San Gimignano is a must for all tourists to Tuscany.
A gentle stroll up the main street will eventually lead you to the main piazza which is lined with ancient towers and red brick medieval buildings. It is a UNESCO World Heritage Site for obvious reasons.
Tuscany is renowned for its robust red wines, such as Chianti and Brunello, but the vineyards surrounding San Gimignano produce a fabulous white wine called Vernaccia di San Gimignano.
The grape variety isn't well known outside of Italy, but if you have the chance to try some we highly recommend you do.
If you are looking for an afternoon stroll with an ice cream, you have come to the right place. In the main piazza, you will find Gelateria Dondoli. Don't be put off if there is a slight queue – this is 'to die for' gelato.  Although most ice cream in Italy is pretty good, this ranks amongst the best the country.
Siena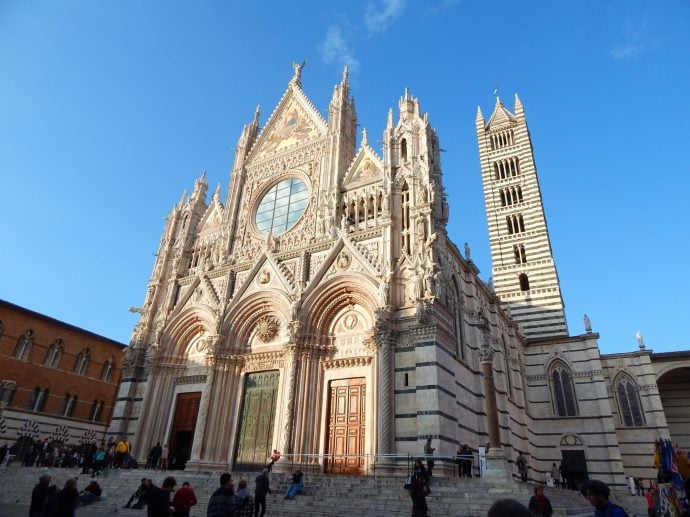 Siena should be a high priority on any trip to Tuscany. As Tuscany's second city, Siena never fails to lift the soul.
Siena is dramatic – its medieval architecture and winding streets fill you with total awe. Make your way to the centre and you will find its crowning glory – Piazza del Campo. It is quite possibly Europe's finest medieval square.
The piazza is the location of Siena's famous Palio horse race – one of Italy's most popular sporting events.
Steeped in medieval traditions, the race takes place twice a year. It is more about pageantry and civic pride than actual sporting prowess.
A unique spectacle to experience, and a reminder that Tuscany's medieval past is still very much alive in modern times.
Siena's Duomo (pictured above) is equally as impressive as Florence's. Its unique black and white marble horizontal stripes dominate this stunning cathedral. It is beautiful building to walk around and taking some obligatory snaps.
Montalcino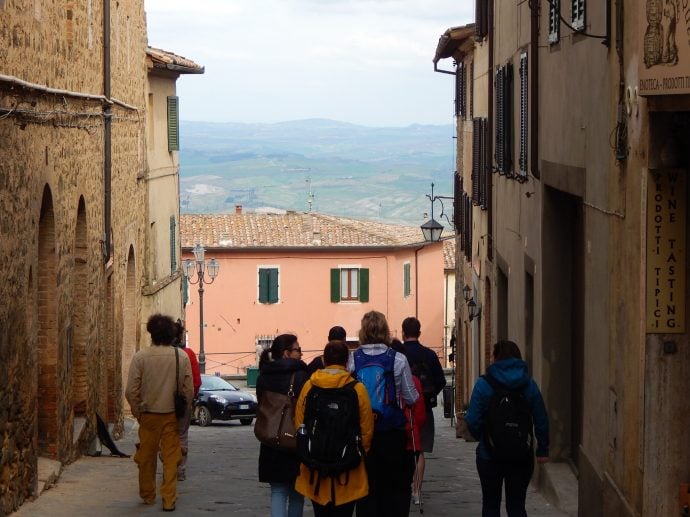 Not much has changed in Montalcino since the 16th century.
Surrounded by the Val d'Orcia valley, the views from this Tuscan town are truly breathtaking and provide ample photographic opportunities. If you are looking for that classic Tuscan landscape, Montalcino is where you will find it.
A medieval fortress dominates the entrance to the narrow streets of Montalcino.  Take a walk around the ramparts of the fortress for the best views over the valley. Explore the ancient streets of Montalcino, walking towards its medieval clock tower and Piazza dei Priori.
It is no secret that Tuscany is famous for producing excellent red wines, but one of the best is Brunello di Montalcino which is made from the grapes surrounding Montalcino. Brunello is made from 100% Sangiovese grapes and is required to be aged for a minimum of 5 years, with at least 2 years spent in oak barrels.
Top wine tip: The 2010 vintage was classed as 'outstanding' as Montalcino experienced 'near perfect' weather conditions, so probably best to try a glass or two from that vintage.
Pienza
Pienza
may be small, but it is perfectly formed. This hilltop town lies between Montalcino and Montepulciano in the stunning Val d'Orcia area of Tuscany.
Known as 'The Ideal City of the Renaissance,' the town was created by humanist Enea Silvio Piccolomini who became Pope Pius II.
Unhappy with the humble village he originally came from, Piccolomini decided he wanted to create something more befitting his Pope status.
Pienza is Renaissance town-planning at its finest. After only three years, a handsome collection of buildings were completed including, the cathedral, Piccolomini palace, and the town hall, all situated around a central square. Naturally, this is a UNESCO World Heritage site.
Cheese is the flavour of the day in Pienza. This is where you will find pecorino and lots of it. The streets of this small town are full of shops selling this world-renowned cheese. A classic dish to try is Pici con Cacio e Pepe, which literally means cheese and pepper, made with, of course, pecorino.
Arezzo
Arezzo
is the provincial capital of eastern Tuscany and is only an hour by train from Florence. You'll soon discover this city is rich in art and architecture but mostly free from crowds.
The main attraction of Arezzo are the frescos by Renaissance artist Piero della Francesca. His famous fresco: The Legend of the True Cross, graces the walls of the Basilica di San Francesco.
It is a good idea to reserve an entry ticket for the frescos before arriving in Arezzo. Tickets are allocated in 30-minute time slots for a maximum of 25 people, and reservation is compulsory so really booking is a no-brainer.
The Piazza Grande set in the heart of the city (pictured above) historically was the main marketplace. Sadly, much of the medieval city was destroyed during WW2.
Luckily the piazza survived, as well as the Romanesque church of Santa Maria della Pieve which sits on the square.
There are plenty of fine restaurants and wine bars to choose from, and when you are finished the piazza is the perfect place to take part in the Italian tradition of 'La Passeggiata', a gentle evening stroll through the streets.
Lucca
Although not one of Tuscany's 'best-kept' secrets anymore, there is still much to explore behind
Lucca's
city walls.
Situated north of Pisa, Lucca can easily be reached by public transport from Florence. It is a great base to visit either the coast or the Apuan Alps.
Firstly, what makes Lucca different from all the other towns mentioned in this blog post is that it isn't a hilltop town. If you are looking for somewhere to visit which isn't situated on a hill, then Lucca is your best option.
Birthplace of the composer Puccini, Lucca is also famous for its Piazza dell'Anfiteatro, which traces the ancient ruins of the city's Roman amphitheater.
One of the most popular attractions of Lucca is the city wall. Unlike other Tuscan cities, Lucca has retained its wall and transformed the ramparts into a pedestrianised area. It is the perfect place to cycle or walk around the perimeter of the city.
Viareggio
The wild card entry –
Viareggio
. Because sometimes you just want to go to the beach.
This Tuscan seaside resort is known for its Art Deco architecture and annual carnival. It attracts a local crowd and the city dwellers of Rome.
As well as the beach with its endless umbrellas and deck chairs, you can take a walk along the Belle Epoque promenade in the evening with a compulsory Gelato.
Viareggio is close to Pisa airport, making it the ideal place to end your holiday to Tuscany.
Are you inspired to come on a trip to Tuscany? We love to chat, so please do contact us!