Have you been on one of our week-long painting holidays? If so, you might have asked yourself where to go to continue developing your painting skills. Once you return home – inspired and keen to learn more – you might find it tricky to locate an appropriate course for yourself. That's why we've put together a map of our top places in the UK with more info below for you to further your art after a holiday!
A – University of Glasgow – Centre for Open Studies
From evening painting courses for beginners to day events and week long workshops, with 300 short-term courses you're sure to find something of interest at the Centre for Open Studies in Glasgow. Find all their courses, information and contact details here.
B – Edinburgh Council – Adult Education Programme
The Edinburgh Council offers great watercolour painting as well as Italian language courses. Whilst the daytime courses are generally people of retirement age, the evening courses are normally of mixed age from 16 to 60+ with a group size of 10 to 16 students. To see all the courses run by the Adult Education Programme click here.
C – LinkAge Bristol
LinkAge works with people 55+ and local communities to facilitate inspiring social activities that enrich lives, reduce isolation and loneliness and promote active participation. Engaging people within their local community helps them to meet new people, learn new skills, develop new friendships and generates resilience to face difficult times. The art courses they provide are an opportunity for participants to come together and paint whilst sharing their skills and expertise, and are not typically structured courses. To find out more contact LinkAge directly: 0117 353 3042
D – The Bristol Folk House
The Bristol Folk House is a self-funding adult education centre in the heart of the city. They provide a variety of part-time day and evening courses and workshops with the aim to provide friendly courses in a relaxed environment. To find out more call 0117 926 2987.
E – Creative Art Courses in Manchester
Creative Art Courses offers you inspirational, wonderfully challenging, and rewarding art courses.  With a welcoming, relaxed, and fully equipped studio, you'll enjoy an excellent sociable atmosphere to support your learning.  You will experience lots of one to one tutoring and friendly support from like minded artists.  I offer a wide range of independent artist-led drawing and mixed-media courses on weekends, evenings, as well as weekday classes.  The courses and classes cater for students of mixed abilities including beginners, and the teaching matches your skills level to help you build your creative skills and independence.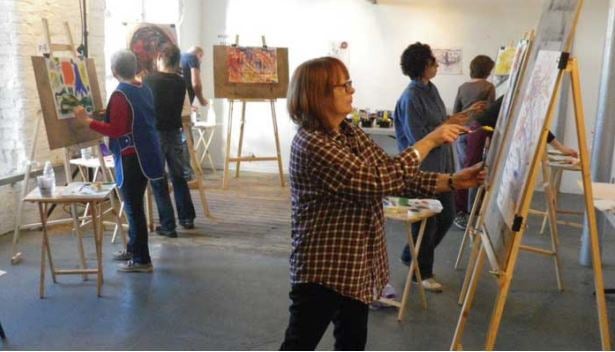 F – The Independent Art School
The Independent Art School provides fun, friendly and accessible art education to students of all ages and abilities in London, Birmingham and Manchester. With a close-knit team of arty people, they are passionate about helping students to reach their full creative potential. The school offers a range of group classes along with specialist personal art tuition lessons for those who would like to work 1:1 with a tutor. All their tutors are highly experienced artists and art teachers. To find out more contact 020 3369 0230.
G – University of the Arts London
The University of Arts in London offer a range of Oil Painting, Watercolour Painting and Ceramics courses. The university offert 100 courses and each course running a number of times a year – so there is plenty to choose from all year round. If you want to learn more, you can make a brochure request here.
H – Heatherley's School of Fine Art in London
Heatherley'srun day, evening and Saturday painting courses starting in autumn.  In addition, they have a facility called Open Studio which is more flexible and open from Monday to Friday. One can buy a ticket of ten half-day sessions which is valid for one academic year. With 40+ part time courses, they welcome students of all ages  to their small and friend community of artists and like-minded people and the majority of people who go there to do a course never leave!
I – London Art Classes
London Art Classes is a working studio run by artist Nick Malone. He runs pay-as-you-go drawing and painting classes and welcomes painters of all ability levels. The groups are small which allows personal attention and a great atmosphere. For more information you can contact Nick here 020 8694 7800
J – Greenwich Community College
Whether you are looking to develop your painting skills or simply want to make new friends, the Adult Education Courses run by the Greenwich  Communiy College is the ideal setting for furthering your art in a relaxed environment. Contact to 020 8488 4800 and find out more about their variety of art courses.