The Art of Travel Exhibition showcased some of the best artwork of our Amicis, it is now closed. Have a look at some of the art and photographs created on our painting holidays and photography holidays in Puglia. If you wish to purchase any of the art below please contact the Flavours Office by email – events@flavoursholidays.com or by calling us on 0131 343 2500.
We are supporting Maggie's. Maggie's is a charity providing free cancer support and information in centres across the UK and online.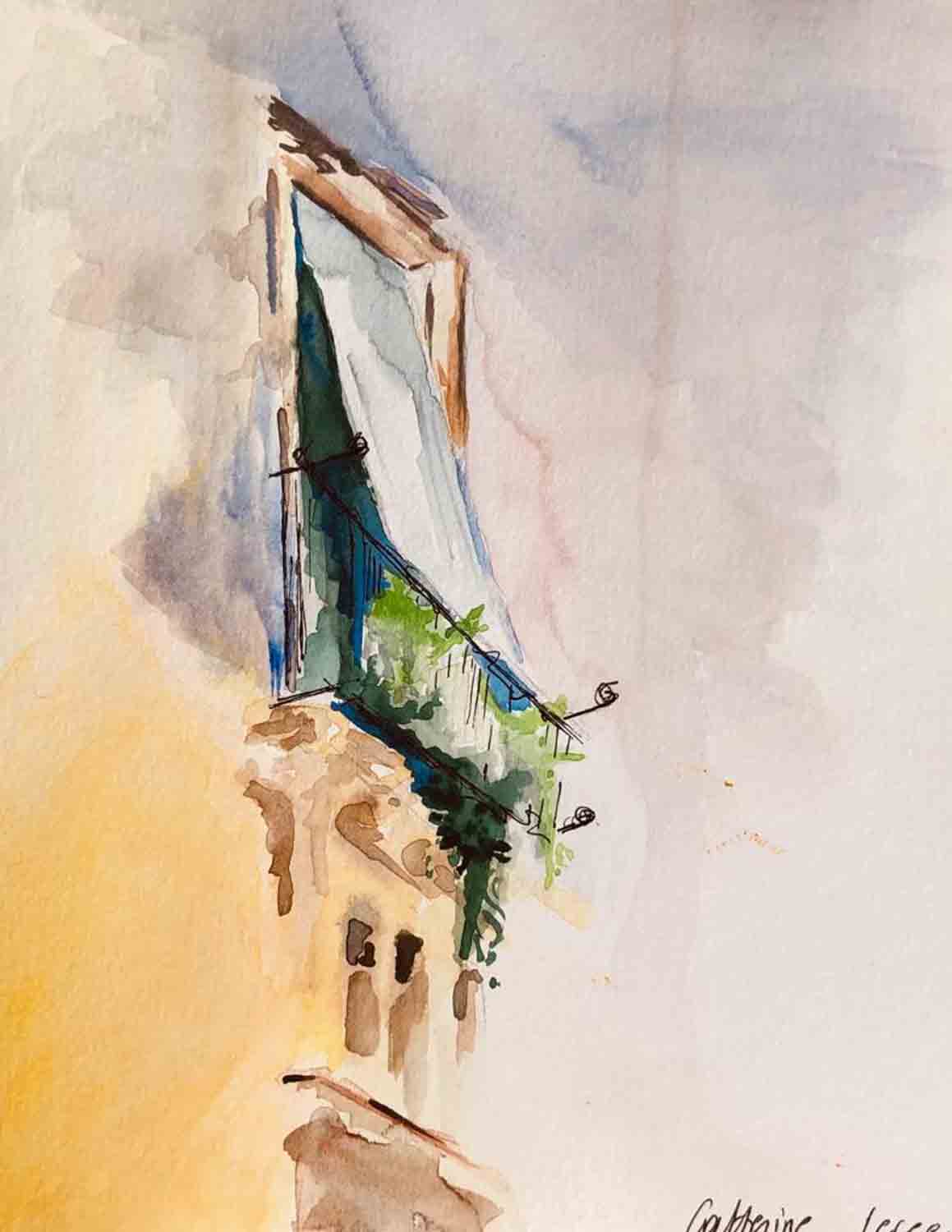 ---
Window scene – Lecce, Italy (£49)
Step into the enchanting world of Lecce through this captivating window scene. Bathed in the golden hues of Naples yellow, the city's renowned stone buildings come alive under the radiant sun, exuding a relaxed atmosphere unique to southern Italy. This small cameo captures the je ne sais quoi flair of a tranquil afternoon, inviting you to immerse yourself in the warmth and charm of the region. Like a window that offers glimpses of the unknown, this artwork embodies the spirit of exploration, evoking the desire to broaden horizons and embrace new perspectives, just as art and travelling do. This is a watercolour painting.
CATHERINE CAMMAER
---
---
Skyline in colour – Poggiardo, Italy (£69)
While on a trip to Poggiardo looking at perspective and skylines we were challenged to just draw a skyline in front of us without removing the pen or pencil, no detail. When back at the studio we had to drop watercolour onto the already wet page and let the colours move and merge and dry, once dry to then work into the colours with graphite or charcoal to suggest buildings. Bright colours were the order of the day. I chose these two as they're in complete contrast to each other – more muted colours against bright vibrant colours, realistic images to more abstract suggestions.
CHARLOTTE BARLOW
---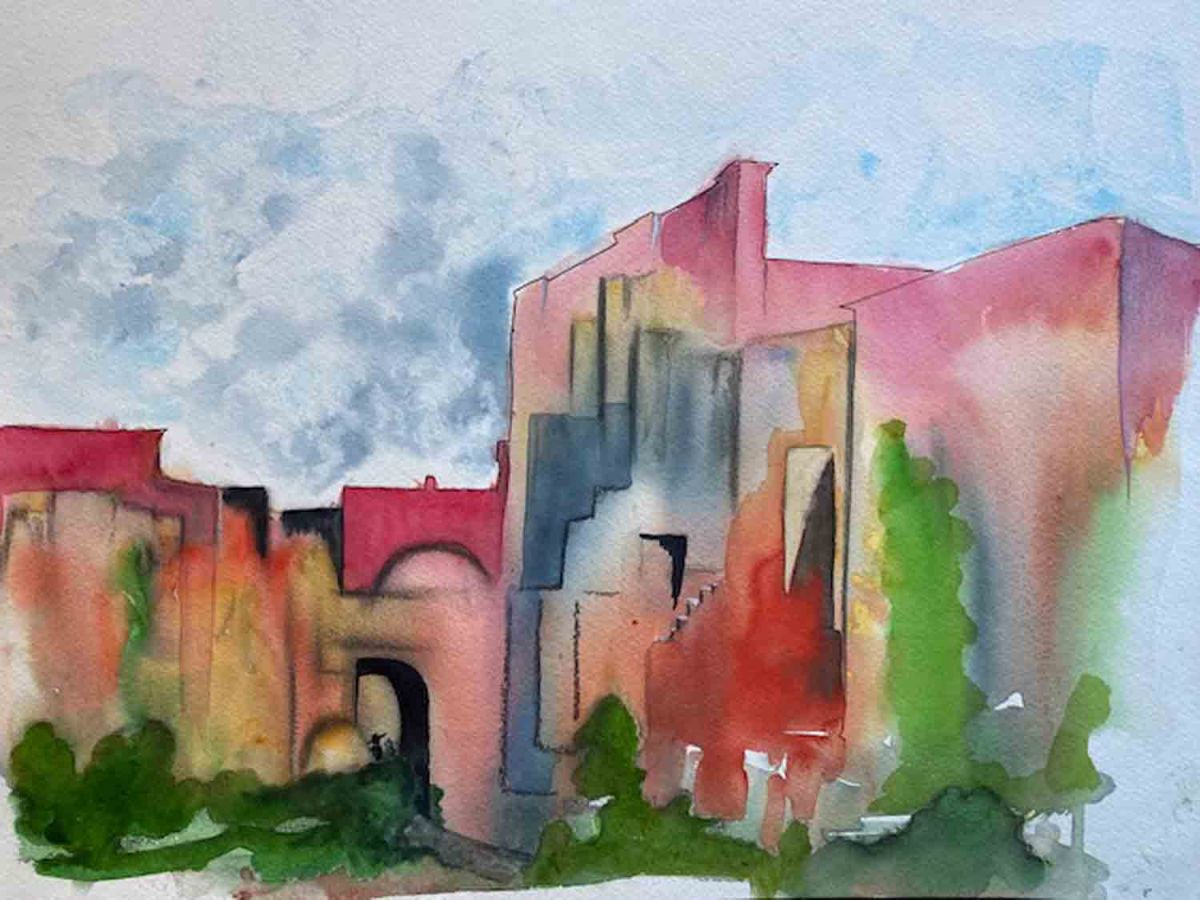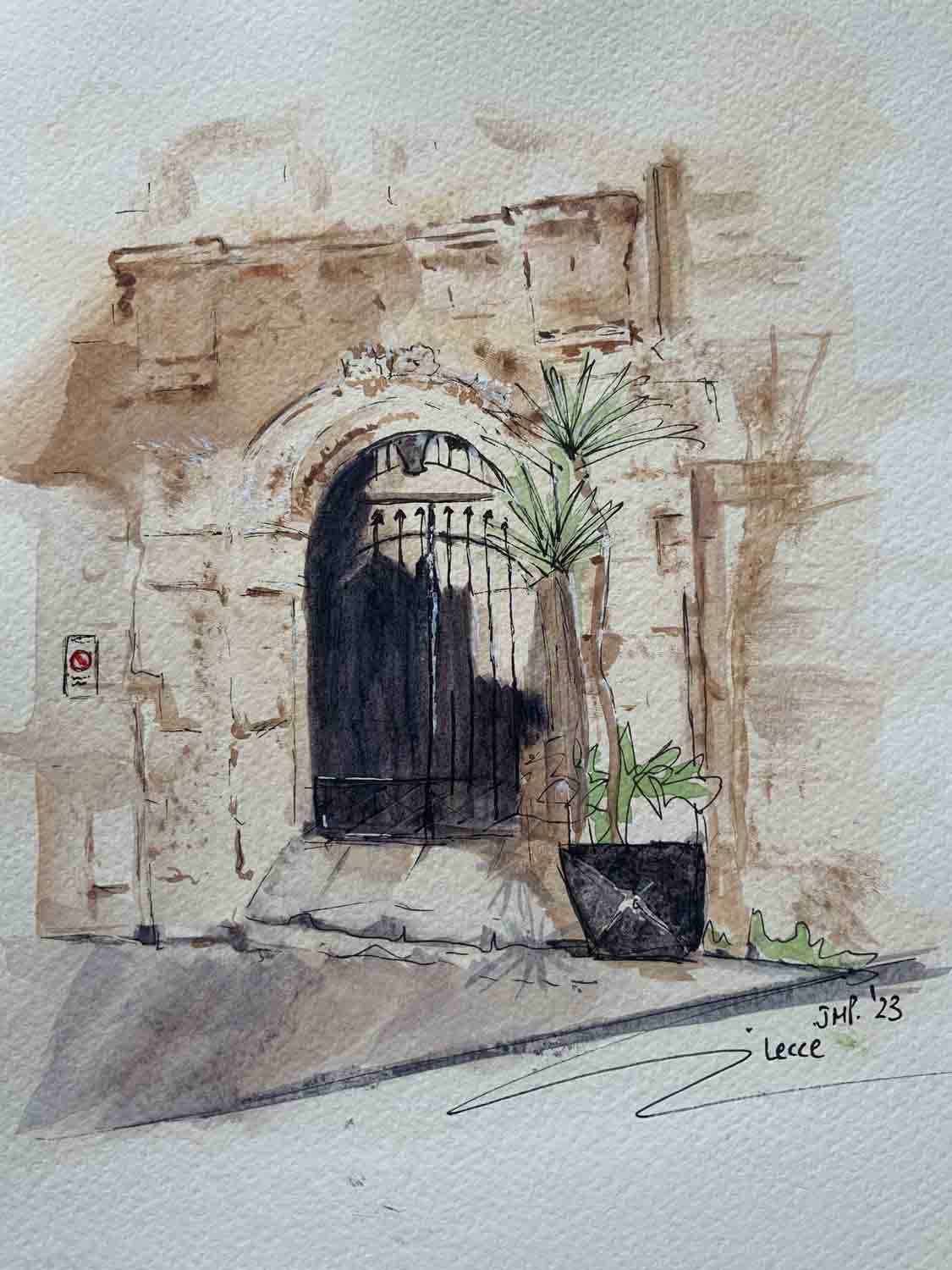 ---
Doorway – Lecce, Italy (£49)
"I fell in love with beautiful Lecce during our visit with our tutor and fellow painters. I definitely have a "thing" about doorways! This was done using a fine-liner waterproof pen and watercolour. "
JOAN PACKARD
---
---
Villa Ortelle – Puglia, Italy (£49)
Materials used: Watercolour paint.
Inspiration: Lemons, (and being named 'the Fruit expert'!) And of course, the different styles and techniques demonstrated by two different tutors who are both professional artists.
LINDA PATERSON
---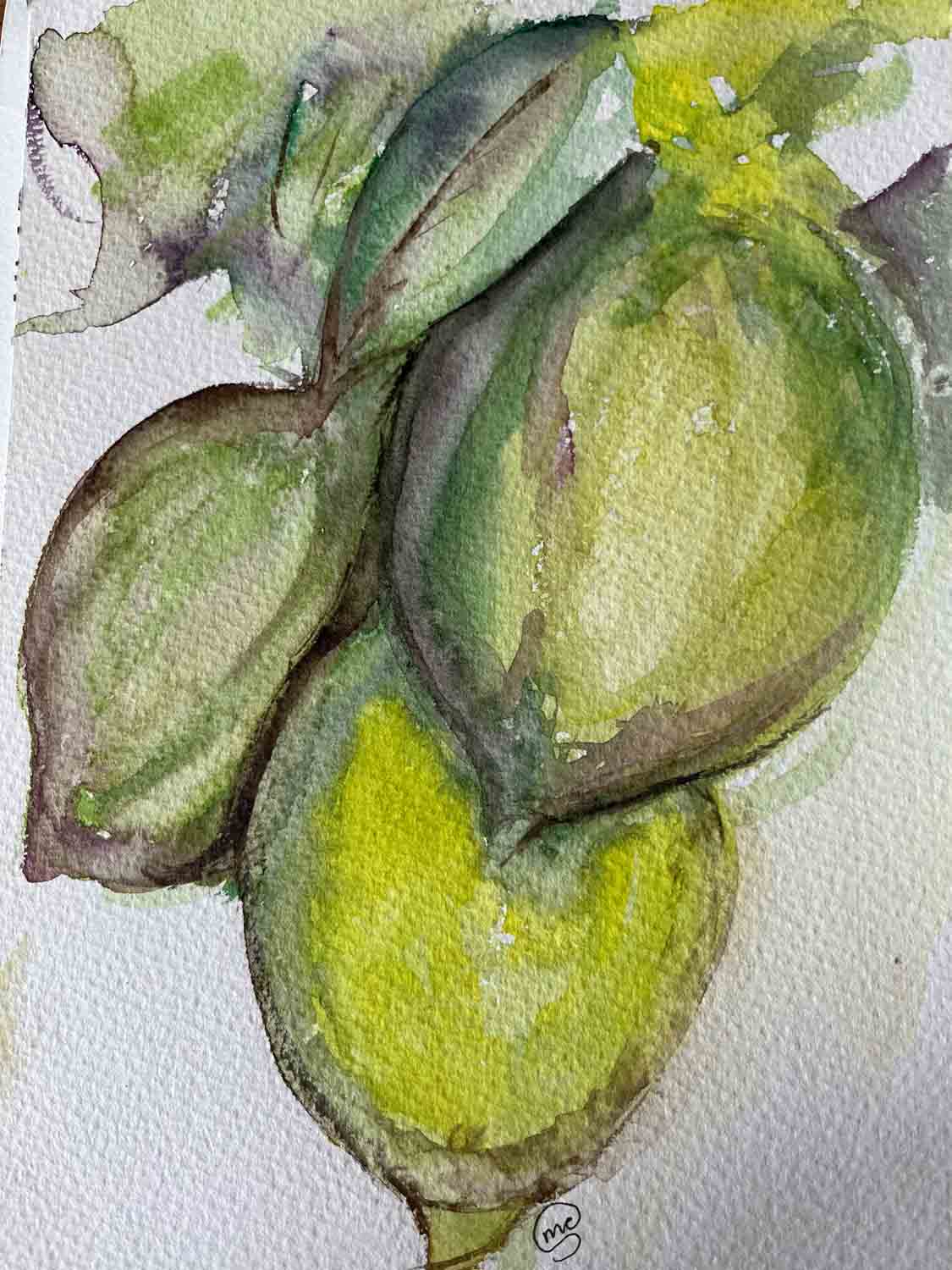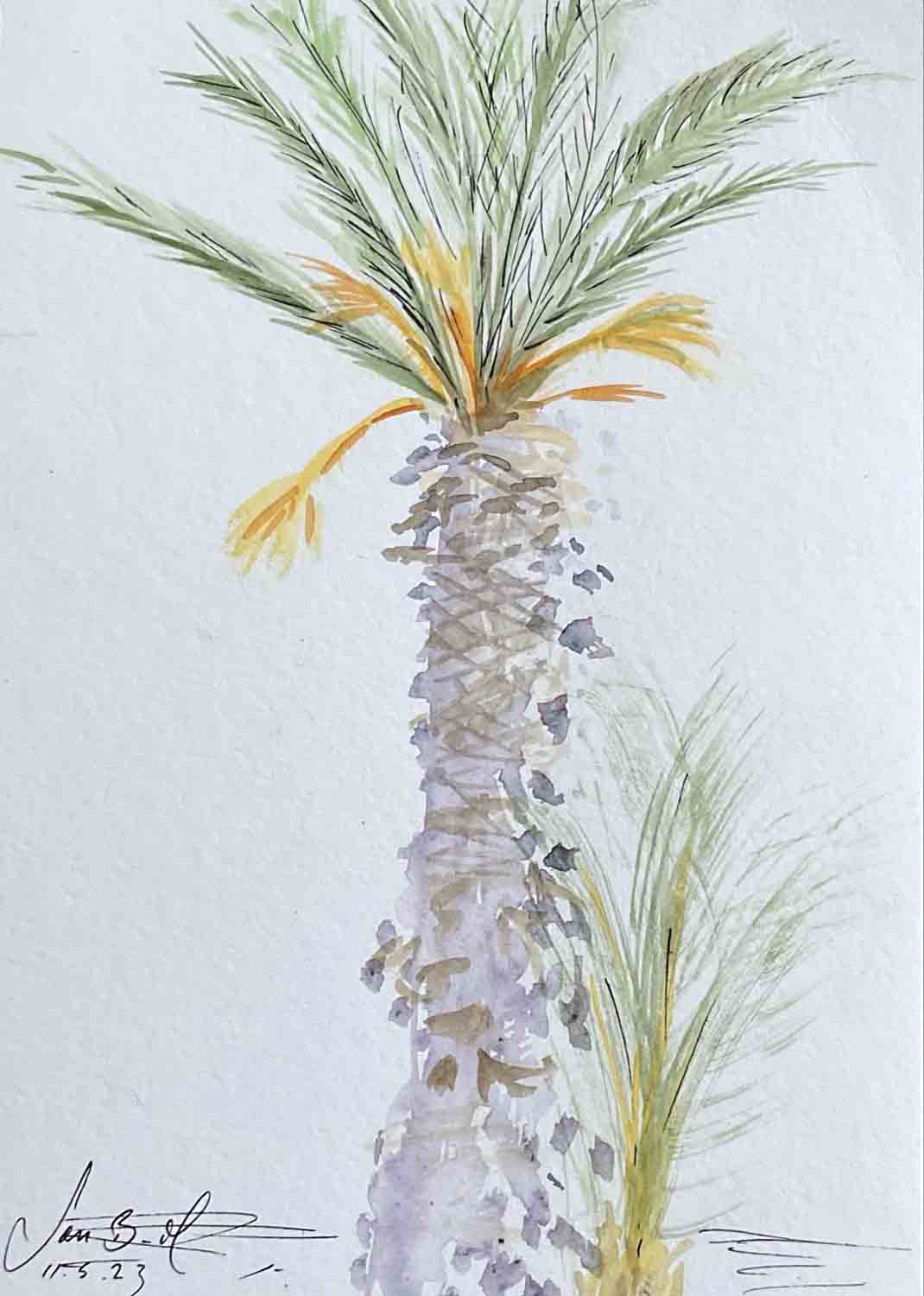 ---
Palm tree – Puglia, Italy (£49)
This was painted sitting beside the pool in the villa in Puglia in May. I used a small dagger-shaped brush for most of the painting with a fan brush and fountain Pentel pen for the highlights. I painted directly onto the paper without sketching first. I have been trying to capture palm trees as I love their movement, but this is the first time I felt that I had 'got it'!
JAN BRITTON-MOSLEY
---
---
Quiet Walk – Puglia, Italy (£49)
A manipulated photograph of a Lady having a late afternoon walk, in the village of Ortelle.
MARK HOLDEN
---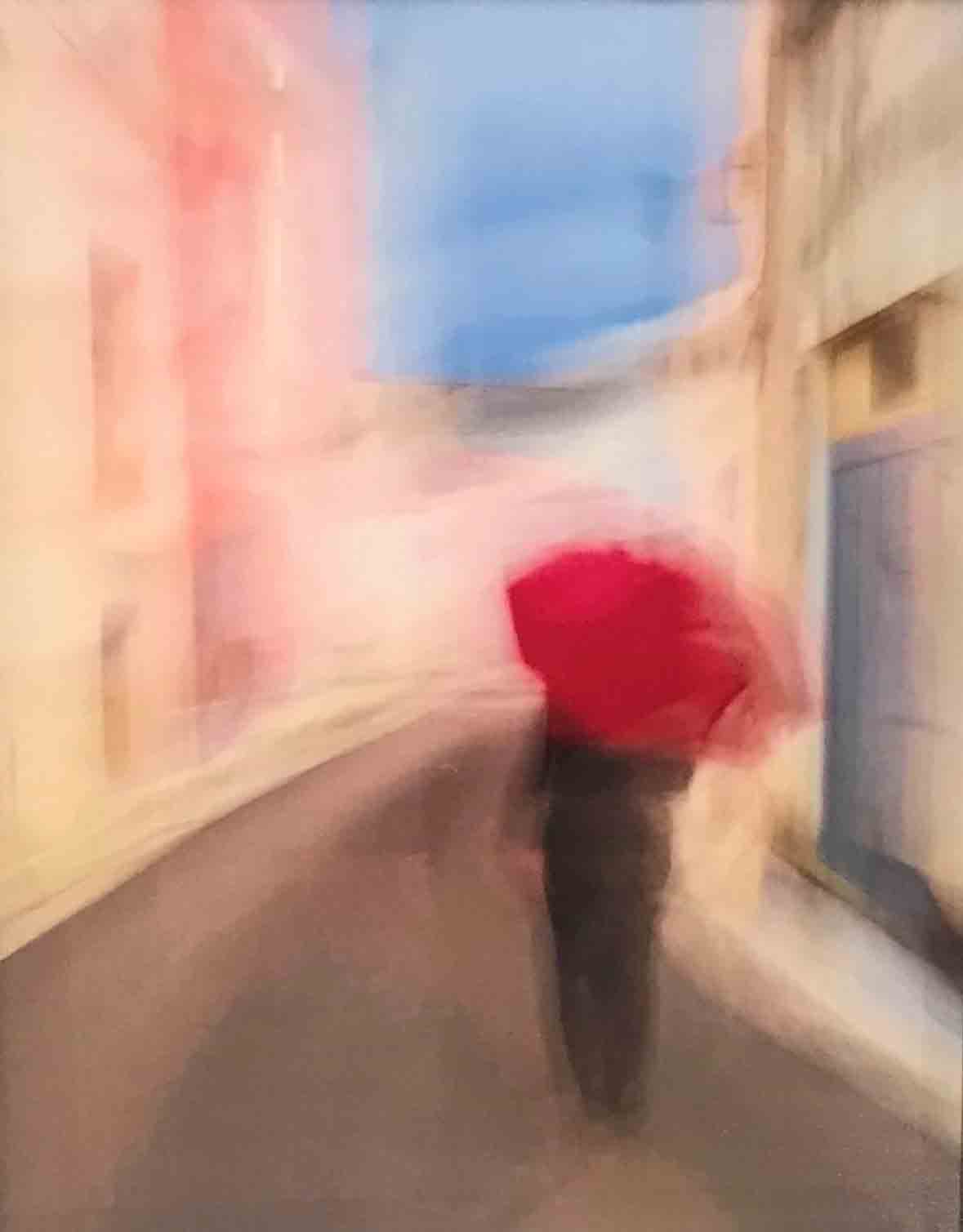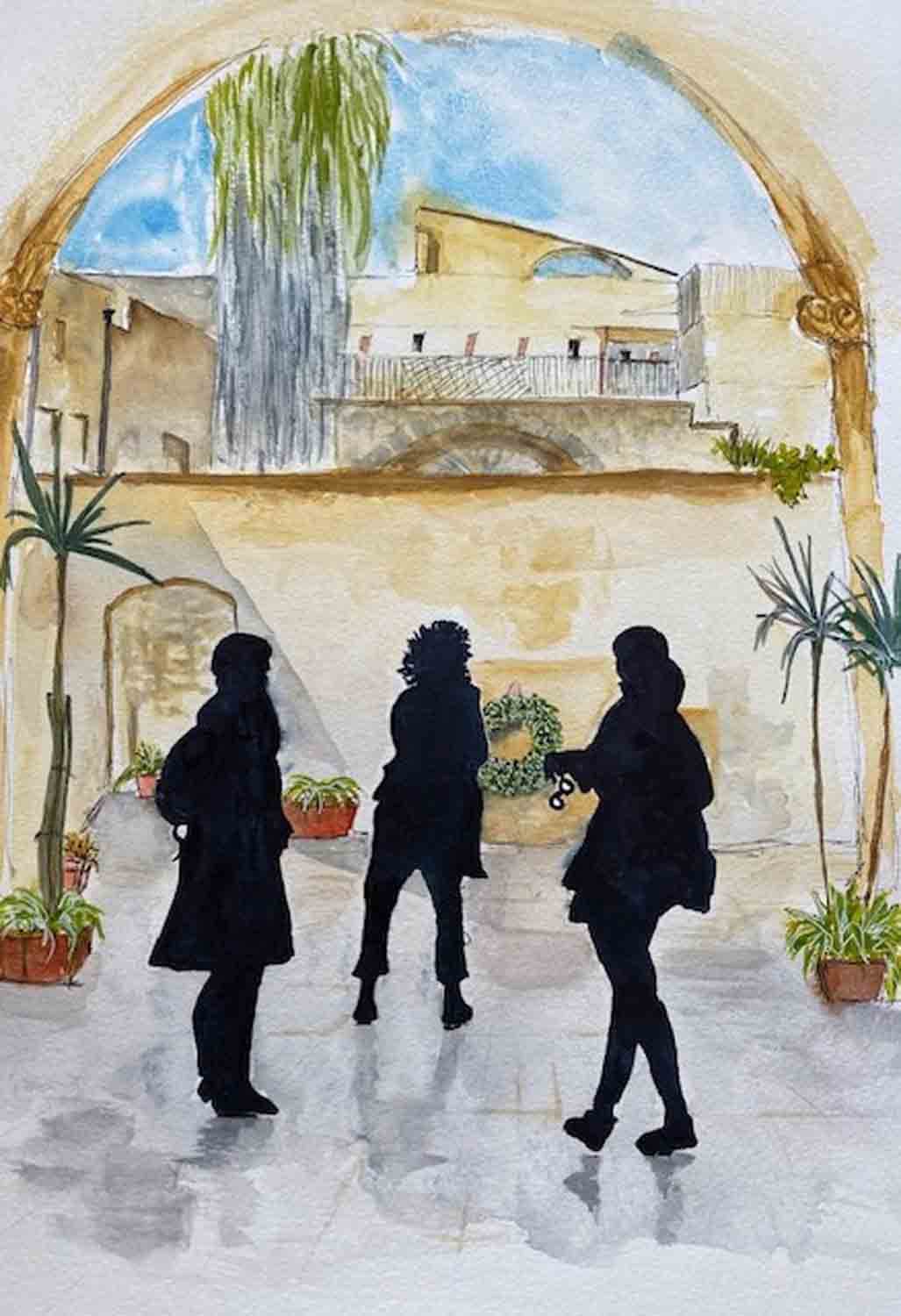 ---
Looking through – Lecce, Italy (£49)
I photographed the image whilst out on a trip to Lecce in Puglia. The silhouettes of the three ladies appealed against the lightness of the scene through the archway. I painted It back in the studio at the villa in Ortelle, using a limited watercolour palette. 
CHARLOTTE BARLOW
---
---
Piazza del Duomo – Lecce, Italy (£69)
I took the photo in June 2022 in the Piazza del Duomo (Cathedral Square) in the city of Lecce in the Puglia region of Italy. The architecture in many Italian cities is wonderful and I have a particular love of taking photos of buildings using a wide-angle lens which cause the convergence of vertical structures, in this case, the Cathedral and the Bell Tower. Standing at 70 metres the Bell Tower is the tallest tower in Puglia. The original image was taken in colour, but as is so often the case with architecture, conversion to black and white reveals the highlights, shadows, and tonal nature of texture. It was one of my personal favourite shots from the holiday which is why I submitted it.
PHILLIP ODELL
---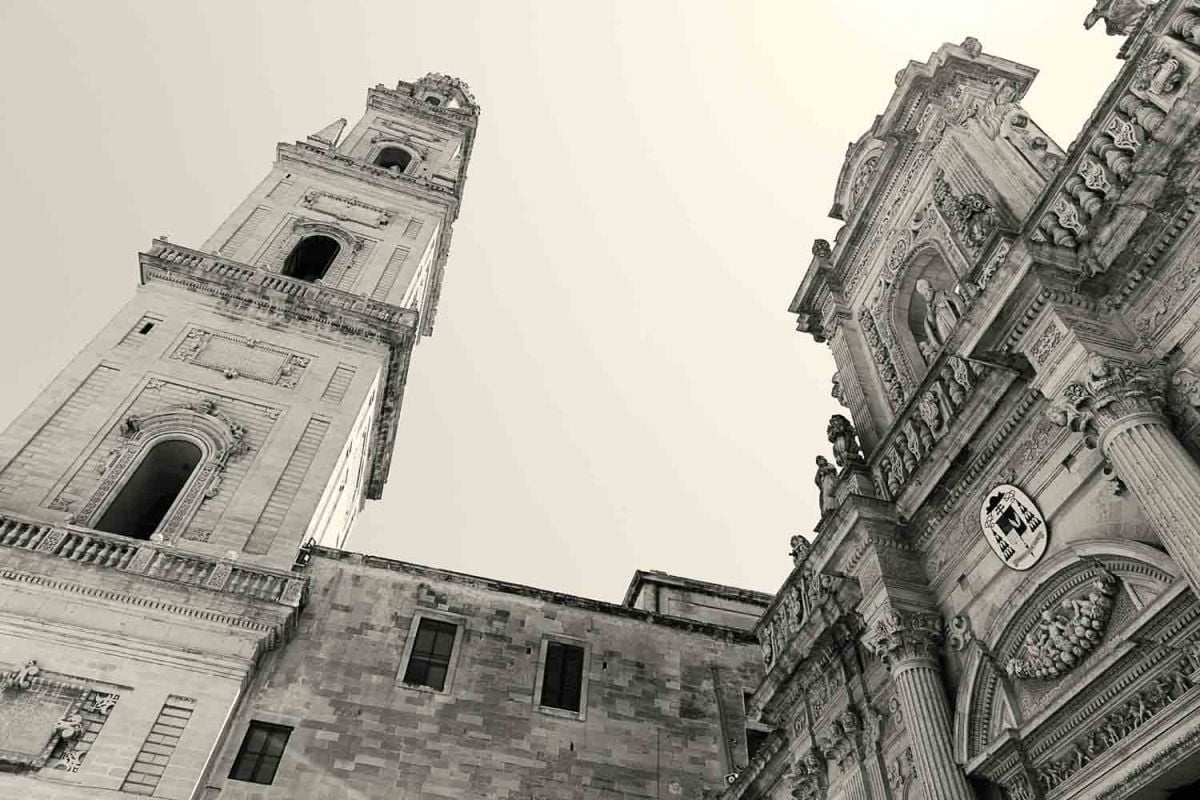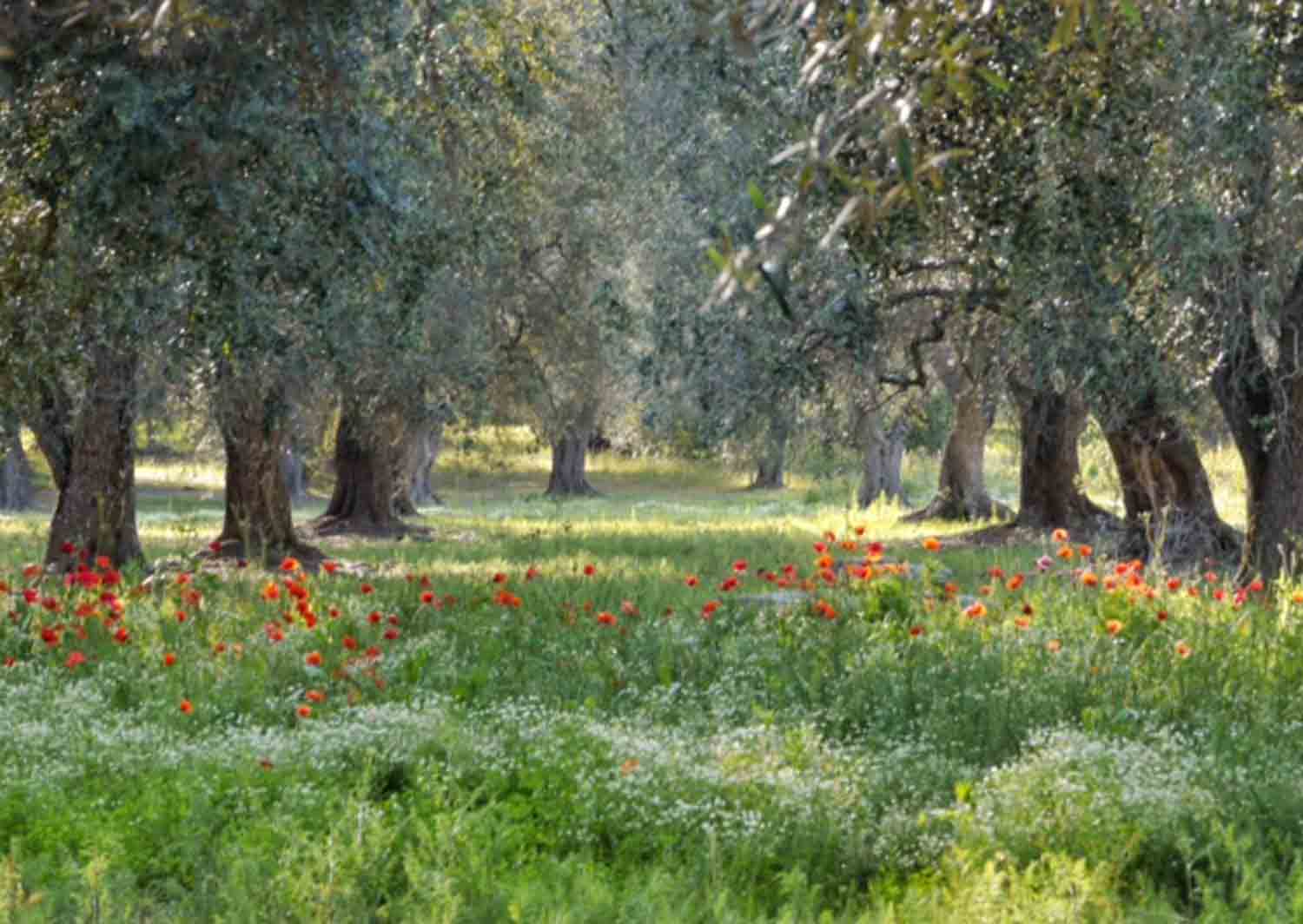 ---
Puglia, Italy (£69)
The photograph was taken during my very first Flavours holiday, in Puglia, in September 2014. I've been on a Flavours cooking holiday almost every year since then! It was taken very close to Casini Pisanelli – I remember walking out from our villa into the surrounding countryside and coming across this view. The result reminds me of Monet paintings and has always been a favourite of mine. 
TANIYA KEOGHAN
---
---
Skyline – Poggiardo, Puglia (£49)
This piece is of the skyline at Poggiardo, Puglia. This was my first experience sketching "en plein aire", I drew the outline in ink and then used watercolours back in the studio with a wet-on-wet technique. Achieving this has given me so much more confidence to be experimental. 
JOAN PACKARD
---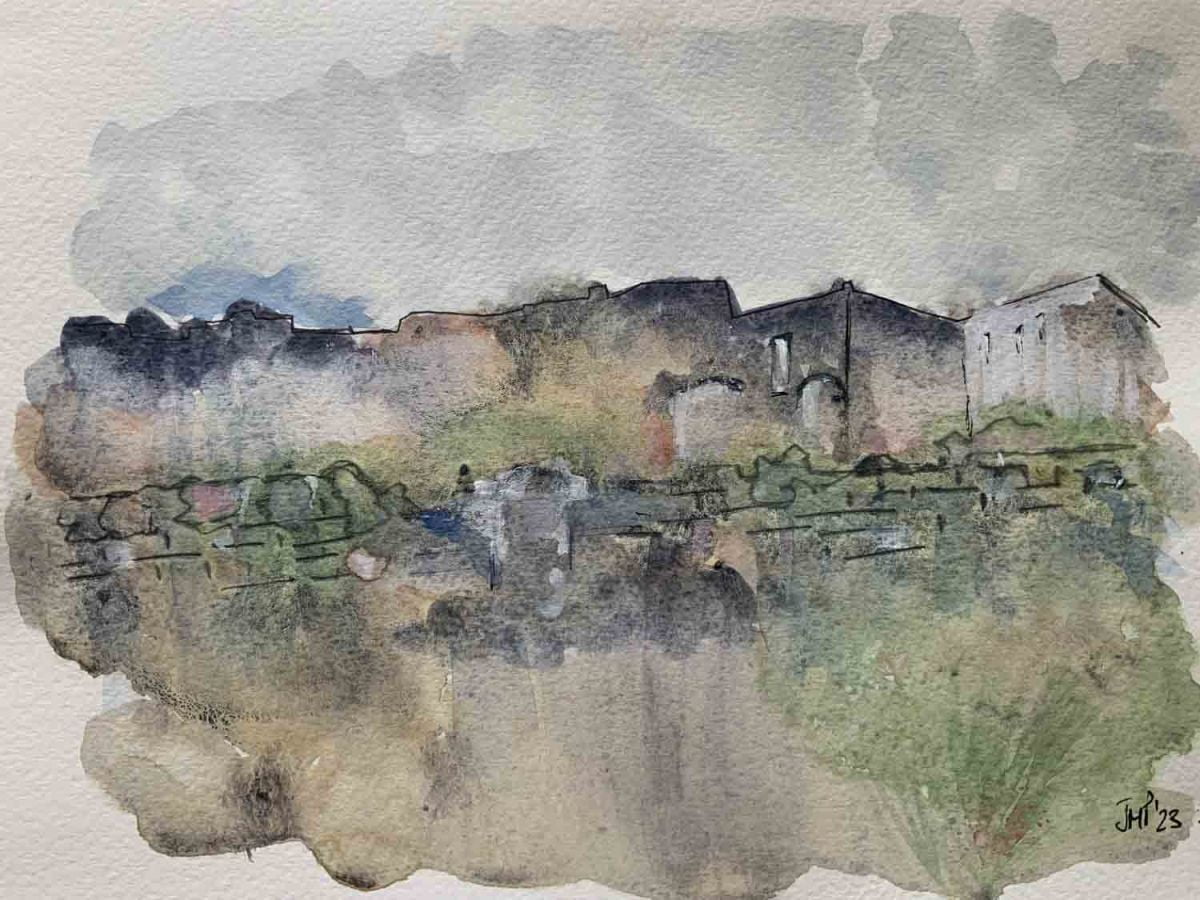 ---
Old Door – Puglia (£49)
Painted in watercolour There were so many old doors in the streets around where we were staying. I took lots of photographs but chose this one to paint because it reflected my mood at the time. I had Long Covid and was feeling a shadow of my usual self. The door, although a bit battered, stood strong and silent.
JUDE CHALK
---
The Art of Travel exhibition has been a vehicle to not only showcase some of the amazing artworks of our Amicis but also, more importantly, to support and highlight the amazing work that Maggie's does. Maggie's is a charity providing free cancer support and information in centres across the UK and online and is very close to our hearts. Please contact us should you want to purchase any of the art above; the art is a print of the original and comes framed.