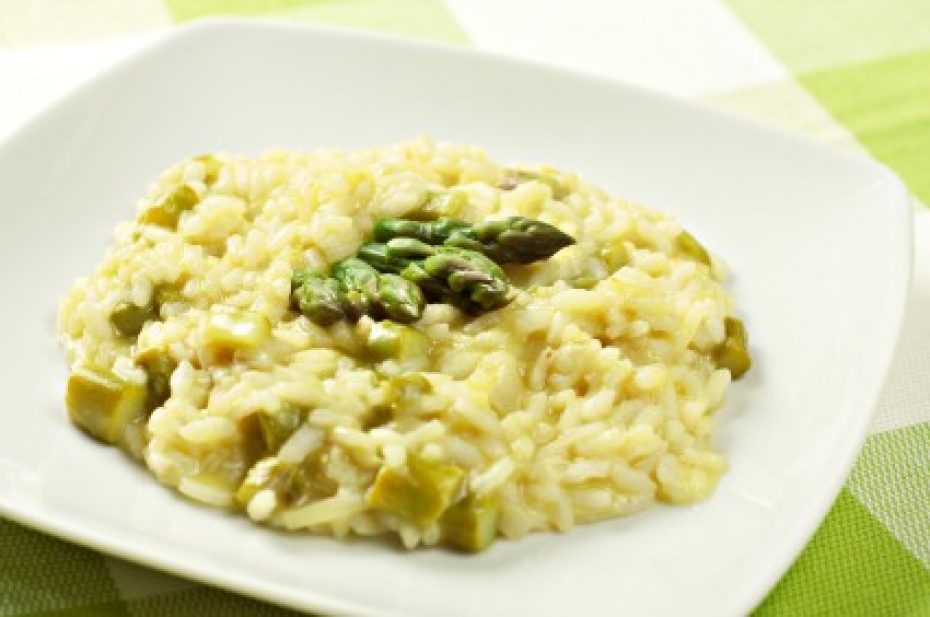 Ingredients:
320 g Carnaroli rice
400 g asparagus
800 g prawns
Salt to taste
White pepper
1 shallot
Olive oil
50 g white wine
For the prawn stock:
Prawns left from the recipe
1 carrot
1 celery
1 shallot
White wine
2 spoons of olive oil
Salt to taste
Instructions:
Remove the head of the prawns and the black line of the intestine. Cut the back of the prawn and take the flesh out.

Clean the other 4 prawns without removing the heads

Use the scraps of the prawns to make a stock: pour olive oil in a pot, place the heads of the prawns, the shells, the celery, the carrot and shallot.

Place on a medium height and simmer with white wine until reduced

Then add water, seal the pot, and cook at low heat for 10 minutes. Finally pass it through a sieve and leave it to one side.

In the meantime, prepare the asparagus: peel the asparagus, cut the lighter part. Chop thin slices of asparagus, and chop the raw prawns too. Leave to one side.

For the risotto: pour the olive oil in a pan, chop thin slides of shallots and fry on a slow heat . Add a splash of water and mix with a wooden spoon gently.

Melt the shallots and add the "Carnaroli" rice, toast the rice for some minutes, mix the rice with a wooden spoon. Simmer with white wine until reduced and add the strained prawn stock.

Slowly add ladlefuls of the stock to the rice for 15-20 minutes, allowing the rice to absorb the stock before adding more. When the rice is ready and creamy, add the asparagus and mix for 19-20 minutes. Cook for 5 minutes more, add salt and pepper to taste.

When the rice is almost cooked, add the prawns and mix. Turn off the heat, place the risotto in a platter, add the prawns with the head and the asparagus on the top.