Here, we've gathered together some fantastic art competitions located both in the UK and abroad that, on the whole, welcome artists of any experience level, with no age restrictions either. Most of the art competitions listed below have no or low entry fees and the prizes range between anything from £20,000 to an exhibition at the Saatchi Gallery in London.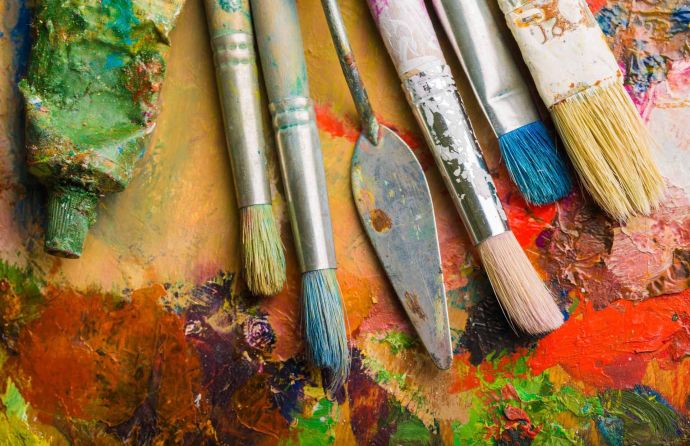 We believe that there is no end to the benefits of enjoying a creative pursuit. While travel may be our first love, many of our holidays revolve around painting and photography, offering Flavours guests the opportunity to share their passions with like-minded people and receive one-on-one tutelage from our brilliant teachers.
From problem-solving and brain health to wellness and combating anxiety, artistic hobbies are a brilliant benefit to our mental health. If you're someone who loves picking up a paintbrush, sketchpad, potters wheel, or camera, then you might be interested in looking at some of the art competitions that promote newcomers and amateurs to the art world.
So, why not have a bit of fun and challenge yourself to submit a piece this summer? And, if you're keen to invest in your love of art, check out our creative-based holidays to put in some practice, as well as explore gorgeous Italian towns and dining courtesy of a private chef every night.
1. Visual Art Open
Aims to establish artists' profiles in the contemporary art world
The Visual Art Open is a not-for-profit event that has been running for seven consecutive years and aims to help establish artists' profiles in the contemporary art world. The award is open to all artists no matter their level of experience, location, or age group. There are five key categories for entrants, including illustration and drawing, sculpture, photography and digital art, painting and mixed media or printmaking, and finally, young artists aged between 16 and 24.
Artists may enter up to five works into the art competition which are charged at £20 for the first submission and £10 for each thereafter. The overall winner of the Visual Art Open will win a £2,000 cash prize, as well as a place on the annual mentorship program, a place on the Momentum program, and invaluable exposure to the art world through exhibiting and networking. All category winners will receive a £250 cash prize as well as a Premium Annual Membership with the Visual Artists Association.
Finalists will be announced in September, followed by a small ceremony at the Other Art Fair to introduce the winners.
Entry closing date: 26th June 2023 [CLOSED NOW]
Enter here: https://www.visualartopen.com/
2. International Original Print Exhibition
An art competition that celebrates the best of printmaking
The Royal Society of Painter-Printmakers was founded back in 1880 and since then has been protecting and promoting the rights of artists to exhibit their work. The International Original Print Exhibition is an annual art competition by the society which celebrates the best of printmaking with an open exhibition at the Bankside Gallery from the 21st of September to the 1st of October 2023.
Work is to be submitted digitally through the website and each artist can submit up to six prints each, at £16 per picture. Prizes vary but include a £250 Jackson's voucher, a solo exhibition at the Hoxton store, an RE year's membership, and an annual studio membership.
Entry closing date: 3rd July 2023 [CLOSED NOW]
Enter here: https://www.re-printmakers.com/competitions/detail/2/
3. Art for Change Art Competition
The theme this year is 'Regeneration'
In only its second year running, world-renowned gallery M&C Saatchi Group and Saatchi Gallery have opened the doors for the free-to-enter Art for Change competition which seeks to help artists within the first five years of their career. This year, the art competition's theme is 'regeneration' specifically in the context of climate change. The judges ask artists to think optimistically about climate change, looking ahead to a hopeful future in which governments listen to the people in the streets and find a new way to live. The theme can be interpreted broadly and creatively.
The prize money of £20,000 will be split between six winners, with five being awarded £2,000 and one to receive £10,000 as well as a covetable exhibition at the Saatchi Gallery in London.
Entry closing date: 17th July 2023 [CLOSED NOW]
Enter here: https://mcsaatchi.com/artforchangeprize
4. The Sussex Contemporary
For artists who either are from, live or were educated in Sussex
For the second year, The Sussex Contemporary holds an open call to all artists either from, educated or living in Sussex, to submit their works in any medium for a huge exhibition down on the Brighton seafront. Last year, the 146 works selected saw a thrilling 10,000-strong stream of spectators make their way to the free exhibition which this year will be hosted at the Brighton I360 between 7th and 21st October.
Artists may be practicing at a professional or amateur level, but all must respond to this year's brief which is an individual interpretation of the theme 'metamorphosis'. Metamorphosis could represent the changing of a place, animal, person, or plant, but artists are invited to be as abstract as they like when reimagining the word's meaning in their work.
Last year's art competition attracted 650 entrants and offered cash prizes up to £1,000, but 2023's prizes have not yet been announced so watch this space.
Entry closing date: 31st August 2023 [CLOSED NOW]
Enter here: https://www.thesussexcontemporary.co.uk/opencall
5. Aesthetica Art Prize
For established and recently graduated artists
Aesthetica is a rather high-brow, independent magazine that acts as a beacon for art, design, and culture both in its printed editions and on the website. Every year, as a show of its commitment to supporting both established and recently graduated artists, the Aesthetica Art Prize offers generous cash prizes as well as coverage and exhibition opportunities to a shortlist of winners.
This year, artists are invited to submit up to two works in any media including painting and drawing; video, sculpture, installation, performance; photography, digital art, artists' Film, ceramics, illustration, and mixed-media, before the deadline for the 31st of August.
The main prize offers £10,000 cash, a group exhibition in a major public gallery, editorial coverage in Aesthetica Magazine and online as well as a profile on the website. There are four winning categories in total, ranging from long-listed artists who still receive a profile on the website, to the Emerging Prize which celebrates students and new graduates.
Entry closing date: 31st August 2023 [CLOSED NOW]
Enter here: https://aestheticamagazine.com/artprize/submit/
6. Luxembourg Art Prize
For artists not yet established
The Luxembourg Art Prize seeks to help artists not yet established in the art world but enforces no restrictions on age, location, or nationality. Even those who have been practicing for many years are welcome to enter this art competition. As long as they feel they still haven't 'broken' onto the contemporary art scene. Those using the following mediums are welcome to enter: drawing, printing, installation, painting, photography, sculpture, mixed media, and decorative art (textiles and material, glass, wood, metal, ceramics, mosaic, paper, or other techniques).
The entry fee is £50 and is accompanied by a short profile about yourself, your techniques, and your inspirations. Entry cycles happen in groups, the next group will close on the 30th of June, and after that, the third and final group will close on the 30th of September. There are three winners, the first will receive €20,000, the second place winner €10,000, and the third place winner €5,000.
Entry closing date: 30th September 2023 [CLOSED NOW]
Enter here: https://www.luxembourgartprize.com/en/call-for-submissions-en/
Good luck, and let us know how you get on!