We've taken your nominations and filtered through our favourite Italian summer reads for this weeks Italian Book Week, hosted by Flavours! Now we need you to consider the options and choose which is the perfect Italian Summer read! Vote via our survey for the chance to win a copy from the list!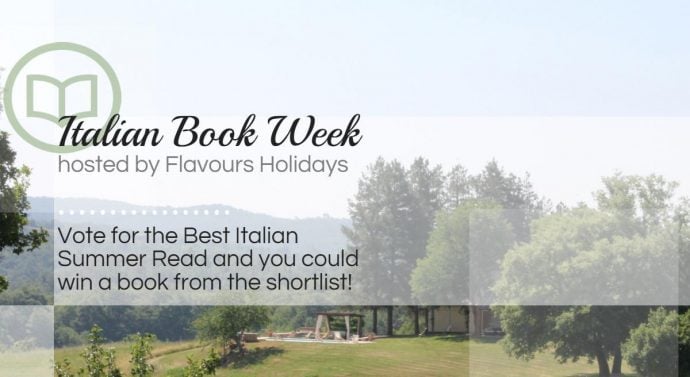 Vroom with a View
Author: Peter Moore
An avid Aussie traveller, Peter has been to almost 100 countries by latest counts and likes to see the world via unique means. To tackle Italy, he chose to buy his very own vintage 1961 Vespa and travel the country getting to know the locals. Vroom with a View is the story of his journey and the experiences which are opened up due to his unique mode of tourist transport. A fast paced adventure through the Italian countryside and city streets, the best thing is – it doesnt end there! Moore's sequel, Vroom by the Sea continues his journey a few years later, further south along the Amalfi Coast – albeit on a different Vespa! We managed to interview Peter for our blog, so keep a look out this week for inside information about Vroom!
The Periodic Table
Author: Primo Levi
Nominated by Youtuber & Literary Blogger, Choncey Boddington, 'The Periodic Table' is a collection of  autobiographical short stories by Primo Levi, a Jewish Italian who survived the holocaust. Taking inspiration from his training as a Chemist, the chapters of the book are named after elements from the table and describe his experiences in Fascist Italy, Auschwitz and his scientific discovery. This modern penguin classic opens up the harsh reality of Italian-European history, although also provides and inspirational narrative of love and friendship in the face of huge hardship.
The Gondola Maker
Author: Laura Morelli
Laura gained a PhD in Art History  from Yale University and has a great passion for artisan crafts and the traditional methods of producing them. The Gondola Maker is a fascinating fiction tale of 16th Century Venice. A perfect match for history and art buffs on a holiday to Venice, Morelli's writing will transport you back, hopefully adding further meaning to the sights you see as you wander through the city of bridges. Laura was also kind enough to lend us time for an interview, so keep an eye out on our blog this week!
Italian Ways
Author: Tim Parks 
Thirty Years of living in Italy has given Tim a lot of experiences to write about. Italian Ways focuses on the eccentricities of what it means to be 'Italian' and does so in an unusual way – through tales of his many train journeys. Daily train commutes and weekend escapes provide humorous anecdotes of regular everyday Italians. Want to really get to know the locals? Read this book!
The Inspector Montalbano Mysteries.
Author: Andrea Camilleri
An Italian pop culture favourite, Montalbano is a crime fighting detective with a side passion for local food. Translated into English after five best selling novels had gripped the Italian public, Montalbano is now just as popular on the small screen. Broadcast on BBC 4 in the UK, the series has been responsible for a boom in tourism to the Sicilian region and fans chase down the perfect scenery and delicacies Italy has on offer. Camilleri's writing is fast paced, exciting – the series will have you sitting out in the sunshine all day long to finish them.