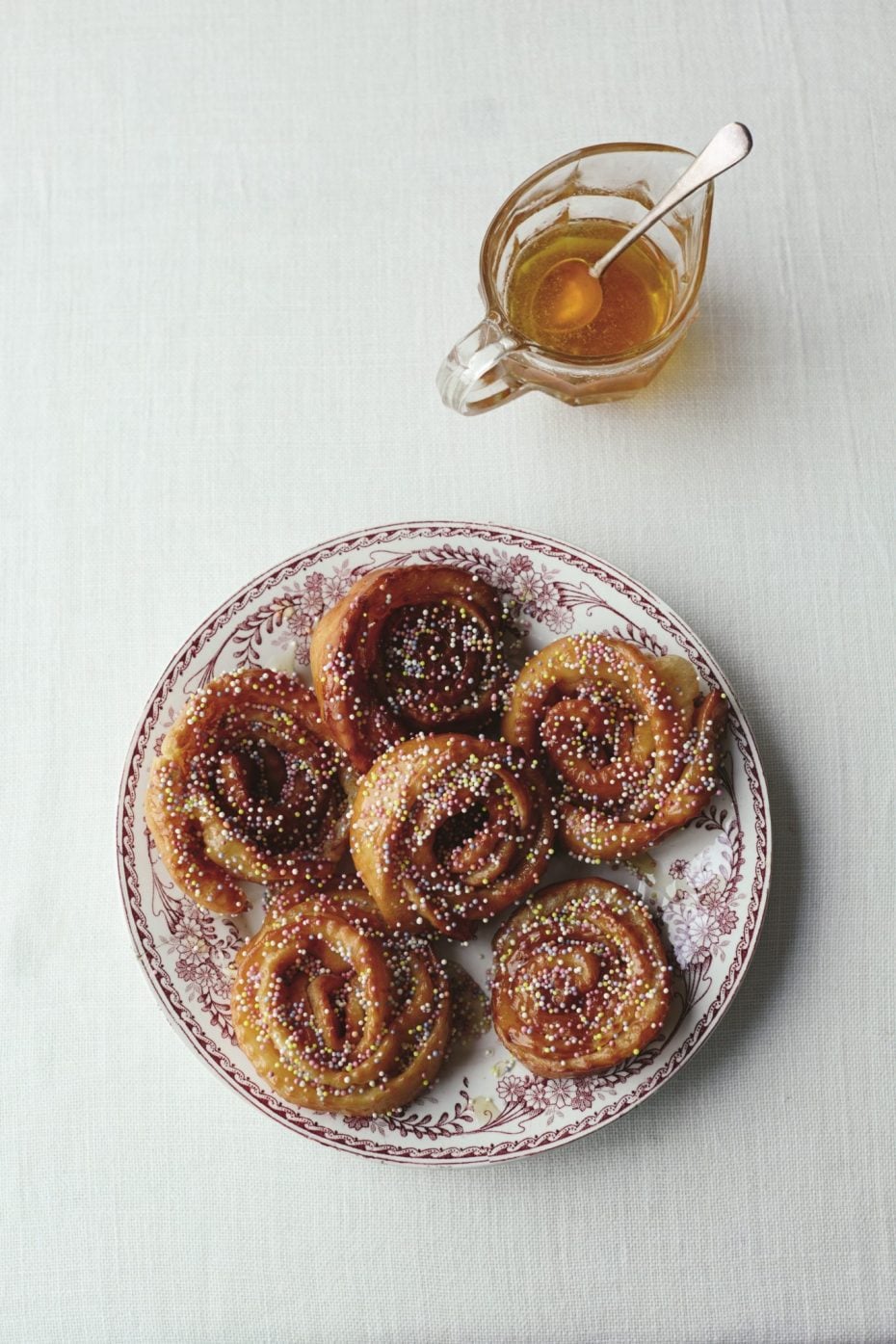 Serves: 8
Preparation Time: 40 mins
Cooking Time: 30 mins
Ingredients:
500 g / 1 lb 2 oz (4 cups) plain (all-purpose) flour, plus extra for dusting
Salt
7 g / ¼ oz (2¼ teaspoons) easy blend (quick rise) yeast
100 ml / 3½ fl oz (scant ½ cup) olive oil
100 ml / 3½ fl oz (scant ½ cup) white wine
vegetable oil, for deep-frying
350 g / 12 oz (1½ cups) honey
sprinkles, for decorating
Instructions:
Place the flour in a mound on a work counter, make a well in the centre and add a pinch of salt, the yeast, oil, wine and 120 ml /4 fl oz (½ cup) lukewarm water. Quickly work in the flour until you have a soft, not sticky, dough. Knead for 5 –10 minutes, until the dough
is smooth. Cover with clingfilm (plastic wrap) and leave in a warm place to rise for 2 hours, or until doubled in size.

Divide the dough into 8 equal pieces, place them on a lightly floured surface and roll into balls. Using a rolling pin, roll them into very thin rounds with a diameter of 25 – 30 cm /10 –12 inches. Using a pastry wheel, cut each round into a long spiral strip about 5 cm /2 inches wide.

Heat a one-third depth of oil in a large saucepan. It's hot enough when a cube of bread browns in 20 seconds (180°C /375°F). Carefully deep-fry the pastries one at a time for about 2 minutes each, or until golden brown, turning over halfway through the cooking time. Scoop out with a slotted spoon and drain them upside down on paper towels.

Heat the honey in a small saucepan. Using tongs, quickly dip the pastries in it, then arrange them on a platter and drizzle over more honey, if desired. Decorate with sprinkles and serve warm.