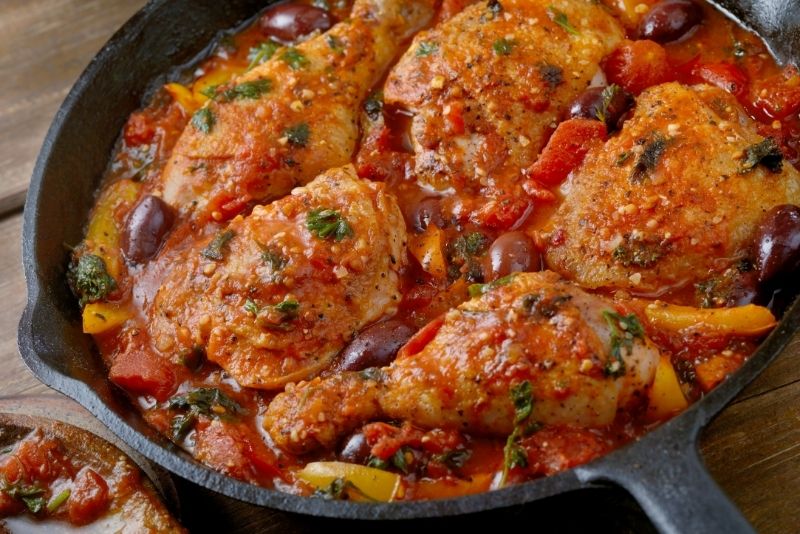 Chicken cacciatore is an absolute classic in Italy and is great one-pan dish to cook for the family or when you're having a larger gathering. Meaning "huntsman chicken", it originally came to prominence during the Renaissance period when it was developed as a hearty dish, designed to provide real sustenance to hunters who had been following animals for days. In fact, back then chicken wouldn't be used at all in this dish. Instead, it would have been based around rabbit or game, and wouldn't have been made using tomatoes either!
Nowadays, there are different variations on chicken cacciatore depending on whereabouts in Italy you are. In the South of Italy for example, red wine tends to be used rather than white, and in other regions mushrooms are added too. Below is one of favourite chicken cacciatore recipes; not only is it nice and simple, but after you've prepared everything initially, it can be left to simmer away while you get on with other jobs. Now that's always a winner in our eyes!
This recipe was update in January 2021.
Ingredients:
4 chicken legs, divided into thighs and drumsticks (skin removed if desired)
Seasoned flour, to dust
2 heads of garlic, cut horizontally
Small bunch of rosemary
1 carrot, peeled and diced
1 stick of celery, diced
Half a glass of white wine
250ml chicken stock
100g tinned plum tomatoes in juice, roughly chopped
2 tablespoons olive oil
Instructions:
Heat the butter and oil in a large, heavy-based casserole dish over a medium-high heat.

Dust the chicken pieces in seasoned flour, then fry them in batches until golden brown on all sides. Remove the chicken from the pan and set aside.

Fry the garlic, rosemary, carrot and celery, with a little more oil if necessary, for a few minutes until slightly golden.

Pour in the wine and scrape the bottom of the pan to dislodge any crusty bits, then simmer until well reduced.

Tip in the stock and tomatoes, and place the chicken back in the pan. Bring to a simmer, cover, turn down the heat and cook gently for 45 minutes, until the meat is falling from the bone.

Season to taste and add some black olives if you wish. Serve with a green salad, rice or pasta.

Buon Appetito!