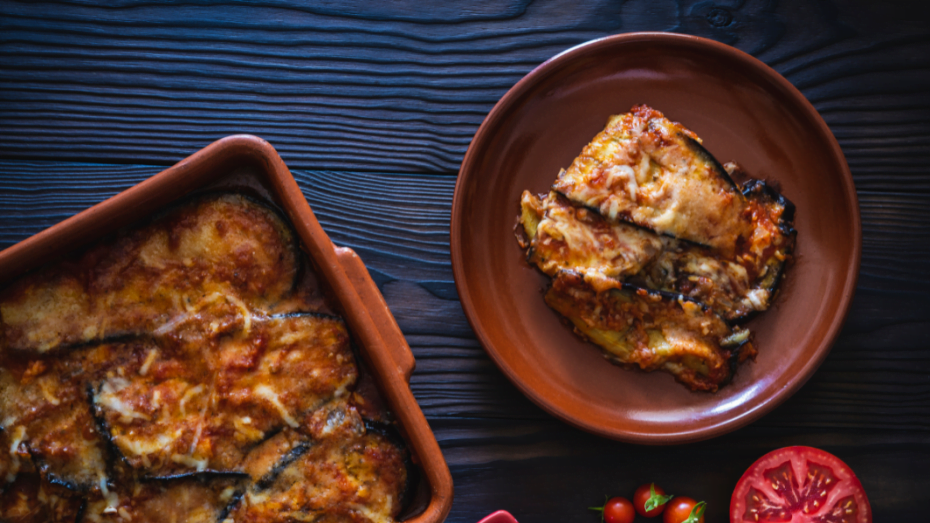 How to prepare Aubergine Parmigiana
Aubergine Parmigiana or  also known as 'melanzane parmigiana' is a classic Italian bake dish that is the perfect dinner recipe! This dish contains all the rich Italian flavours. Our chef Livia takes you through step by step on how to put together an Aubergine Parmigiana in the YouTube video below.
Serves: 2
Preparation Time: 20 mins
Cooking Time: 1 hr
Ingredients:
2 large aubergines
3 medium size potatoes
60g cheese (slices)
70g slices of parmesan
70g slices of pecorino
200ml tomato sauce
Extra virgin olive oil (to fry)
Basil
Salt and pepper
50g breadcrumbs
30g grated parmesan
Instructions:
Slice aubergine quite thin, about ½ cm thickness , coat them with some salt and leave to draw out moisture.

After 30 minutes wash away the salt and dry using some kitchen roll. Now they are ready to be fried.

Use olive oil to fry them. Fry till golden brown and another tip to know when they are ready is when the fork can easily go through them.

Meanwhile peel the potatoes and slice them about ½ cm thickness, fry them in olive oil until they are soft.

Next, use a block of parmesan to obtain  slices and do the same with pecorino.

To make the tomato sauce use a frying pan,  add oil with garlic, add the plum tomatoes squeezed by hand. Add some salt, pepper and basil leaves. Let the sauce cook for about 20 minutes.

When all the ingredients are ready you can start building the aubergine parmigiana.

In a non-stick pan sprinkle some breadcrumbs and some grated parmesan, now add some olive oil to make the base crunchy.

Cover the pan with slices of fried aubergines then add the parmesan and pecorino slices. Now cover the spaces with the fried potatoes and the slices of cheese. Finally add some of the tomato sauce.

Continue by making 3 more layers and top off with fried aubergine.

Turn on the hob and cook at low flame for about 15 minutes.

When cooked turn the aubergine parmigiana out on a large plate.

To cook the other side, again in the frying pan sprinkle breadcrumbs and grated parmesan then some oil then place the parmigiana on it turn it on low flame for another 15 minutes on this side.

When it is cooked, leave it to cool down for a while so when you slice it does not break!

Enjoy!
Check us out on YouTube!
Missed Livia's cooking master class Facebook live? We have a YouTube channel! New recipe added weekly