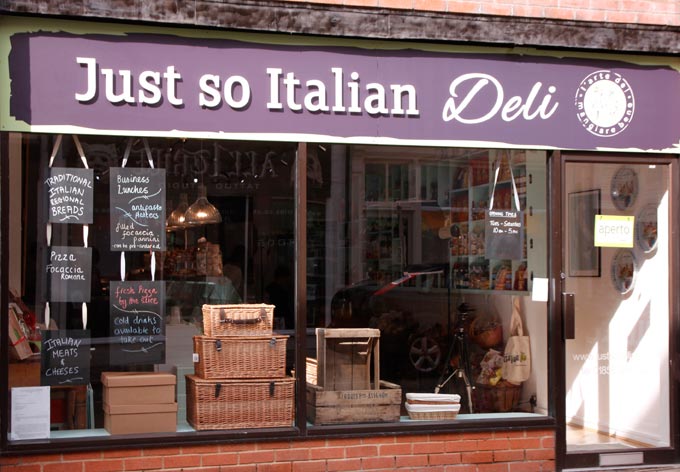 Do you find it hard to find the delicious Italian flavours tried on your cooking holiday when arriving back home? The search is over – we have found the place to go: JUST SO ITALIAN focuses on bringing some of the best kept Italian secrets to the UK. Many of its products are "food & drink with a story", made by small producers and rarely seen beyond the next village, let alone in a different country. Read our interview to see what true Italian lovers are passionate about!
What started your passion for food?
My mum is Italian, from Bologna, so I grew up already surrounded with real home cooked Italian food. As children we'd spend each summer in Italy eating piadina, pizza al taglio, bomboloni and ice-cream every day. It seemed a sensible thing to try and combine this love of food with business, I get to talk about (and eat) lovely food all day!
Do you have a favourite Italian dish?
Depends on where I am and what time of year it is! If I'm near the sea I'll always have a Grigliata di Pesce but you can't beat a good plate of Tagliatelle al Ragu when the weather is colder (made with fresh pasta and finished with grated Parmigiano!).
If you had a meal to pick for the rest of your life, what would it be?
Tough question! It would definitely have to be fish – a selection of seafood antipasti, followed by Spaghetti alle Vongole then a mixture of grilled and fried fish and all rounded of with some proper Italian gelato.
If we offered you a ticket to Italy, where would you like to go and why?
Sardinia – the water looks amazing as does the scenery. I'm guessing the food is pretty spectacular as well.
We are passionate about Italian food and Italian cooking – what would you create on one of our cooking holidays in Italy?
It's more a putting together of a few ingredients – Piadina with Stracchino e Rucola. Piadina is a flatbread originally from Emilia Romagna, the tastiest ones are always made with strutto (pig fat), but olive oil is often a healthier option. My favourite way of filling them is with Stracchino (also called Crescenza or Squaquerone), a very creamy, slightly bitter flavoured cheese mixed with fresh rocket salad. It has to be tried to be appreciated!
Company Biography
Run by two chefs, Danilo and Alison Trozzi, JUST SO ITALIAN was born in 2008 as a progression to their successful Italian event catering company. You can find their products in many delis & fine food shops around the country as well as in their online shop at www.justsoitalian.co.uk and their bricks & mortar shop in Market Harborough. And in 2014 they launched a dedicated hamper and gift service for corporate customers called JUST SO HAMPERS (www.justsohampers.co.uk)
Did you like what you read about Danilo and Alison and would like to try their authentic Italian food? Well, we have a special treat for you! In partnership with JUST SO ITALIAN we will run a Recipe Competition starting next week – with great prices and delicious recipes. For more information see our Terms and Conditions. For those searching for the real deal – check our cooking holidays and learn how to cook authentic food in breathtaking surroundings!