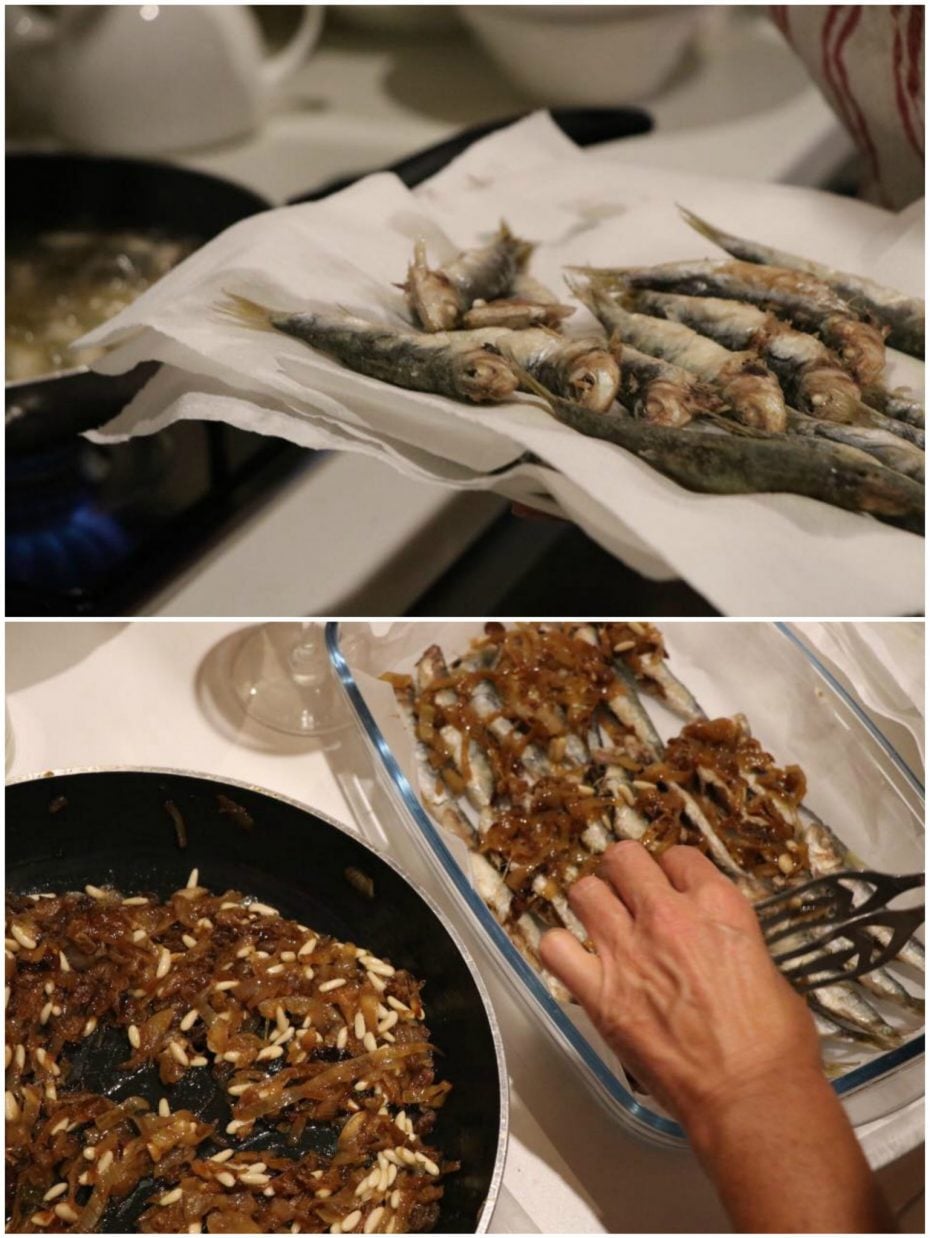 Sarde in soar is perhaps the quintessential Venetian dish – a dish of fried sardines topped with cooked slices of sweet and sour white onion, often punctuated with pine nuts and raisins. It is served as a cold starter or a cicchetto (one of a series of small bites) in many traditional restaurants or osterie in the city. It perfectly illustrates how Venetian food is actually a melting pot of cultures and traditions deriving from a past of intensive trade and exchanges, with influences coming from all over the Mediterranean, the Middle East and Asia, and is a sure-find recipe on our Cooking holidays in Venice.
Try our Flavours chefs' recipe for this quintessential Venetian dish. Let us know how you got on in the comments below!
Photographs copyright Niamh Shields / eatlikeagirl.com
Serves: 6
Preparation Time: 40 mins
Cooking Time: 30 mins
Ingredients:
600g White onions
600g fresh sardines
Salt & Pepper, to taste
3 tbsp extra virgin olive oil
200 ml vinegar or apple cider vinegar
40g raisins
40g pine nuts
Cooking oil (groundnut or sunflower oil would be best)
Plain flour to fry
Instructions:
Wash the sardines, and remove the head. Leave to drain well and dry them with a bit of paper towel.

Heat the extra virgin olive oil in a frying pan, add the salt and pepper. Cook the onions slowly until they are brown and add the wine vinegar.

Heat a generous glug of the cooking oil in a large pan. Flour the sardines and fry them in the hot oil for a few minutes on each side. Let them cool on paper towels.

Soak the raisins in hot water for 10 minutes.

Using a cooled container (with a lid), layer the onions, fried sardines, raisins and pine nuts. Season with a little extra virgin olive oil if necessary. Finish with a  layer of onions on the top.

Leave in the fridge until ready to serve. This dish is eaten cold, and is best when served at least one day after being made. Buon appetito!