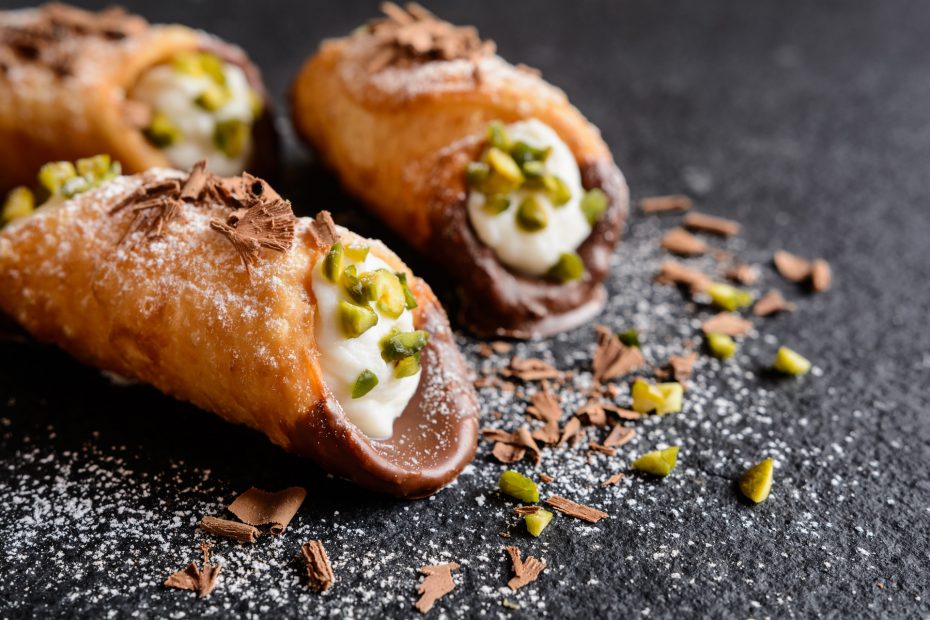 Recently featured on this year's 'Great British Bake Off', Sicilian cannoli have been popping up in cafes all over the place! We thought we'd share our Flavours Chef Carla's traditional Sicilian recipe for authentic, crispy cannoli with a sweet and creamy ricotta filling. They're a firm favourite with guests on our Cooking holidays in Sicily, and you can whip them up at home in no time too!
Serves: 2
Preparation Time: 40 mins
Cooking Time: 30 mins
Ingredients:
For the Cannoli Shells:
250 g type 00 flour (plain flour is fine if you can't find this)
25g butter
25g caster sugar
60ml dry marsala
For the Ricotta Filling:
1 kg ricotta (traditionally sheep's milk)
300g icing sugar
Ground pistachios or glace cherries, to taste
Chocolate chips or candied fruit, to taste
Instructions:
For the cannoli shells, put the flour, butter and sugar on a pastry board and start to knead. Add the marsala to bring the ingredients together until they form a smooth dough.

Roll the dough out as thinly as you can and cut into oval shapes.

Use butter to grease the aluminium moulds, wrap the dough ovals around the moulds using a little of the beaten egg to stick the top edge of the cannoli down.

Fry the cannoli in their moulds, in vegetable oil until they become golden brown all over. They should bubble and blister on the surface. When cooked, shake the cannoli carefully off the moulds using tongs, so that you can re-use the moulds.

To make the filling, pass the ricotta through a sieve, then add the sugar, beat and pass again through the sieve.

Add the chocolate chips or candied fruit, and mix it all together.

Spoon the mixture into a piping bag and pipe into the middle of the cannoli until full. You can either sprinkle the tips of the cannoli with the ground pistachios, or place a glace cherry at either end. Dust them with icing sugar to serve.

Buon appetito!