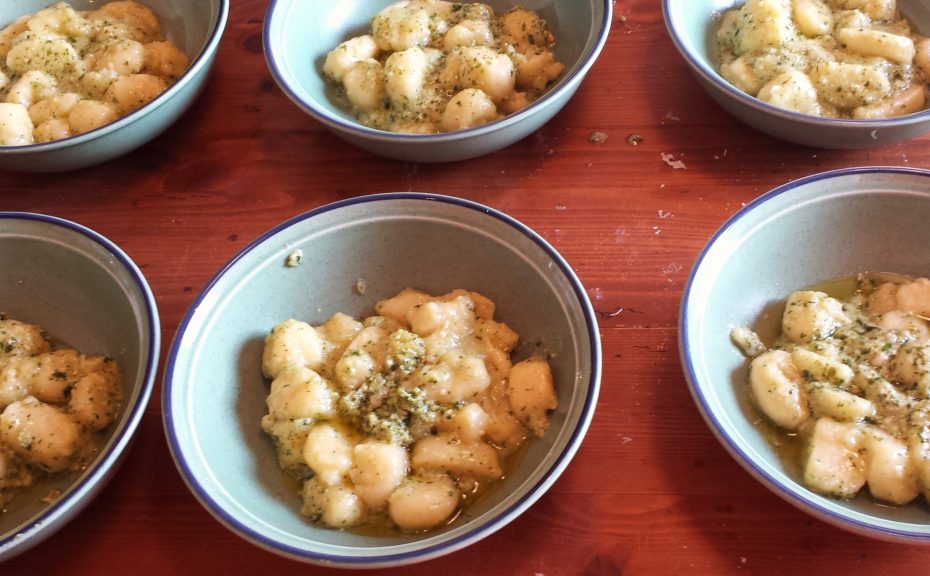 Ingredients:
For the pesto:
50g of fresh basil leaves
1 glove of garlic
1 heaped tablespoon of pine nuts
15g of Pecorino cheese
15g of Parmigiano Reggiano
4 tablespoons of extra virgin olive oil
For the gnocchi:
1kg of floury potatoes
300g of plain flour
1 egg
Extra virgin olive oil
Pinch of salt
Instructions:
Tear the basil leaves off the stem, wash with cold water and pat dry.

Peel the garlic clove and grate the pecorino and the parmesan.

Using a pestle and mortar, put the basil, garlic, pine nuts and salt in the pestle and mix together. When the basil is crushed add the cheese to the mixture and mix well.

Finally, add the extra virgin olive oil to the mix to make a smooth paste with a creamy consistency.

For the gnocchi, boil the potatoes with the skin on until they are soft. Drain the potatoes and peel the skins. Mash the potatoes in a bowl to get rid of the lumps.

Once mashed, place the potatoes onto a floured work surface. Make a well in the centre of the potatoes and add some olive oil, salt and 1 egg. Slowly add some flour to the mix, but don't let the mixture get too dry. Mix together until you have a smooth dough.

Knead the dough slowly for a couple of minutes, then roll out into a long sausage about 1 cm thick. Cut into pieces about 2.5cm long.

Gently cook the gnocchi in a pan of simmering water for a minute or two until they rise to the surface.  Scoop them out as they rise, toss with the pesto sauce and serve.