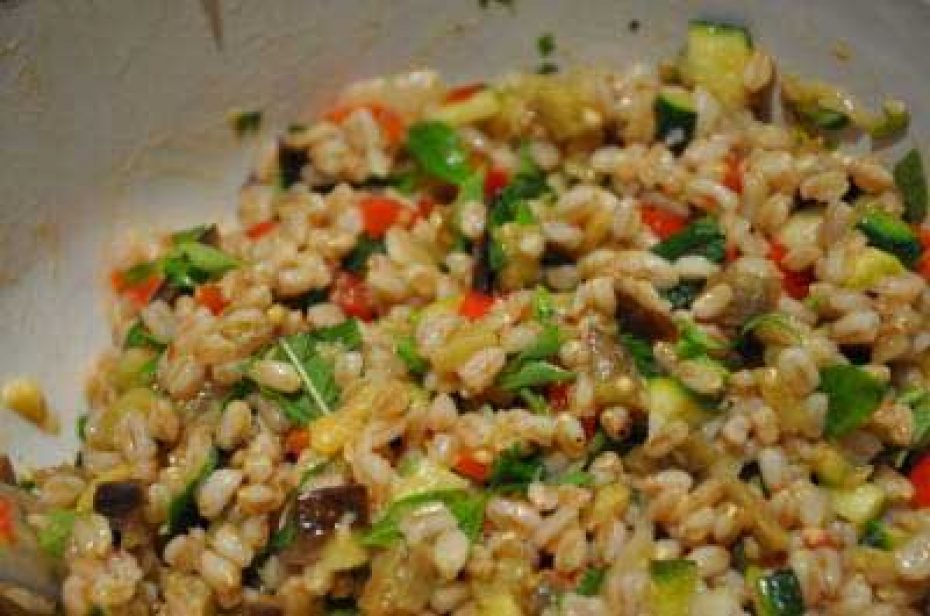 Ingredients:
200g Farro
2 courgettes
1 fennel bulb
Half a red onion
2 red peppers
1 stick of celery
2 garlic cloves
juice of half a lemon
plenty of olive oil
salt and pepper
small splash white wine vinegar
handful of parsley
Instructions:
Preheat your oven to 200 degrees (180 fan) and soak your farro in cold water for 20 minutes and then drain.

While the farro is soaking, prepare the vegetables. Half the courgettes lengthways and then chop into even chunks. Slice the red onion into wedges; chop the fennel into thick slices and half the red peppers lengthways, removing the seeds and pith.

On a roasting tray spread out the courgettes, fennel, onion and red peppers and drizzle well with olive oil and sprinkle with salt. Place the garlic cloves inside the pepper "shells". Roast in the oven for 30-40 minutes, or until the vegetables are cooked and crisp around the edges

Once the veg is cooked, sprinkle with the vinegar and set aside to cool. Take a saucepan with salted cold water, add the farro and bring to the boil and simmer for 20 minutes, or until tender, drain well.

On a chopping board roughly chop up the vegetables, chop the raw celery into fine slices and the parsley. Add the farro to a serving dish and stir in the vegetables. Add the lemon juice and dress with olive oil, season with salt and pepper to taste!
Buon Appetito!
If you want to learn to cook something fresh and healthy, then why not check our Italian holidays? To try more delicious and fresh Italian recipes join us on our
cookery holidays
, or, to get trimmed and tone this year come on a
Pilates holiday
. Our passionate and inspiring team will ensure that you will not only kick start healthy habits but experience Italy in an authentic and unique way.For more information
download our brochure
or
contact us
to talk to one of our experienced travel experts.