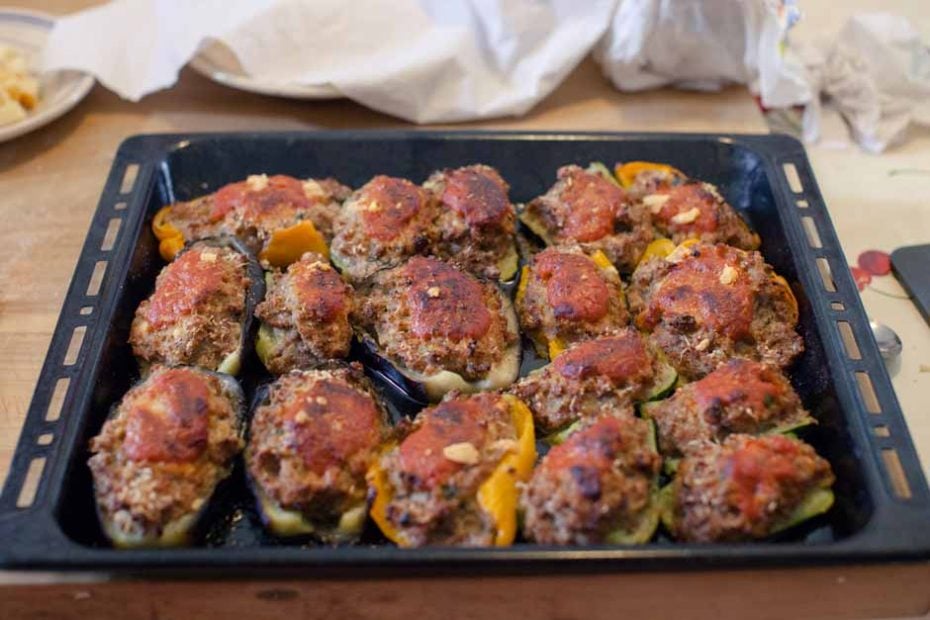 Serves: 4
Preparation Time: 15 mins
Cooking Time: 20 mins
Ingredients:
4 aubergines
2 eggs
200gr finely chopped sausage meat
breadcrumbs
garlic
oil
parsley
salt and pepper
Half litre tomato sauce
Pecorino cheese
Instructions:
1. Cut your aubergines in half and place them in boiling water for approx. 10-15 minutes and take out after.

2. Wait until cooled down. Then scoop the flesh out with a spoon, chop up and add it to the sausage meat.
3. Fry the garlic and the parsley in oil. Add to the stuffing mixture and cook for 10 minutes. Leave to cool.
4. Add eggs, Pecorino cheese, salt, pepper and breadcrumbs to the mix. Fill the aubergines with the mixture.
5. Place the stuffed aubergines on a tray. Cover them with tomato sauce and basil and bake them in a pre-heated oven (220 degrees) for approx. 20 minutes.

The same recipe can be used with courgettes and peppers.
Buon Appetito!
Have you tried and liked this delicious dish at home? Imagine how tasty it will taste in authentic environments in Puglia, taught by local chefs from the region. If you want to find out more check our
cookery courses in Puglia
!