Flavours first painting exhibition was launched in May 1, showcasing the beautiful artwork of our talented guests during their painting holidays in Italy. Participating student and amateur artist Carrie McCullock discusses her experience and what inspired her art the most.
 Can you please tell us how long have you been painting?
I haven't really ever painted before, I maybe attempted something at secondary school, but I can't remember what. The holiday was my first proper foray into the world of water colour.
What inspired your Flavours artwork?
The view from the accommodation was a good place to start, the villas and cyprus trees on the hillside. However, I was very attracted by doorways and windows and their different designs and varying stones and brickwork. I enjoyed drawing them in pencil and transferring what I had drawn to larger paper ready to paint.
What did you enjoy about painting "en plein air"?
It was so relaxing and very warm in the sun. My mind was totally concentrated on the task in hand and any other thoughts had no place in the moment.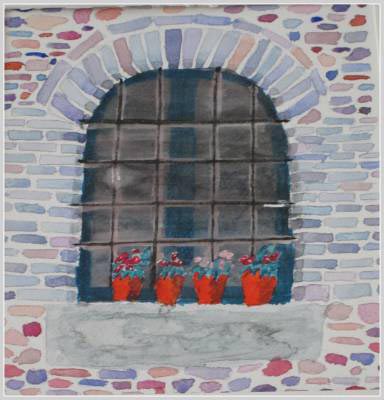 Have you any advice for anyone thinking about going on a painting holiday?
If you have not tried painting and you have a busy mind, it is a great escape and a little haven of peace in which to dwell for a while. Having never painted before it was quite scary to begin with, but it is, after all, only a piece of paper and you can start again. It is interesting to see where your first brush stroke or pencil mark takes you and the results can be very satisfying. I would recommend you try if you are wavering about trying, you might just surprise yourself with what you can accomplish.