When we spoke to the food and travel specialist Lisa Waterman Gray, we realised she has lots of exciting stories to share. Throughout her career, Lisa has worked with major international publications including USA Today and MSN.com while she's also the writer of An Explorer's Guide: Kansas and co-author of numerous other books. In today's post it is our honour to interview her and talk about her inspirations, favourite travel destinations and of course, food!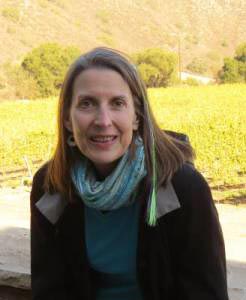 Hi Lisa and welcome to Flavours blog! Tell a few words about your background and what do you do.
I'm a freelance writer and photographer who is passionate about food and travel. I've written for dozens of local, regional and national publications and web sites.
My clients have included www.offbeattravel.com, frontdoor.com, (current) USA Today, The Christian Science Monitor, Ladies' Home Journal, Midwest Living magazine and Delta Sky. I also wrote a 400-page travel guide about my home state, An Explorer's Guide: Kansas, with 130 author photos.
What's integral to the work of a food & travel photographer?
Curiosity & flexibility are essential. There's something new to learn everywhere you go and almost always something unexpected that happens – whether there are flight delays, illness while away or a camera battery that dies. It's a good idea to plan for as many contingencies as possible – bring extra camera batteries and memory cards as well as minor first aid items, pain relievers, several credit cards and plenty of local currency.
As a freelancer I also have to be constantly on the lookout for interesting story angles that will entice a publication editor. For instance, a typical trip through Arizona would not have tempted my editor but a trip to four sites with significance for American Indians did.
What do you find amazing about food photography? Why do you like food?
I especially like that food represents culture, whether it's cheese curds in Wisconsin, fresh seafood in Louisiana or foie gras in Quebec. My recollection of individual dishes, beverages and dining venues are often my most enduring memories of a travel experience.
In food photography the right lighting makes a huge difference. I keep most of my food photos for reference, whether or not they are worthy of publication. Visual images always help to stimulate my written words. I still have 4,000 photos that I didn't use while doing research for my Kansas book, which now stimulate KS travel ideas for Midwestern U.S. magazines.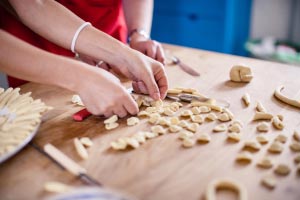 Do you associate regional food with places that you travel? How inspiring do you find Italy and Italian food?
I definitely associate regional food with various locations. Regarding Italy and Italian food, I love the richness of flavors and how simple ingredients are transformed when combined.
I hope to explore Turin's chocolate culture in the fall, as well as the wealth of classic Italian ingredients that have emerged from the Emilia-Romagna region.
Are you a good cook? Name your all time classic Italian dish?
My husband calls me a chef & I love to 'play' in the kitchen. I've made pesto for 30 years & make a great Alfredo sauce.
But I especially enjoy baking. After I created Lisa's Limoncello Cheesecake several years ago, I shared a slice with a local Italian chef. The next thing I knew, I was making five of them for a special Limoncello-infused dinner at his restaurant!

Having travelled a lot around Italy, we believe we've chosen the best destinations for our cooking, painting and Pilates holidays! Have you travelled to these locations? If yes, tell us a few things that you liked the most and why.
I anticipate my first trip to Italy in the fall and can't wait to explore the country where my mother's family began. Isabella d'Este was renowned during Renaissance times, particularly for her patronage of the arts, so I hope to explore Ferrara extensively.
Author bio:
Previously a cook, a caterer, a baker and a chef assistant at a local cooking school, Lisa Waterman Gray has written for dozens of national, regional and local print and online publications. Her food, restaurant, and culinary travel writing has appeared at USA Today,rediscover.msn.com, offbeattravel.com,Ladies' Home Journal, The Christian Science Monitor, Delta Sky, and Midwest Living as well as Edible Kansas City and Edible Santa Fe. Lisa's photos often accompany her work. In summer 2011, W.W. Norton published her 400-page travel book – An Explorer's Guide: Kansas, including 130 author photographs. Lisa has lived in the Kansas City area since 1979. To learn more, and for domestic or international assignments, please contact Lisa at www.lisawatermangray.com