Today, we discuss the wonders of discovering Italian cuisine with Executive Chef at the Vittoria Group in Edinburgh, Spencer Wilson. The Vittoria Group includes some of Edinburgh's best Italian restaurants, such as Vittoria on Leith Walk to La Favorita – which does one of the best pizzas in town! Read on to see what inspires Spencer in his menus and cooking!
What started your passion for Italian cuisine?
I always wanted to be a chef and always loved food, and some of my earliest memories are of watching my Mum cooking in the kitchen home. I am, however, a relative newcomer
to Italian cuisine, having been trained in Modern British and classical French cuisine.
I was fortunate to be introduced to the pleasure of Italian food a few years ago, when Tony Crolla, owner of The Vittoria group, approached me while I was working as Executive
Chef at The Waldorf Astoria in Edinburgh. Within a few weeks I was on board with the group and, since then, I've been discovering the delights of Italian cuisine.
What became clear very quickly is that the Italian food is much more of a culture and a way of life rather than just eating for the sake of it. I also love the diversity of the cuisine and how much the style of food changes from the North of Italy to the South of Italy – for a chef it's fantastic as I have a huge spectrum of flavours and ingredients at my disposal.
What is your favourite dish served on your menu?
I always find this a difficult question to answer but if I was to pick one, it is a dish that is so simple but so good to eat and featured on my last winter menu.
It is a delicious stew made with 'Ndjua with mixed beans (cannellini, borlotti and green beans), chopped tomatoes and garlic, cooked slowly to draw out all the flavours and then finished with a drizzle of extra virgin olive oil and served with grilled rosemary foccacia bread. And, of course, best accompanied by a large glass of rich, full-bodied red wine.  I can taste it now!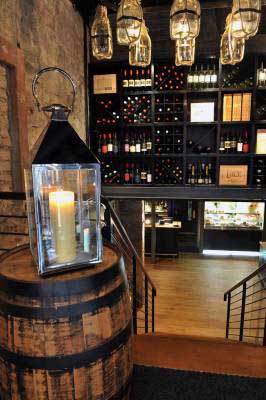 Italy's various regions produce some very different cuisines – which would be your favourite, and why?
I have only eaten in the North of Italy and I love the earthy, wholesome feel to the dishes, which remind me of the kind of dishes my mum used to cook for me as a child.However
the more I learn about Italian cuisine and the different ingredients, the more I am being drawn more to the South where they use a lot of  ingredients like tomato, garlic, artichokes, pork, chilli and of course olives and olive oil.
We do cooking holidays in Venice, Sicily, Amalfi, Puglia and Tuscany; if we offered you a cooking holiday, where would you like to go and why?
I'm not well travelled in Italy, and have only visited the North of the country, so these all sound appealing. However, I think my first choice would be the South of Italy. The pictures I have seen of the surrounding coasts and mountains are amazing so I'd love to visit for that reason too.
To find out more about our Italian cooking holidays click here. We have a fantastic team of Italian chefs who show guests how to make delicious, regional dishes in Tuscany, Amalfi, Venice, Sicily and Puglia!
Bio
Spencer Wilson is the Executive Head Chef with over 20 years core experience in kitchen and service related positions which include exclusive 5 star hotels, boutique establishments, a Michelin star restaurant, a leading retail organisation and a royal residence.