We all know that feeling – standing in the wine aisle of the supermarket trying to choose a great bottle of wine, with no idea what differentiates an average wine from a great wine.
With so much choice, and so many types of wine to choose from, it can definitely be a bit of a minefield! You'll have definitely seen a label of designation on most bottles you've purchased, but what do they really mean?
As fans of Italian wines, and often finding ourselves in a similar predicament, we've put together this easy to understand guide to Italian wines and how to pick the right bottle!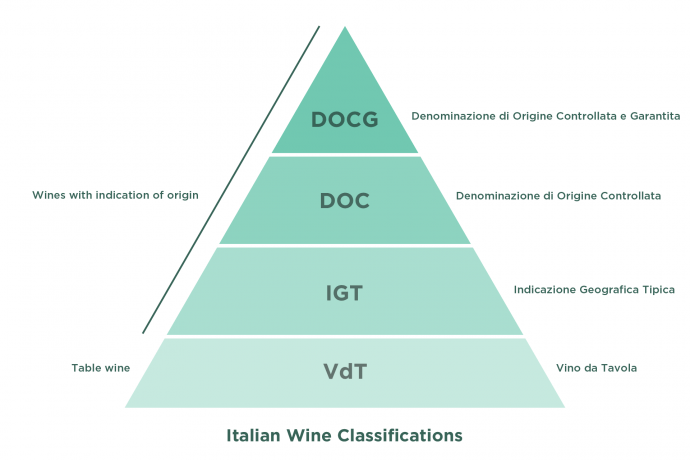 In the 1960s, Italy established a series of laws to guarantee the quality and authenticity of their wines. You'll likely have seen these abbreviations on bottles of Prosecco, but they're also used on many Italian wines. These classifications are designed to help you identify the quality of the wine you're buying and where it comes from.
DOCG – Denominazione di Origine Controllata e Garantita
What does DOCG mean? DOCG is the highest classification Italian wines can be awarded so DOCG are the best of Italian wines. The classification means that there are controlled production methods (controllata) and guaranteed wine quality (garantita) with each bottle.
There are strict rules governing the production of DOCG wines – most importantly the grape varieties, yield limits, grape ripeness, winemaking procedures, and barrel/bottle maturation.
Every DOCG wine is subject to official tasting procedures. To prevent counterfeiting, the bottles have a numbered government seal. There are now 74 DOCG wines in Italy, mostly from the Piedmont, Tuscany and Veneto regions.
Some excellent Denominazione di Origine Controllata e Garantita (DOCG) wines include:
Brunello di Montalcino (Tuscany)
Vino Nobile di Montepulciano (Tuscany)
Chianti (Tuscany)
Barolo (Piedmont)
Barbaresco (Piedmont)
DOC – Denominazione di Origine Controllata
What does DOC mean? DOC wine is the second highest quality level – with Denominazione di Origine Controllata meaning "designation of controlled origin". In order to achieve this classification, there are still very strict rules which need to be followed regarding quality and authenticity.
There are 329 different DOC wines in Italy, each with a set of laws which govern the permitted grape varieties, maximum harvest yields, and ageing requirements. These rules cover many types of wine, from Prosecco to Vin Santo dessert wines, and include both red and white wine varieties.
You can try the following if you're looking for some delicious Denominazione di Origine Controllata (DOC) Italian wines:
Montepulciano d'Abruzzo (Abruzzo)
Orvieto (Umbria)
Bardolino (Veneto)
Soave (Veneto)
Valpolicella (Veneto)

IGT – Indicazione Geografica Tipica
What does IGT wine mean? The IGT category is the broadest category of Italian wines. All grapes within any IGT wine should come from the region stated on the label. There are no other requirements for this category in terms of style and it allows foreign grape varieties to be included. This does not mean that all IGT wines are lower quality. Some non-traditional wines, such as super Tuscans, are released under this classification as the producer does not wish to adhere to the stricter rules for more traditional DOC or DOCG classification.
Some examples of Indicazione Geografica Tipica (IGT) wines are:
Castello Banfi Centine (Tuscany)
Podere Brancaia Tre Rosso (Tuscany)
Antinori Tignanello (Tuscany)
VdT – Vino da Tavola
What does VdT mean? Vino da Tavola (VdT) means "table wine". Table wines have no geographical indication and are made from grapes grown anywhere in Italy. These wines do not tend to be exported, as they are generally of lower quality.
Prosecco
Flavours Holidays' experience wouldn't be complete without Prosecco! We had to include a section dedicated to our favourite wine.
Prosecco is now protected, much like Champagne, and can only be produced in the Veneto region of Italy. In 2009, Conegliano-Valdobbiadene, in Veneto, was elevated to DOCG status and this is now considered the home of Prosecco.
When choosing a Prosecco you should look out for labels which say:
DOCG Prosecco di Conegliano-Valdobbiadene
DOC Prosecco
The area designated DOC is slightly larger and not as hilly, but is still restricted to the land surrounding Treviso.
In the past, before DOCG and DOC status was given to Prosecco in Veneto, sparkling wine made from the Glera grape in Alto-Adige, Trentino, and Friuli-Venezia Giulia was labeled as Prosecco – this is no longer permitted.
Additional Italian Wine Terminology
| | |
| --- | --- |
| Abboccato | Slightly sweet |
| Amabile | Medium-sweet |
| Amarone | Dry red wine made from dry grapes |
| Bianco | White |
| Chiaretto | Pale red or dark rose |
| Classico | Denotes the traditional, superior, vineyard area within a DOC/DOCG zone |
| Dolce | Sweet |
| Frizzante | Slightly sparkling |
| Imbottigliato all'origine | Estate-bottled |
| Metodo Classico | Sparkling wine made by the Champagne method |
| Novello | "New" – describes light, fruity wines intended for early consumption rather than allowing them to age in a cellar |
| Passito | Wine made from dried grapes, usually sweet and sometimes dry |
| Recieto | Sweet red or white wine made from dried grapes (a type of passito) |
| Ripasso | Full-bodied wine style made by re-fermenting wine with amarone grape skins |
| Riserva | Denotes extended ageing (in cask, then bottle) |
| Rosato | Rose |
| Rosso | Red |
| Secco | Dry |
| Super Tuscans | Describes a particular set of high-quality Tuscan wines which broke traditional Italian winemaking norms and are therefore precluded from DOC or DOCG status. |
| Spumante | Sparkling |
| Superiore | Wines with greater concentration and higher alcoholic strength |
| Vendemmia | Vintage |
| Vin Santo | A dessert wine originally from Tuscany, generally made from air-dried Trebbiano grapes |