From Italy to the UK – we love everything to do with art and painting. That's why we got so excited when Sky Arts recently aired its "Landscape Artist of the Year" competition on TV. We got even more excited when we spotted Robert Nelmes, our inspiring tutor on our painting holidays in Italy, on one of the episodes. We asked him to give us some insights into what it's like to take part in one of Britain's biggest painting competitions. Take a look at Robert's experience here and if you think this is something you could do – enter our big painting competition!
Skyarts are currently airing their Landscape Artist of the Year programme
on Tuesday
evenings at 8. So, I thought I'd let you know how the day went for me.
I travelled from Edinburgh down to Trelissick Gardens in Devon earlier on this year to take my place along with the other 50 wildcard entrants, to paint for the day in the fabulous gardens that surround Trelissick House. Now, the weather in that part of the UK in spring can be rather unpredictable as our day seemed to prove, 'typical Devon day' as the hardy locals that milled around during the day observed. 'Dreek' as we say in Scotland.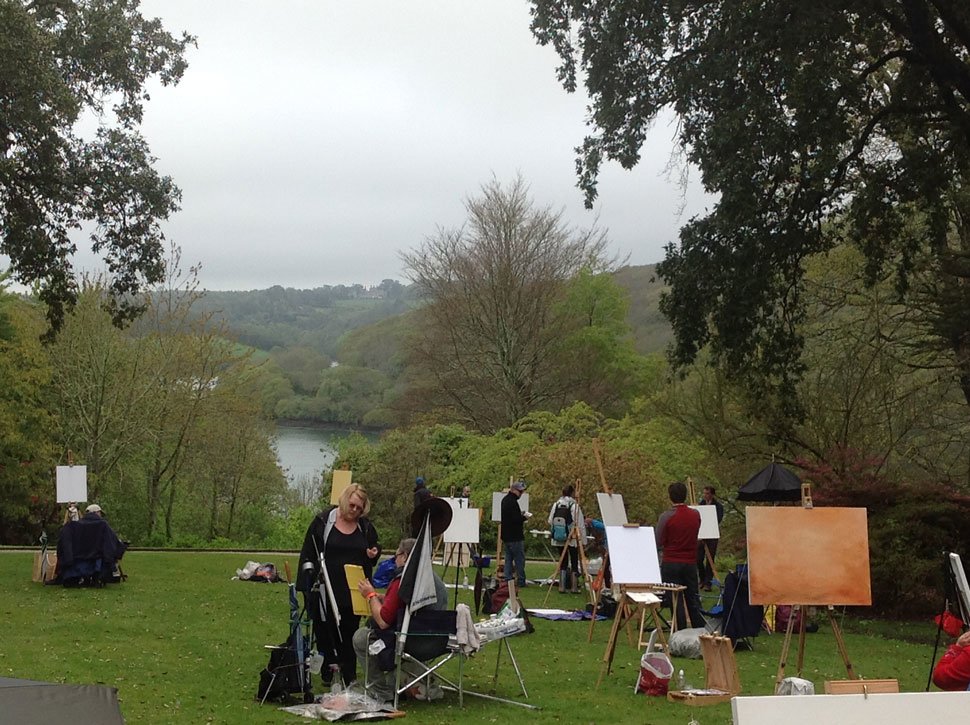 Grey and damp with passing showers! Not the kind of day any of us would have chosen to do some painting but the consequence of this situation forces one to approach the day and the process with added vigour and purpose. Whilst the 6 or 7 feature artists had a gazebo to shelter under, we had to make do with rain coats and brollies. It brought to mind an image of the great Scottish artist Joan Eardley, on the beach, howling wind, looking out to sea into a heavy grey curtain, black sou'wester running with rain , her easel roped down with rocks, creaking under the strain of a very large canvas as the wind tried to lift it and her off and away.
We were corralled into an area about the size of a couple of tennis courts on a slight slope, looking down a valley with a river bellow. The 50 artists jockeyed for a pitch with the inevitable result that some had a less than ideal view! I stuck my self at the back, elevated just enough to see over the top of the heads of those in front at least until the umbrellas went up! Along with the weather, I tried to block these distractions out and keep on painting.
By lunch I'd made decent progress so afforded myself a wander around to look at the artists under their gazebos who had a different view to us of the main house. They were under much more scrutiny with cameras at all angles and frequent visits from judges and presenters. It struck me that this extra attention had caused some to err on the side of
caution as progress seemed slow and somewhat restrained.
 The weather did have one plus in that the light throughout the day stayed more or less constant
The occasional easel would cartwheel across the grass when a squall went through, creating a brief distraction but otherwise time really flew by and it wasn't long before our time was up and the judges retired to consider their decision. One out of the 50 wildcard artists would be chosen to go through to be considered with 5 other wildcard artists from the other 5 heats, to paint again in the semi final.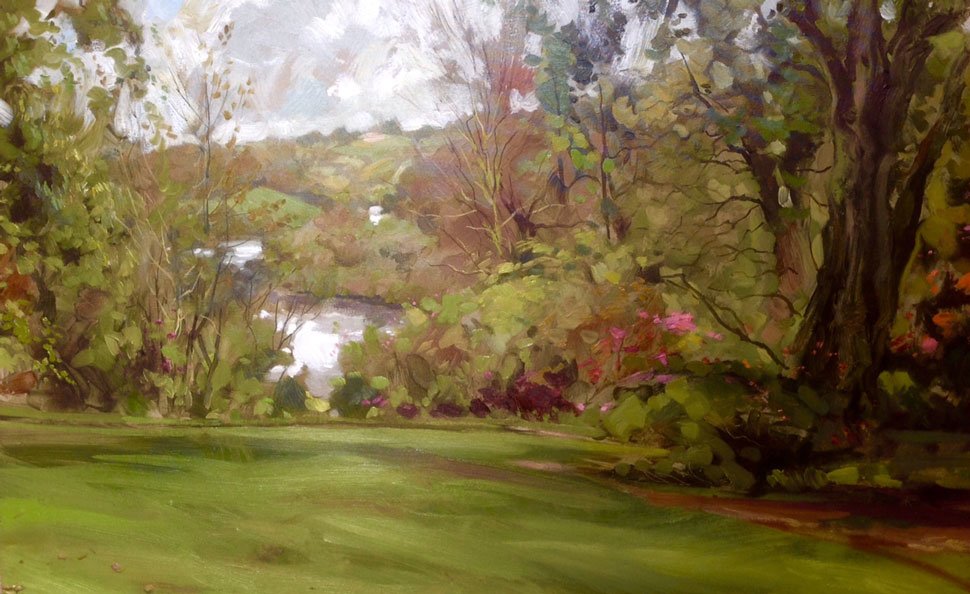 This is my finished painting and to my complete surprise it was chosen to go forward to the next stage.
It was a challenging but rewarding day, really enjoyable and great to meet so many other artists. I left before the judges announced the winner of the main event but with a quick look around was able to pick out my favourite, wonder if the judges agreed?
If your ever wondered if you could do something similar then all I can say is give it a go! Lots of the artist there were part timers or beginners and all said they had a great time.
We all came away having learned something and that's always a positive. Why not enter Flavours own
painting competition
, hopefully you'll have painted in better weather!