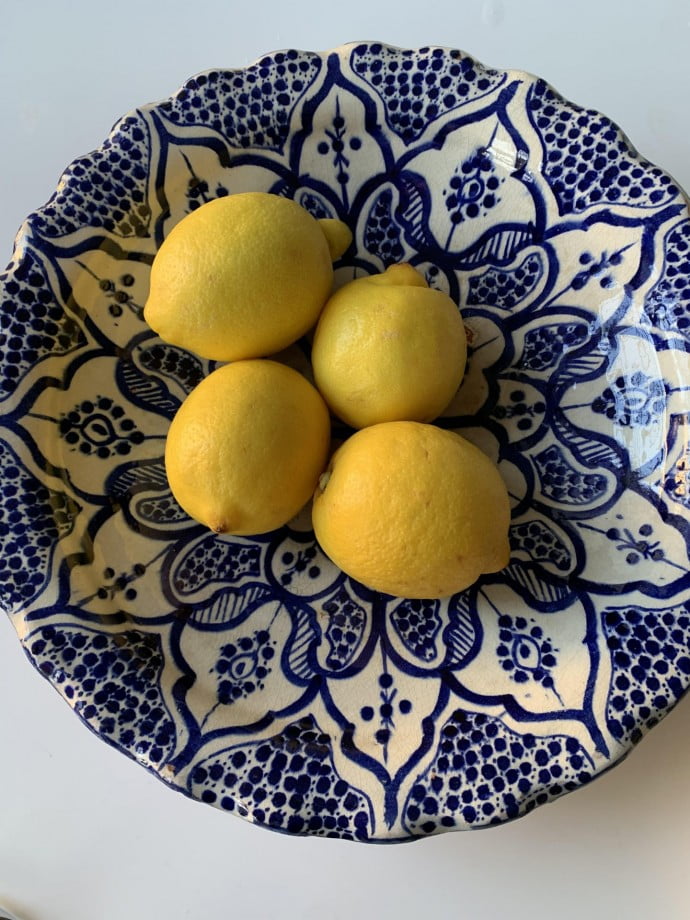 This Pesto is a traditional recipe from the little island of Procida, between Capri and Ischia.
For a better result use good organic lemons that are unwaxed.
To make this recipe you can use either a marble mortar or, blender or mixer.
This recipe serves 3:
1 lemon (un waxed)  juice and zest
1/2 garlic clove
15g  parsley leaves
10g fresh mint leaves
20g  pine nuts
10g walnuts
3 tablespoons of Parmigiano Reggiano
3 tablespoons of extra virgin olive oil.
Peel the zest of the lemon , avoiding the pith.
Slice the zest into small pieces. This will make it be easier to blend.
Now squeeze the juice of the lemon.
Remove the green shoot from the garlic, if there is one.
Take the leaves of the parsley and mint off the stalks.
Grate some good quality parmigiano.
In a pan toast the pine nuts and the walnuts.
In a bowl add the lighter ingredients first followed by the heaviest on top.
Start with the parsley and the mint leaves.
Add the slices of lemon zest, the pine nuts and the walnuts and start blending them, adding a spoon of oil and part of the lemon juice.
Now add the rest of the juice and oil, adjusting the creamy pesto consistency.
At the end, add the remaining parmigiano. It will make it creamy and tasty.
Boil some water adding rock salt.
When boiling, cook the linguine, following the cooking time.
Drain them a bit earlier and keep some of the water to the side.
Now mix the pesto into the linguine and use some warm and starchy water to get a nice creamy consistency .
Enjoy hot!