Yvonne Jones is a very talented Flavours guest who kick-started her career after joining our painting holidays in Italy. Let's listen to what Yvonne has to say about what inspired her to create the painting we featured in our Flavours art exhibition last May.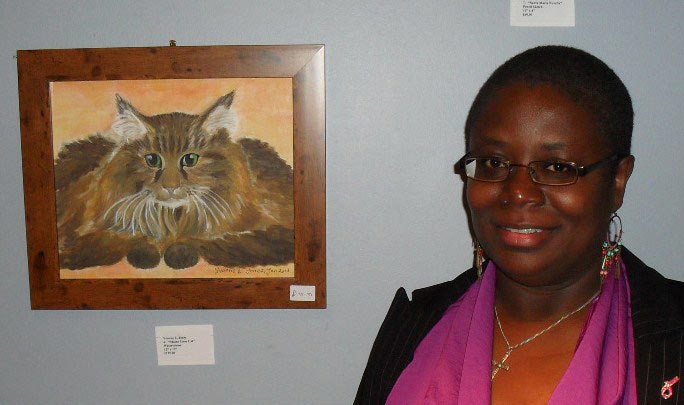 Can you please tell us how long have you been painting?
I have been sketching since I was about 3 years, and painting since I started school. I stopped sketching and painting for many years in my mid-twenties, and only took it up again in 2008.
What inspired your Flavours artwork?
I visited Sicily in September 2011, and stayed at Villa Zinna near Ragusa, where the art tutor that year was Penelope Anstice.  This was my second painting holiday with Flavours.  I found Penelope to be a very enthusiastic and encouraging teacher, and she gave me lots of useful tips and advice.  I enjoyed chatting with Penelope, and she told us about her life and her work as an artist, which I found very interesting.  The villa where we stayed had lots of beautiful flowers, and I especially liked the Bougainvillea, which was growing over a stone wall.  It was a painting challenge I could not resist, and I have painted it again several times from a photograph since returning home.  I hope to return to Sicily in the future.
What did you enjoy about painting "en plein air"?
I enjoy sketching and painting immensely. Art has always been my great love.  But there is something special about painting outdoors which takes your art to another level.  I find Italy very inspiring as an artist, and I find my work turns out much better when I am painting a landscape from life rather than from a photograph.  The atmosphere, the scent of the flowers and herbs, and being in the Italian sunshine is magical.  The buildings are beautiful and the landscapes are breathtaking.  I hope to spend more time in Italy, and am very much looking forward to my next trip with Flavours to Venice to paint with Hugh Tuckerman in September 2014, which will be my 5th trip with Flavours and my 3rd painting holiday with Hugh.
Have you any advice for anyone thinking about going on a painting holiday?
My advice would be if you love art and especially if you are considering pursuing a career as an artist, you have to go abroad and try painting on location.  Italy is a great place to start.  As a child I was inspired by the great Italian Renaissance painters, and going to Italy was a life-long dream which I finally realised in 2010 with my first Flavours holiday.  I have very fond memories of that holiday, and made some great friends. It was the beginning of a life change for me. I wanted to be an artist since I was a tiny child, but was told by my father to get a sensible job and so I became a secretary.  After 31 years working in administration, I quit my job as a Legal Secretary in August 2013, to pursue my dream of being an artist, and my first painting holiday with Flavours was the catalyst that gave me the confidence and motivation to take a leap of faith and follow my dream.
If you would like to know more about Yvonne Jones and her work visit her facebook page and website.