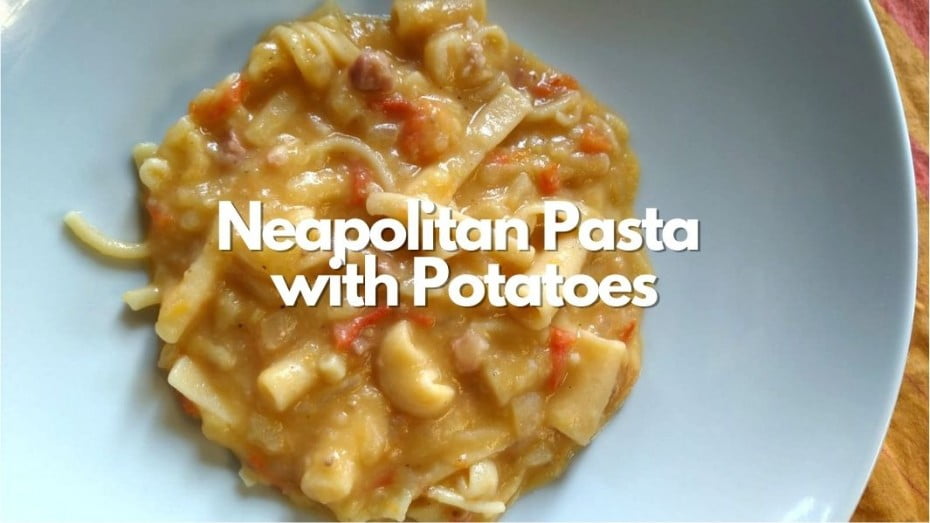 How to make Neapolitan Pasta with Potatoes
This dish is a delicious recipe from an unlikely combination of pasta and potatoes. Originating from Amalfi, the dish is known as Neapolitan Pasta and potatoes, born from the classic "cucina povera"style of Italian cooking. The result is a hearty and comforting one-pot meal with the mashed potatoes giving a lovely creamy consistency. In addition the fried pancetta which releases the fat to make for a richer sauce, while the fresh tomatoes are added in to add colour and flavour, using smoked scamorza or provola gives an additional depth of flavour.
Our amazing Chef Livia has put together this easy recipe for you, your friends and family enjoy at either lunch or dinner. You can follow along with Livia cooking live from her kitchen on our weekly  Facebook lives! If you miss any of her cooking lessons, they are also available to watch on our  YouTube channel
Serves: 4
Preparation Time: 20 mins
Cooking Time: 45 mins
Ingredients:
250g Mixed shape Pasta
600g boiled potatoes
1 onion
80g smoked pancetta (cubes)
8-10 cherry tomatoes
200g smoked provola (smoked scamorza)
Extra virgin olive oil
salt and pepper
Instructions:
In a pan full of water add the potatoes with their skin on.

Boil them for about 30 minutes , until they are ready to be mashed.

Peel the onion and dice it small.

In the same pan where you usually cook the pasta, soften the onion in olive oil.

Now add the smoked pancetta cubes and let them release their fat.

Cut some cherry tomatoes in small cubes and add them to the onion and pancetta while cooking.

Remove the skins from the cooked potatoes and mash them , then add them to the pan where onion , pancetta and cherry tomatoes are cooking.

Now add about 1liter of water and when it starts boiling add the pasta to cook.

Season with salt and pepper.

Let the pasta cook with the rest of the ingredients while the liquid will reduce.

Meanwhile, cut the smoked provola into small cubes.

Follow the cooking time of the pasta and when it is almost ready add the smoked provola cubes to melt.

Keep  stirring and you'll know it's ready when it's a "soup" consistency.
Enjoyed the Neapolitan Pasta with Potatoes?
If you enjoyed the Neapolitan Pasta and Potatoes recipe, click here to try out other delicious Italian recipes on our blog page! For more Italian recipes with Livia, take a look at our Online Classes where you will prepare various delicious Italian dishes