Thinking about joining us on a painting holiday? Then, read our watercolour painting guide for beginners to get four essential tips for sketching the classic landscapes of Tuscany, Venice or Sicily!
The nature of watercolour painting makes it the most expressive and exciting medium to work with and so is popular with beginners. Today, we decided to put together our top watercolour tips for those needing a refresher or for those unfamiliar with this painting style.
4 Essential Watercolour Painting Tips
1. Watercolours dry lighter.
Watercolours always look stronger and darker while they are wet; however, as they dry they become paler. When painting it is always worth keeping this in mind. If you would like a colour to be more intense try using more paint, less water, or even painting another layer of colour over the first.
2. Test your colours as you go.
Watercolours dry fast so it is always worth testing your colours on scrap, or the edge of your paper, to see whether you have the right hue or colour.
3. You can always correct it later.
Watercolour paint remains soluble even after it has dried, so if you make a mistake it is possible to use a wet brush to remove or lighten the paint.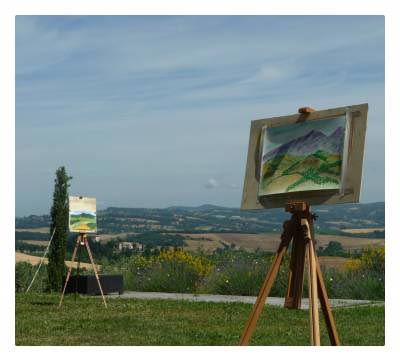 4. Don't add too much water.
It is always a good idea to have a dry cloth on hand to dry your brush slightly after dipping it in water to avoid adding too much water.
Perhaps the best tip of all is – practise, practise, practise! Taking the time to perfect your skills is really the only way to improve, but sometimes all you need is a little inspiration to get you going. Painting is a great way to take your mind off the outside world and truly relax – and really, what better place to do so than in the beautiful sunshine and stunning scenery of Italy? Our Italian watercolour painting holidays offer a great combination of expert tuition and free time to be inspired by the beautiful Italian scenery; if you'd like to find out more, get in touch today with our experienced team.