In Italy they have a saying: 'buono come il pane', which literally means 'as good as bread' like our saying 'as good as gold'. Now, try to imagine how many ways there are of being good among more than 250 different kinds of Italian bread!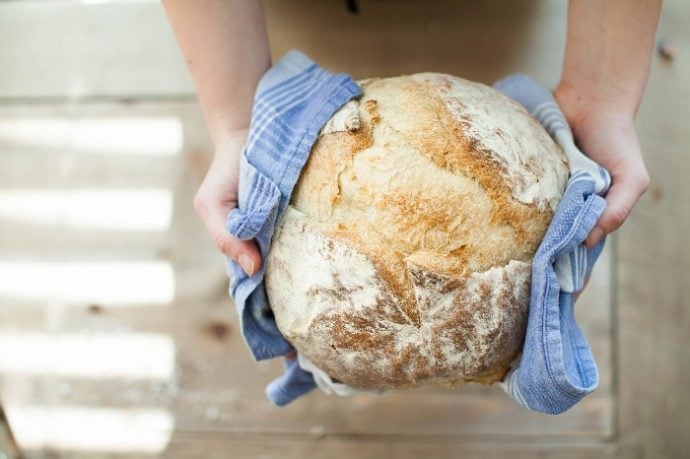 Every region has its own bread: 'Pitta' in Calabria, 'Rosetta' in Lazio, 'pan de frizze' in Friuli,  the famous 'piadina' in Emilia-Romagna, 'Altamura' bread in Puglia, Sardinian 'carasau',  the 'grissini'  (breadsticks) from Turin, and 'pane sciocco' (without salt) in Tuscany.
Uses of bread in Italian cooking
Italian bread has many uses in cooking: it is eaten with cheeses and cold cuts; or as a 'panino' (sandwich), filled with anything you want. If browned, it's the perfect base for soups. It can also be mixed in salads; you can even order it, as a starter, a mix of crostini – small crunchy bread slices covered with all kinds of sauces.
Never fear, bread is the only thing that won't be left off the table, at lunch or dinner time.
Different types of Italian bread
The basic type of Italian bread is made of water, durum or soft wheat and yeast. These are the basic ingredients for the most common and cheap bread, which can be made more or less salty.
You can also find many kinds of special bread:
In the north, some bread is made by mixing wheat and rice flours, and especially near the mountain areas they add rye flour and spelt to the basic ingredients.
In Romagna, the traditional
pane giallo
(yellow bread) has in its dough a high percentage of corn flour.
If you move to the South, nearly everywhere you will see bread with green olives inside, while in Sicily you can taste bread flavoured with cumin, sesame and anise.
And don't forget that pizza, flat bread and many other tasty foods are prepared with the same ingredients!!!
Where to find the Italian bread
Don't worry, you only have to find a 'forno' to taste them all! 'Forno' has two meanings: bakery, and oven – so the place is named after the tool.  The smaller the 'forno' you go in, the better the bread you can buy; some bakeries have survived because for generations families have passed down the craft called 'arte bianca'  (white art: flour as a form of art).
Curiosities: 
Tuscan bread is very unique because it has no salt at all. People from other regions can't stand it because they find it really unflavoured. Many historical explanations lie behind this tradition, but the most curious thing about it is the name. Indeed, 'sciocco' is an adjective with two meanings: without salt, and stupid, with no common sense. So, we can assume the origin of this bread has a negative context.
Bread is a very important element in Tuscan cooking. It was considered a shame to throw away left and stale bread as people created many ways to reuse it. This is the reason why there are so many good Tuscan recipes that include bread, for example the bread salad called 'panzanella', the tomato soup 'pappa col pomodoro', the vegetables 'potage ribollita', and the 'fettunta', slices of crunchy bread spread with oil, garlic and salt, used as an appetiser or to taste the very first oil of the season.
Do you smell the aroma of freshly baked bread yet? Or better, imagine yourself eating it in the spring sunshine with these delicious Tuscan recipes? Flavours Holidays has
cooking holidays
throughout Italy for you to check out.