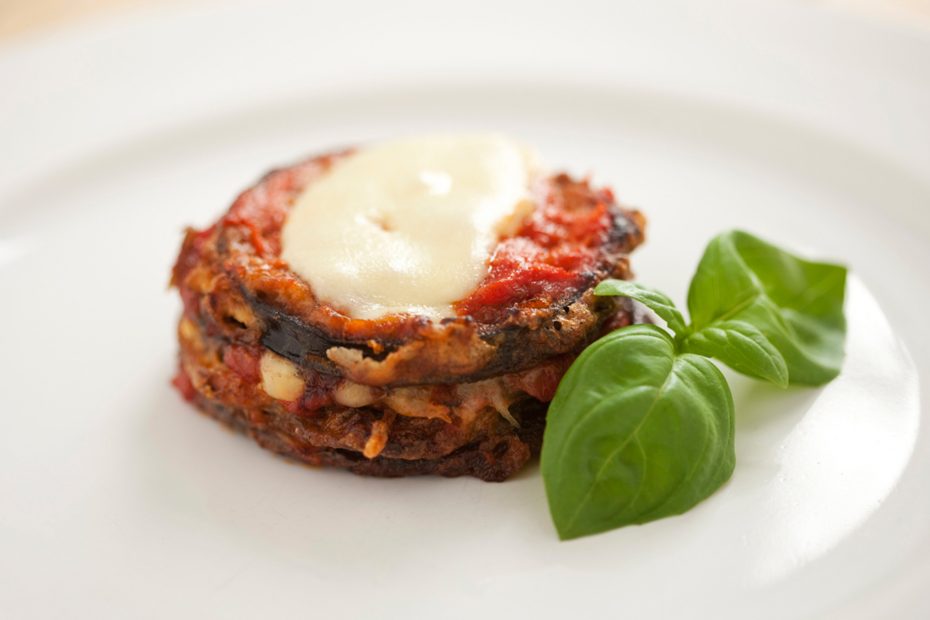 Parmigiana di melanzane is a perfect example of classic Italian cuisine – simple to create, but beautifully indulgent at the same time. The parmigiana di melanzane is similar to lasagna, as it's made using a layering technique, but this dish has no pasta or fussy ingredients! Made using layers of aubergine, cheese, and tomato sauce, this dish is a great choice for a quick weekday dinner and is sure to impress! And there is nothing quite as satisfying as cutting into its golden crust to reveal the rich red tomato sauce and oozing cheese layers.
The origin of this dish is, surprisingly, the source of much debate as it's claimed by Parma, Naples and Sicily! It is a favourite dish of our Sicilian chef, Carla, and she has shared the recipe for the perfect Parmigiana di Melanzane so give it a try and share your results!
NEW! Carla is offering online cooking classes LIVE from Italy. It's easy to join a class, check them out!


Serves: 4
Preparation Time: 30 mins
Cooking Time: 30 mins
Ingredients:
3 large aubergines
1 litre tomato passata
150g grated cheese
Basil
Olive oil
1 onion
Salt
1 Boiled egg (optional)
Sunflower oil
Instructions:
Start by slicing the aubergine and placing into a bowl with salt to draw out the moisture and bitterness – this will stop your parmigiana from becoming too soggy!

Finely chop the onion and add into a pan with some olive oil. Allow the onion to soften before adding the passata along with a pinch of salt and let simmer for 10 minutes, then add the fresh basil and take off the heat.

Dry the aubergines and fry in the sunflower oil. Once cooked, remove the aubergines from the oil and place onto the kitchen roll to drain excess oil.

Slice the egg if you like, if not you could use mozzarella instead. Layer passata on the base of the dish, then aubergine followed by more of the passata, sprinkle parmesan cheese and then add the egg. Repeat and finish with another layer of passata and sprinkle of parmesan.

Bake for 30 minutes at 200 degrees. Remove from the oven, slice into portions and serve!