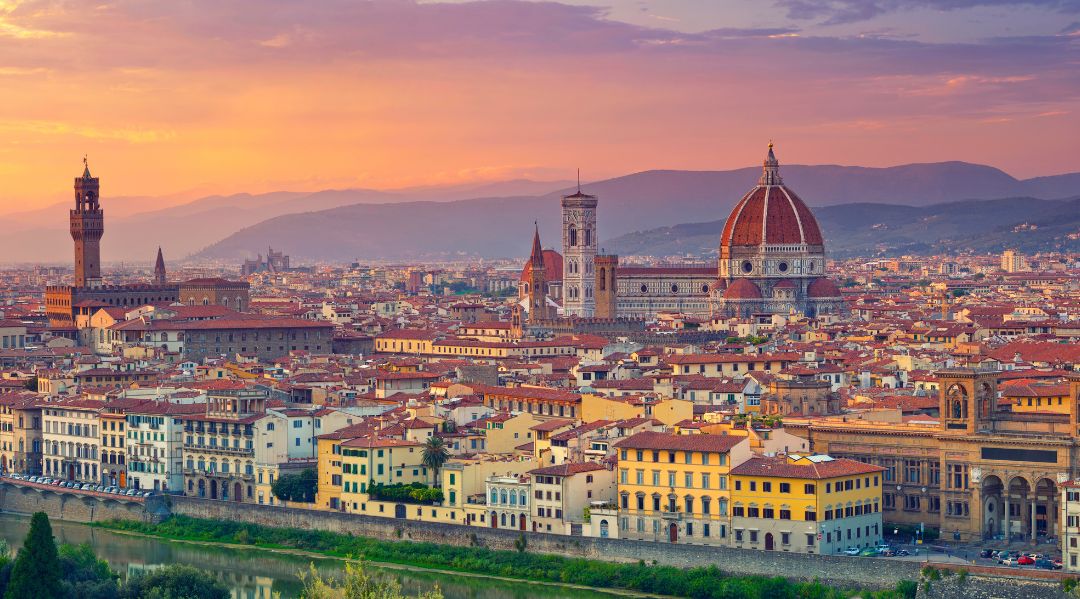 Florence is privy to a special kind of magic because, while its history and architecture is world-famous, it has maintained the authenticity of a small town. 'Florence is unique because it still feels local,' says Livia De Giovanni, chef and Flavours' host. 'It hasn't lost its charm. Here, community is treasured – people speak to each other and take life at a slower pace,' she explains.
As the birthplace of the renaissance period, there's nowhere better to just get lost, as every winding street presents a new sculpture, landmark or building to see. Time seems to pause, as you float through the markets and squares, stopping for a coffee or glass of wine, whenever you feel like it. 'It's a great place to just wander,' adds De Giovanni. 'We have an expression: life through wine. Florence is known for this; relax and enjoy a glass of rose as you watch the people go by. It's heaven' From the best markets to browse, to the trattorias with traditional food served 'the Italian way', let the Flavours team lead you through the perfect way to spend a day in Florence based on day trips taken on our Tuscany-based holidays.
Start off your perfect day in the morning…
'The day must start with a coffee. In Italy we drink coffee standing up; that's how you can spot the locals. Italians drink espresso like a shot, we don't want to sip a hot drink in warm weather. Caffé Scudieri is near the Cathedral Santa Maria Del Fiore and is extremely elegant. It was established in 1939 and has an old-fashioned feel and beautiful interiors.
'Next, it's time for an amble around the food markets. Mercato Centrale is a covered market, built in 1843 and famed for its ornate, red architecture. Here, you can see meat, fish and vegetable stands, as well as pastries, wine bars and even a cookery bookshop. 'Walk out to the Basilica di San Lorenzo and you'll find outdoor markets, too. There is lots of seasonal, fresh produce such as truffle and porcini mushrooms.
We host several Flavours holidays in Tuscany and for our cookery lessons this is a great moment for guests to pick ingredients for their meal in the villa that evening. 'I would also recommend browsing the leather market which has bags, belts and accessories and is famous for the traditional way they are made. People from all over Italy come here to buy quality leather goods.'
Spend your afternoon the right way
'Of course, anyone who visits Florence will want to see the works of Michelangelo and Botticelli, but I would recommend only booking the specific rooms in the Uffizi Gallery that you want to see and spending an hour there. Do this in advance as the queues are very long. 'Take in the views of the city from Piazzale Michelangelo which looks out across the rooftops of Florence. Standing there, you feel a sensation as if you can actually touch every building with your fingertips. It brings home the heart and history of this wonderful place.
'Walk one of my favourite routes around the city, starting at Basilica di San Lorenzo. Look at the chapel inside which houses the tombs of the Medici family, all designed by famous artists of the time. 'From there, head towards the Santa Maria del Fiore cathedral and marvel at the huge dome, before going to the Piazza della Signoria. Here, you'll find the Palazzo Vecchio, Florence's town hall, and where A Room With A View was filmed. Continue to the iconic bridge, Ponte Vecchio, which has shops built across it. Finally, finish in the Piazza della Repubblica and treat yourself to a cocktail.'
End the day off with a lovely evening
'In Florence, there's nowhere to enjoy an apertivo like Cafe Casoni, where the Negroni cocktail was created. Back in 1919, Count Camillo Negroni was a regular customer here and discussed with a friend his idea to give the Americano, a popular drink in Milan, a fresh take by adding gin. He did, and the Negroni has been an Italian favourite ever since.
'For simple, traditional food served the Italian way, I love a trattoria called Palle d'Oro. This quaint restaurant has been running since 1860 when the owner of one of Florence's wine sellers won a competition to set up his own place. I'd recommend the pasta with porcini mushrooms or wild boar.'
The end of a perfect day
Doesn't that sound like a treat! A day in Florence seems like the sweetest little laidback day. Now that Livia has given us her take on the perfect day, we must try it out for ourselves and report back to her!
You can experience a day in Florence by joining on of our Tuscany holidays. We visit Florence as a day trip within our itinerary.
If you have any more tips for a day out in Florence, comment below! We'd love to hear your tips…