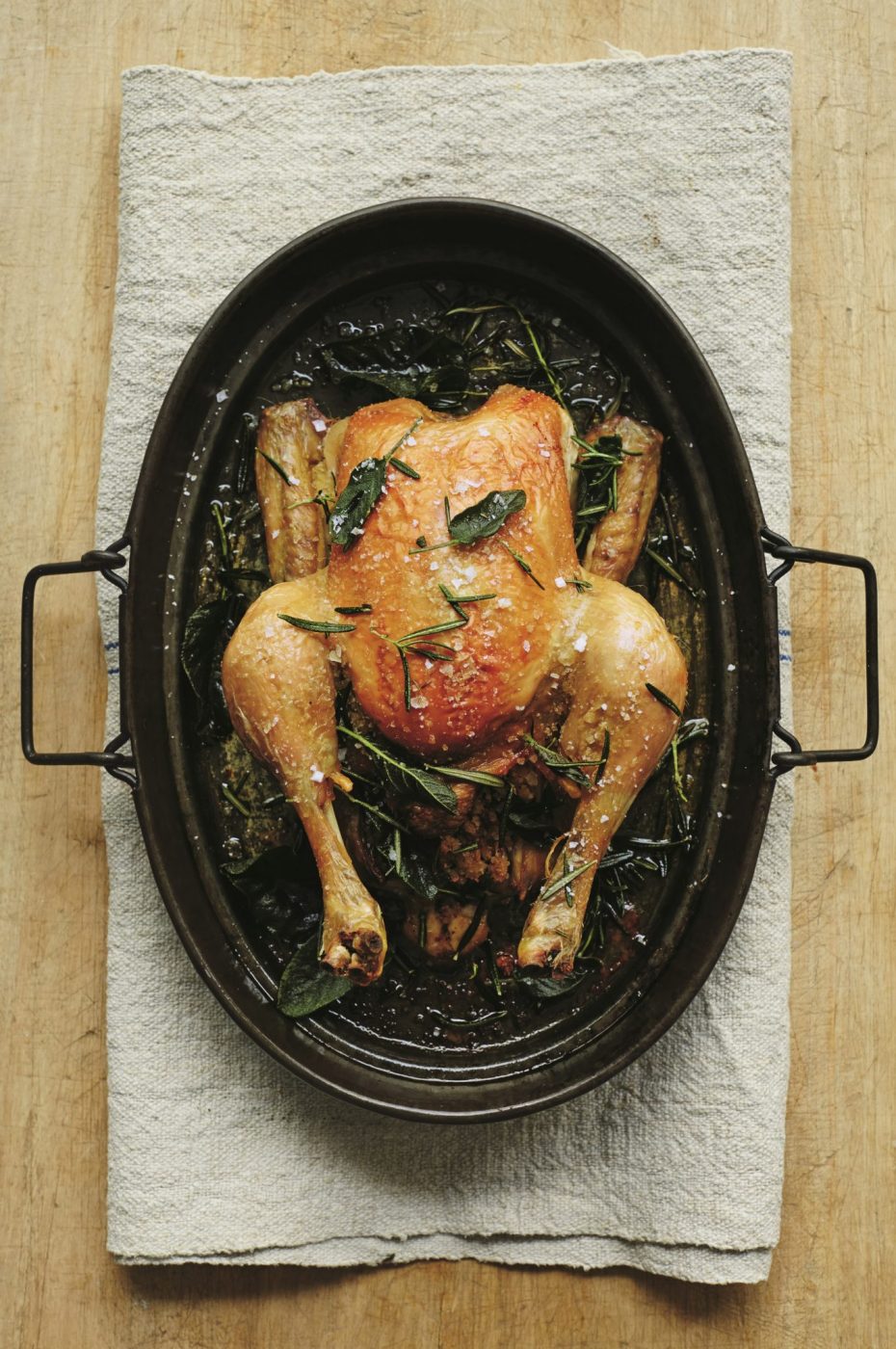 Serves: 4
Preparation Time: 15 mins
Cooking Time: 1 hr 30 mins
Ingredients:
1 x 1.5-kg (3 lb 5-oz) chicken with giblets, plus 2 extra chicken livers
100 g / 3½ oz dry-cured ham
3 slices crustless bread, soaked in water
25 g / 1 oz (¼ cup) grated Parmesan cheese
1 egg, lightly beaten
2 sprigs rosemary, plus extra for garnish
4 sage leaves
2 tablespoons melted butter
3 tablespoons olive oil
salt and pepper
Instructions:
Preheat the oven to 180ºC /350ºF / Gas Mark 4.

Season the chicken cavity. Chop the giblets, extra livers and ham and put them into a bowl. Squeeze out the bread and add to the giblet mixture, along with the cheese and egg and season. Mix well.

Spoon the stuffing into the chicken, then close the opening with a wooden cocktail stick or toothpick. Lift the wings and slip a sprig of rosemary and a couple of sage leaves underneath them. Put the bird into a roasting pan, brush it with butter and oil, and sprinkle
with salt. Roast for about 1½ hours, basting several times, until golden brown. It's ready if the juices run clear when a skewer or the tip of a sharp knife is inserted into the thickest part of the leg.

Allow the chicken to rest for 15 minutes, then sprinkle with rosemary leaves. Carve the chicken and arrange the meat on a serving dish. Spoon the stuffing around it and serve.