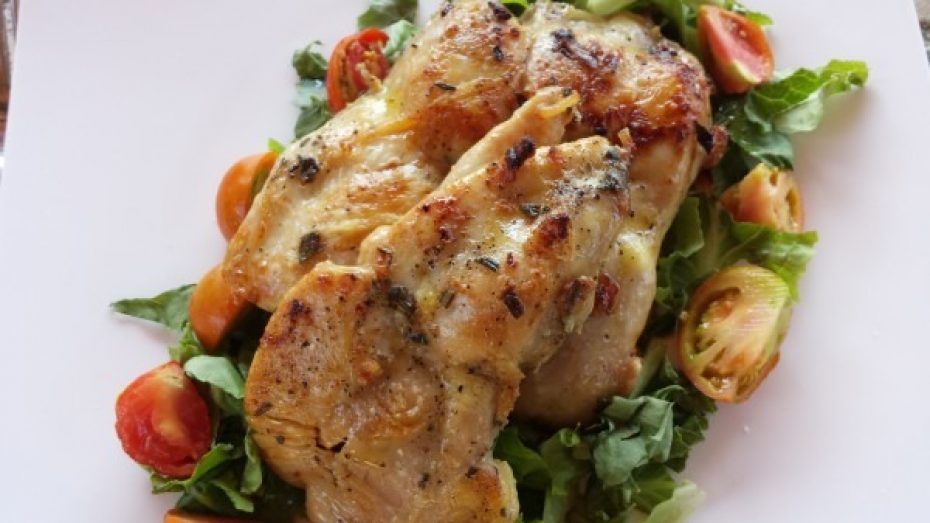 Ingredients:
1.5kg whole chicken
300 g of plain flour
20ml of peanut oil
For the marinade:
4 fresh sprigs of rosemary, finely chopped
10 fresh sage leaves, finely chopped
2 garlic cloves, finely chopped
2 eggs
2 tbs of olive oil
Salt and pepper to season
Instructions:
Skin the chicken (optional) and cut it into serving pieces using a meat cleaver. Trim the tips of the wings. Disjoint, thighs, wings and drumsticks. Cut thighs and drumsticks in half. Split the breast in half. Cut each half into 4 or 5 pieces. You should end up with 18-20 pieces. Place the chicken in a large bowl.

Add all of the ingredients of the marinade into the bowl with the chicken and coat well. Leave the chicken in the fridge for 4-6 hours but at least 1 hr before cooking.

Place the flour on a tray, spreading it out in a thick layer.  Dredge the chicken pieces in the flour until they are well coated, then press the flour against the chicken pieces (very important if you want, an extra crispy crust.)

Heat the peanut oil in a deep pan or fryer (you can use a wok or a cast-iron pot.) The oil is ready to use if you toss in a piece of dry bread and it immediately starts to sizzle or when a thermometer has reached 180 degrees Celsius.  Using tongs, place the chicken pieces in the oil in batches to prevent clutter and prevent the oil temperature from dropping. Gently move the pieces around the pan until they form a crust and are brown on both sides. This should take around 10 minutes. Try not to overcook the chicken or it will loose moisture.  Take the chicken out of the oil using a slotted spoon and drain on paper towels. Sprinkle with salt. Fry the next batch of chicken pieces.

Cut lemons into wedges, arrange the fried chicken pieces on a platter and serve with a side salad.