A culinary highlight on your cooking holiday!
We think that Boletus edulis (commonly known as Porcini) is the most delicious of all the mushrooms! While they are not easy to find fresh, in dried form they can transform your Italian cooking holidays' efforts into culinary highlights! Curious to see how?
Porcini mushrooms are a famous Italian autumn produce and are used a considerable amount in Northern Italian cuisine. The name Porcini means "piglets" in Italian and they can be found on the ground in hardwood forests near pine, chestnut, hemlock, and spruce trees.
Risotto Recipe with dried Porcini Mushrooms
A mushroom risotto with dried porcini mushrooms is a delicious way to make use of this gourmet mushroom! This dish is very popular in Northern Italy, particularly the Tuscan region.
Serves 4
Ingredients
350g of chestnut mushrooms

25g of dried porcini mushrooms

1 small onion

Olive oil

50g of butter

350g of risotto rice

1.5 litres of good chicken stock

55g of parmesan

Salt and pepper
Method
1. Add the porcini mushrooms to a bowl and pour over boiling water and allow them to soak for 15 minutes. In the meantime finely slice your onion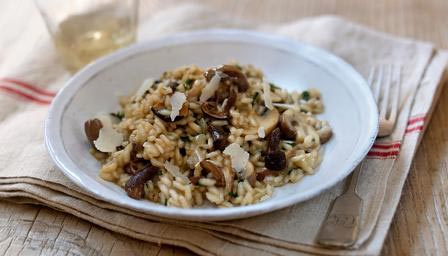 and slice the chestnut mushrooms.
2. Fry the chestnut mushrooms in half the butter and a glug of olive oil. When the onions begin to colour add the sliced, fresh mushrooms and fry for a few minutes. Chop up the porcini mushrooms into small pieces (keep the liquid they soaked in) and add the porcini to the pan.
3. Add the risotto rice to the pan and fry until translucent. Add a ladle of stock a time and stir continuously.
4. When the rice is al dente remove the pan from the heat. Season to your taste, add the remaining butter and stir in the grated parmesan.
Buon appetito!
Do you want to taste local, autumnal produce in Italy? Our cooking holidays will provide you with the culinary experience you are longing for while being able to enjoy breathtaking landscapes in a relaxing ambience.
Why not check out our 2014 availabilities? We welcome any questions you might have – our experienced team is are here to help you!