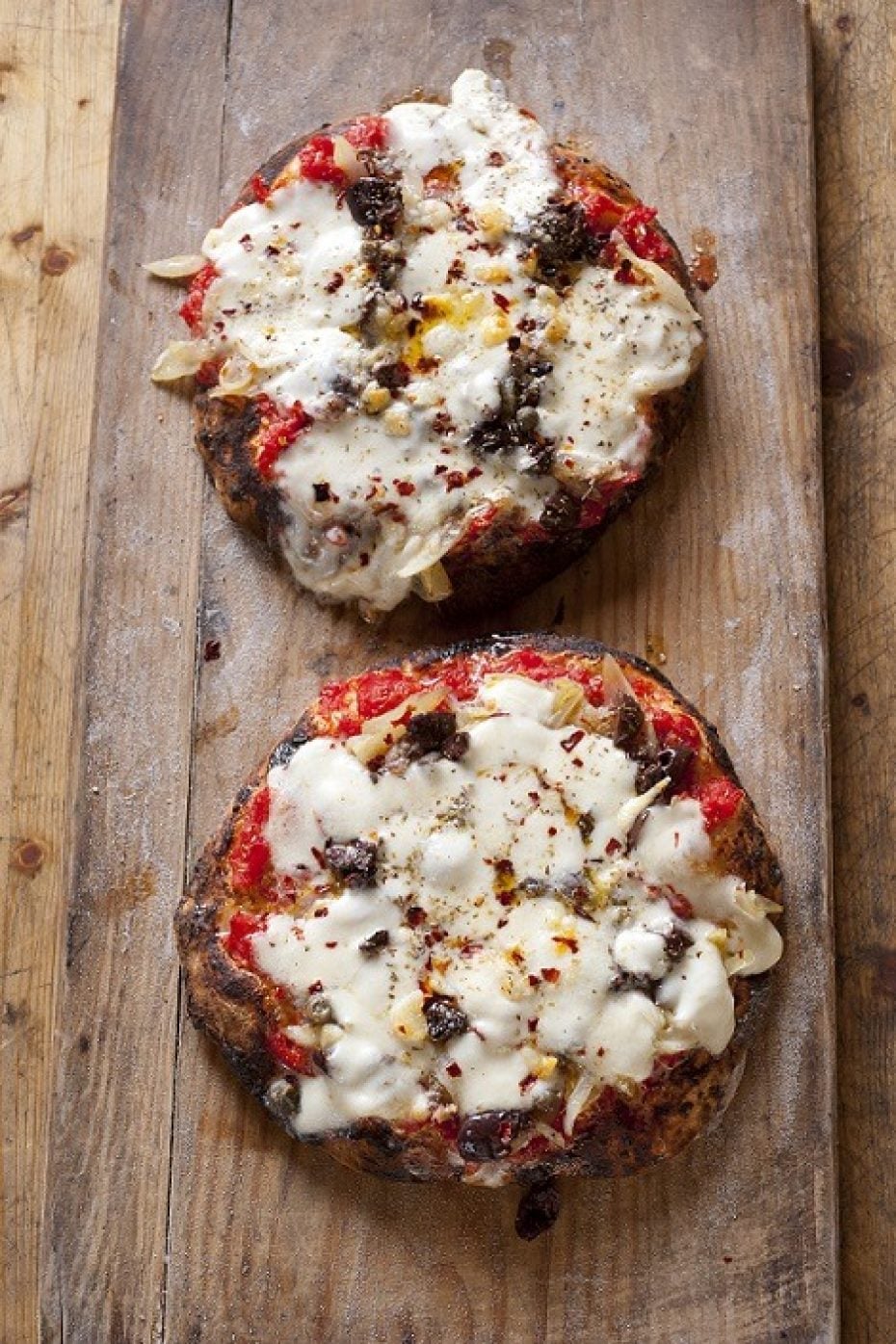 Serves: 12
Preparation Time: 2 hrs
Cooking Time: 30 mins
Ingredients:
375g/13 oz (3¼ cups) plain (all-purpose) flour, plus extra for dusting
1 teaspoon salt
2¼ teaspoons fast-action (active dry) yeast
1 egg, lightly beaten
olive oil, for greasing
For the topping
2 tablespoons extra-virgin olive oil, plus extra for drizzling
1 onion, thinly sliced
5–6 tomatoes, peeled and chopped
8 canned anchovy fillets, drained and chopped
50 g/2 oz pecorino cheese, sliced
150 g/5 oz mozzarella cheese, sliced
25 g/1 oz (‡ cup) grated Parmesan cheese
50 g/2 oz (½ cup) pitted black olives, chopped
pinch of dried oregano
pinch of dried chilli flakes
3 tablespoons capers, rinsed and chopped
2 tablespoons coarse breadcrumbs
Instructions:
Sift together the flour, salt and yeast into a large bowl and make a well in the centre. Pour 250 ml/8 fl oz (1 cup) lukewarm water into the well stir with a wooden spoon, gradually incorporating the dry ingredients. Add the egg and stir to a soft dough. If the dough is too sticky, add a little more flour. Turn out onto a lightly floured surface and knead for 10 minutes, or until smooth and elastic. Shape the
dough into a ball, place in a bowl lightly oiled with olive oil and cover with lightly oiled clingfilm (plastic wrap). Let rise in a warm place for about 1 hour, until almost doubled in size.

Preheat the oven to 220°C/425°F/Gas Mark 7. Brush a baking sheet with oil or line with parchment paper.

Make the topping. Heat 2 tablespoons of the olive oil in a frying pan or skillet, add the onion and cook over low heat, stirring occasionally, for 5 minutes, then remove from the heat.

Roll out the dough on a lightly floured surface, then transfer to the baking sheet. Spread out the tomatoes evenly on top and drizzle with oil. Bake for about 18 minutes. Remove the baking sheet from the oven and sprinkle the onion, anchovies, pecorino, mozzarella,
Parmesan, olives, capers, breadcrumbs, oregano and chilli flakes over the tomatoes. Drizzle with oil if necessary and bake for another 10–15 minutes, until crisp and golden.