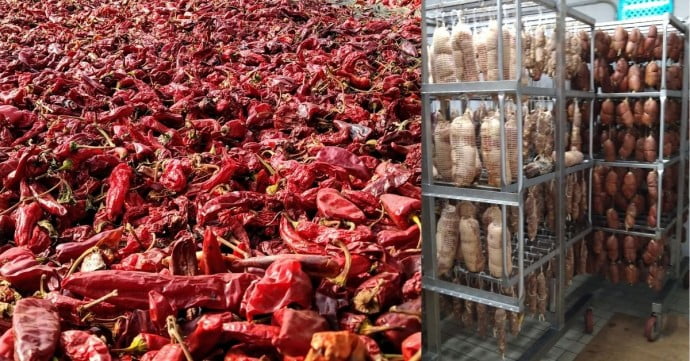 FILEJA CON 'NDUJA E CIPOLLA ROSSA
This is a simple Nduja pasta recipe, perfect for a midweek meal.
This recipe serves 3
What you will need:
100g 00 flour (plain flour)
100g semola flour (durum wheat flour)
150ml water
For the sauce:
3 tablespoons of extra virgin olive oil
1 red onion ( cipolla di Tropea)
200g 'nduja ( a soft spreadable fermented pork salume spiked with calabrian chillies ) Calabrian chilies
300ml of plum tomatoes
To make Fileja , you will need a long metal or wooden stick when making the pasta.
This pasta is typical from Calabria.
To make the pasta :
mix the 2 different flours.
Make into a well on a board and into the middle of the well, gradually add the water while you start mixing with your hands.
You have to obtain a dough which is not too sticky and soft.
Let the dough rest in a plastic bag for at least 15 minutes.
Meanwhile prepare the sauce:
Slice the red onion quite thinly.
The best kind to use is a Tropea onion, it is quite sweet and it combines perfectly with a tomato sauce.
In a pan soften the sliced onion in olive oil, add some salt to allow the onion to release the liquid it contains.
When the onion is cooked add the plum tomatoes, after you have squeezed them through your hands.
You can substitute the tin of plum tomatoes with fresh tomatoes but just when they are ripe and in season.
Reduce the heat, and let everything simmer for 20 minutes or until the sauce is thick.
In a small pan melt the 'nduja adding a bit of water.
Warm it just to melt it.
Once you have a runny consistency, add to the tomato and onion sauce.
Check for seasoning, adding a little bit of salt and pepper to taste.
'Nduja is quite salty so you might not need any more salt.
Now it is time to make the pasta:
The dough should have rested enough to be easy to handle.
By hand, roll some thin sausages of dough, about 1/2 cm thick .
Cut the "sausage" into 4 cm long pieces.
Take the dough pieces and wrap them around a stick. Press the dough onto the stick to make it stick better and make it long and thin.
Slide it off the stick and let it dry a bit before cooking it.
Boil some water and cook the pasta for 8- 10 minutes.
Mix it to the sauce and serve hot!
Enjoy !!