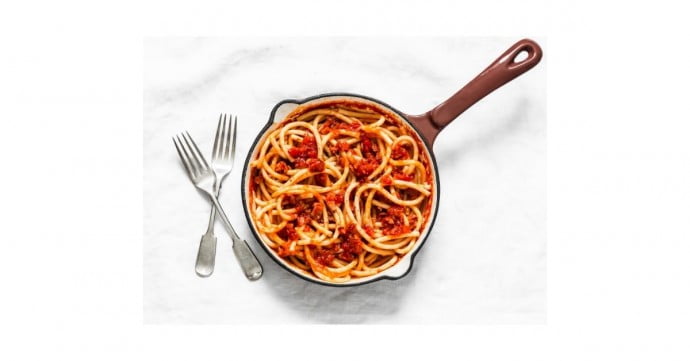 Spaghetti all' amatriciana
2 slices of guanciale (½ cm thick)
200g plums tomatoes ( in a tin)
½ glass of white wine
Chilli flakes
200g Spaghetti
Black pepper
100g of Pecorino Romano
Slice the quite thick guanciale  (pancetta) into long strips.
In a pan cook the guanciale strips and let them release the fat it contains.
Now that all the fat came out , throw away part of it and add some chilli flakes to the crunchy guanciale, followed by ½ a glass of white wine.
Let the alcohol evaporate.
Now take the guanciale off the pan and keep it on a separate bowl.
In the same pan, with part of the fat left , the chilly flakes and the wine sauce, add the plum tomatoes , squeezing them by hand.
Let this tasty sauce cook for about 10 minutes.
Meanwhile, in boiling salted water, boil the spaghetti following the cooking time that is written in the package.
Now grate some pecorino.
Cheese is always better quality if you grate it yourself!
When the pasta has been cooking half way through,drain it and finish cooking it in the sauce, adding some of the water that you have just used to boil it.
Sprinkle some pecorino on the pasta while you are sauteing it.
Just now add the crunchy guanciale, sauté It with the rest of the sauce.
The spaghetti are now cooked but still Al dente and ready to be served with some more pecorino on top!
Enjoy it!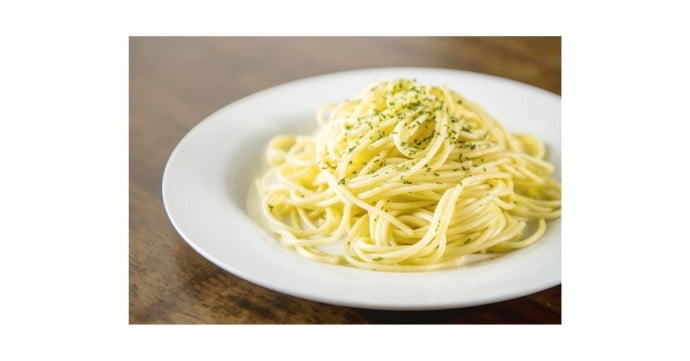 Here's Livia's second recipe from today's live cooking lesson
Spaghetti aglio, olio e peperoncino (AOP)
3 garlic cloves
1 chilli pepper
Extra virgin olive oil
Parsley
200g spaghetti
Boil some water and and some salt in it.
When it is boiling put the spaghetti in the water and stir them.
Dice the parsley quite small, but not the stalks.
Meanwhile peel and cut the garlic in pieces, but not too small.
In a saucepan add the garlic and the chilli flakes, now add the olive oil and just now turn on the flame.
Make sure not to burn the garlic.
To cool down the oil temperature add some of the water that you are using to cook the pasta.
This way you are obtaining a more viscous sauce.
When the cooking of the spaghetti is half way through, take them off the water and finish the cooking in the sauce.
Put the flame up, add the diced parsley, and sauté the pasta for a few minutes.
The spaghetti are now cooked and ready to be served with some parmigiano grated on top.
Enjoy it!