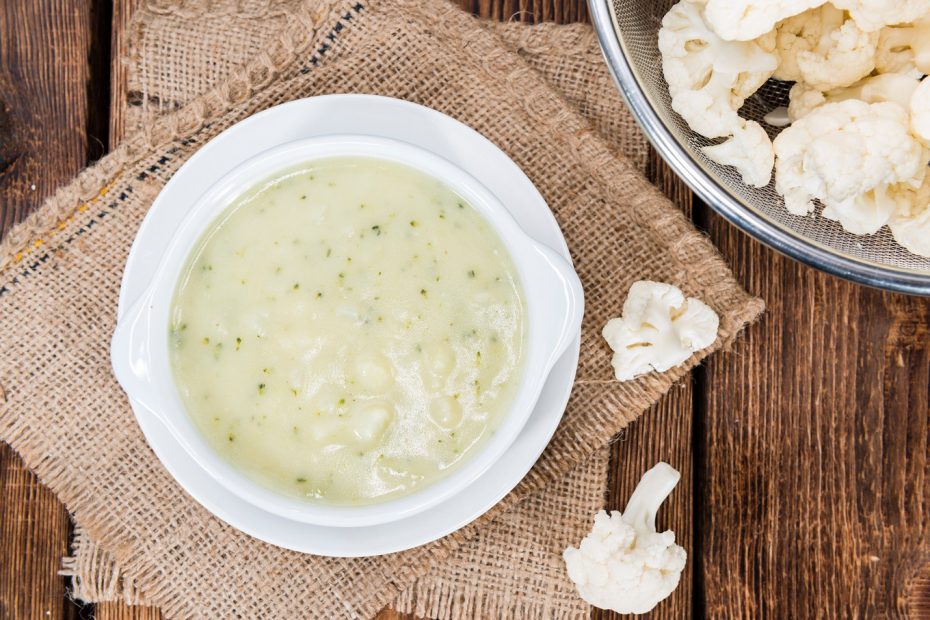 Ingredients:
700g cauliflower
Nutmeg to taste
2 leaves of bay tree
Salt to taste
Pepper to taste
70 ml fresh single cream
Ingredients for the candied onion:
½ red onion
20g butter
20g sugar
50 ml water
Instructions:
Cut into florets and cook them in hot and savoury water for 10 minutes (or pressure cook the cauliflower for 5 minutes) with a leaves of bay tree

Once they are cooked, sieve the water out and cool them down

In the meantime cut the onion into thin slices

Place a frying pan on the heat, add the butter and the slices of onion

Add water when the onion browns . When the water has partially absorbed add sugar.

Let the water to absorb completely and the sugar caramelise

After 10 minutes turn off the heat and place the onion in a bowl

Take the bacon and cut each slice in 3 pieces 1.5 cm thick

Brown the bacon in a frying pan for a few seconds on a high heat, add a blur of olive oil

Place the cold cauliflower in the blender, add salt, pepper and the nutmeg

Blend for a few minutes, add the single cream and blend until you obtain a creamy mixture

Serve to your guests and…Buon Appetito!
Are you using this month's seasonal produce? Cauliflower cream is one of our favourite spring recipes!