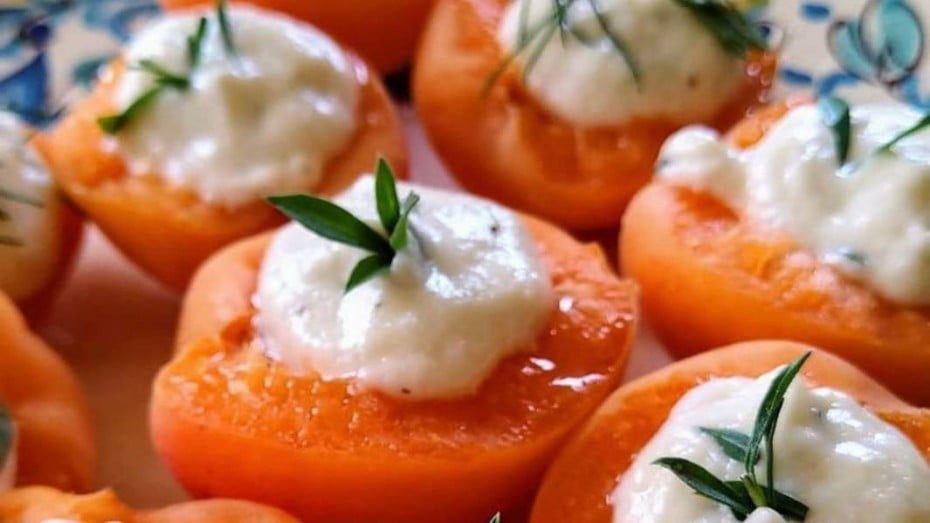 How to make stuffed Apricots
This quick and easy stuffed apricots recipe is a great cheese plater addition and no-sugar desert! Top tip from our chef Livia is to use ripe apricots to create a good balance between the sweetness and the flavour of the cheese.
Serves: 2
Preparation Time: 5 mins
Cooking Time: 20 mins
Ingredients:
5 apricots
100g Blue cheese ( gorgonzola)
50 ml plain yogurt
1 tablespoon of honey
Fresh thyme
pepper
Instructions:
 Wash the apricots and cut them in half.

Take the stone out and sprinkle some salt on the apricots. This will create a nice contrast to the sweetness.

For the stuffing, mix the blue cheese with some yoghurt, it will give it a bit of acidity to reduce the sweetness of the apricots. 

If you are using a very strong blue cheese, add a table spoon of honey. 

Take the leaves of the thyme and dice if not fine enough.

Mix the thyme with the stuffing and add some pepper to taste.

Using a piping bag, fill the apricots and decorate them with some thyme. 

Serve and enjoy!
Check us out on YouTube!

Missed Livia's cooking master class Facebook live? We have a YouTube channel! New content is on the way!