Italian tarantella, pizzica, tammuriata and folk music mixed with some Scottish, Irish and English traditional music… that's what you can expect from "The Badwills" – an Italian music collective playing at tonight's Jura Unbound at the Edinburgh International Book Festival.
With the Edinburgh festivals in full swing, we were delighted when the band agreed to answer our questions about their music and love for Italy. And, we were absolutely thrilled when they offered to give out downloads to their new album. So, if you can't make it to Edinburgh tonight, simply subscribe to our blog and have the chance of winning some free music!
1- How would you describe your music?
It's tricky to give an exact definition of what we play. It's basically traditional Italian music, and it comes mostly from the south, but also from other corners of the country, and then we throw a bit of Scottish, Irish and English trad tunes in there and see what comes out. The traditional southern Italian music repertoire that we play a lot of is often referred to in Italy as 'musica popolare', and includes pizzica from Puglia, tarantella from across the south, and tammurriata from Campania and Napoli. But the music traditions in Italy, like so many things there, are brilliantly varied with every region, and if we find a tune we fancy doing an arrangement of from anywhere, then we go for it. Often the process of finding tunes and seeing what is possible to do with it is half the fun. We have just recently finished an arrangement of a Neapolitan tarantella about the fish in the bay of Napoli combined with a north east Scottish traditional song about fish gutting!
2- How was the band formed – where did you all meet?
We have been around for 5 years this year actually, and we are having our 5th birthday party concert this November, hopefully complete with a big cake! (Friday November 6th at the Voodoo Rooms, Edinburgh). The band actually got together because of the Edinburgh festival in some ways, as in 2010, when a few of us were playing with a different group, we got the chance to do a full month of shows at a venue during the Fringe. So rather than do it with the one group we asked some friends if they fancied teaming up and we formed The Badwills, diving straight into a month of concerts. It gave us a bit of exposure, but more than that it was a great way to get the band started.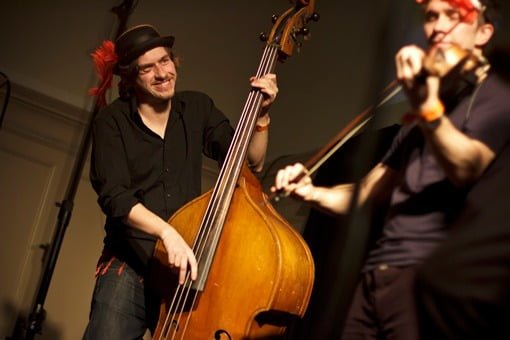 3- I see some of your performances involve quite a bit of energetic dancing, and some relaxed and mellowed. Would you say the dancing is of Gaelic/Ceilidh inspiration?
The roots of the music we play are quite distant from those of Gaelic music, but we are always trying to bring in Scottish trad ideas and tunes into our arrangements. Also, without a doubt our concerts have something in common with a Ceilidh. It is something we also try and emphasise to give Scottish audiences a bit of a way into the music, as fundamentally the southern Italian music we play is for dancing and having a wild time too. Often, before our shows, our melodeon player, who handily is also an experienced traditional dancer, leads a bit of a workshop on the basic steps of a few of the Italian dances we play. Then, during the show, he can have a bit of a similar role to a 'caller' in a Ceilidh, so that folk can try getting their feet flying about with his lead. Traditionally, these are really inclusive dances, performed in streets and squares in the south, and are there to get people together, so also the social role of this music is a bit similar to that of a Ceilidh.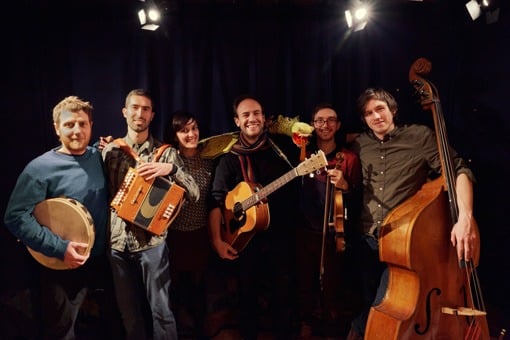 4- Could you share some of your favourite places in Italy?
Even though most of the band are from Italy, but live here in Scotland, we all keep on going back not just for family, but to explore and travel about. The Italians in the group are also all from different areas, so they would no doubt give lots of different answers to this question… probably most of their home towns for starters. But if you want to see some traditional music, all over summer around the south there are brilliant small and big festivals where you can hear and see bands playing musica popolare. Puglia has become the most famous place for this, especially with Notti della Taranta, which is a series of shows played across the region in summer being the biggest, and most established festival, and worth seeing if you are down in the area. But some of the smaller and lesser known festivals are those which really struck us, and are some of our favourite places to try and visit when we head back. In Gargano, in the northeast of Puglia, there is a village called Carpino where the annual music festival brings in great bands and musicians, and young and old locals get together to play the songs that were born there. It is a really magical place. We also loved the Festival della Zampogna in Scapoli, Molise (zampogna is a sort of Italian bagpipe), which again is as much a multi-day street party as a concert, and also gathers lots of great traditional bands in a really interesting part of Italy.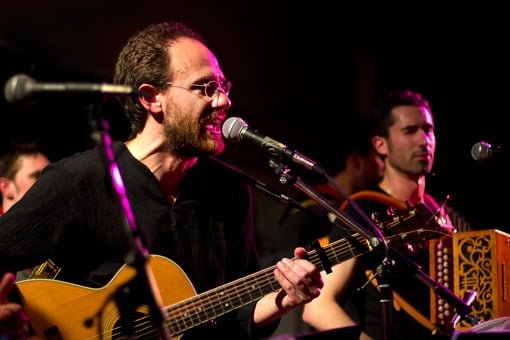 5 – Where has been your favourite place to perform? Do you think Edinburgh holds something special – especially during the hectic festival period?
Edinburgh has been the home of all the members of the band for quite a few years now, and the city where we started as a band, so for us it is a special place. During the festival period it is always a bit bittersweet here, as there is so much going on and lots of great shows, but the city also becomes a bit overrun in general, so playing during the festival requires quite a different approach as there is a lot of competition for audiences.
But for the rest of the year, the strong folk and world music scene here has made for a perfect place for a band like ours to grow and play.  We have also been really lucky to perform in other amazing places around Scotland, in Portugal, and recently ventured on a tour to the Highlands and Orkney, which was a great chance to take our music as far north as we can get. In Edinburgh, a wee venue that we hold dear to our heart is the Circus Cafe off the Royal Mile. The owner of the place has been supporting us since the very beginning and, despite the fact that this is not really a purpose-made music venue, it has a great charm and intimacy when there are gigs there, so we keep going back to it to play when we just feel like playing, or when we have something to celebrate.
The new album called "The Badwills at The Netherbow" is available to buy both as an mp3 download or CD from the link here: https://thebadwills.bandcamp.com