Italian foodie Line is an expert on all things Italian – she's shared her top 7 Italian breads with us and the do's and don't's of this Italian staple!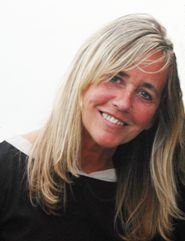 Bread is a wonderful food. It is something that plays a big part in virtually every food culture. The Italians love their bread too. They may not eat quite as much as many other Europeans do, but, many Italians eat it virtually every day.
When it comes to eating bread in Italy there are a few important rules to bear in mind. Top of the list of rules is that it should always be eaten with other food, never on its own. Plus, it should not be eaten with a starchy meal. That is why you rarely see it served with pasta.
If you find yourself in Italy, or in an Italian restaurant, it really is worth trying some of the specialist breads that are available. You are sure to find a new favorite that you can also enjoy at home.
Focaccia
A great starting point is a focaccia. This flatbread is oven-baked and has a similar texture to pizza dough, which is part of the reason it is so tasty. There is a huge range of different toppings used to make this bread, which makes it really easy to find one that you like.
The simplest styles of focaccia are topped with herbs and drizzled with olive oil. But you can also buy quite elaborate versions that have been studded with a range of delicious vegetables.
It is thought that the Romans invented this style of bread, but they cooked theirs on the hearth. This produces a far crispier version of this popular bread, which is once again becoming popular throughout Italy.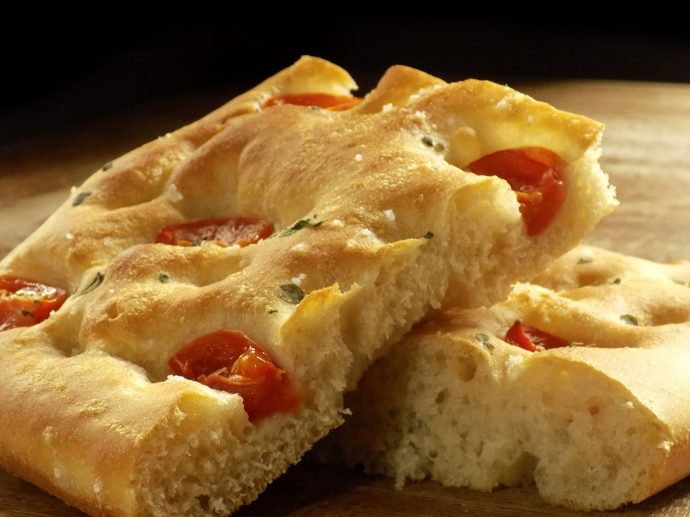 Pane Toscano
This beautiful bread is from the region of Tuscany. Like much of the food from that region it is tasty, rustic and hearty. It is a large round, springy bread that is similar to a white loaf, but much flatter.
Traditionally, it is cooked in a wood-fired oven, which gives it a unique flavor. If you are looking for a bread to dip in soup or use to mop up sauces this soft bread is a great choice. The fact a little water is added to the oven when it is cooked helps to ensure that it is lovely and moist, so it is also a good option for making small sandwiches.
If you want to taste this beautiful bread take a look at our Tuscan cooking holidays. You are sure to get the chance to try this delicious treat while you are staying in Tuscany. Plus, of course, when you get home you will be able to treat your friends and family to the delicious Tuscan dishes that you have learned to cook!
Pizza Bianca
If you have never tried white pizza (Pizza Bianca) you really should. As the name suggests it is a cross between bread and a pizza. In fact, you can easily make it at home using shop bought pizza dough, but it is especially nice if it is cooked in a wood-fired oven. A lot of Italian restaurants and pizzerias are starting to add it to their menu.
The dough is rolled out quite thick, which is part of the reason it comes out of the oven looking more like bread than a pizza. There is no tomato sauce added either, which means the dough does not get soggy, so it rises slightly. Usually, the round dish of thick dough is topped with a little mozzarella, maybe a few olives and slid into the oven. It is typically served hot with a little olive oil spread over the top.
Ciabatta
Ciabatta is perhaps the most well-known and popular Italian bread. This slipper-shaped bread has a unique, almost plasticity, texture, which makes it possible to do practically anything with this bread.
Interestingly, it is not strictly a traditional Italian bread. Yes, it was created in Italy, but not until 1982. An Italian miller called Arnaldo Cavallari is widely credited with producing the first loaf of this unique bread. Today, it is enjoyed across the world.
Ciambella
If you like your bread to be crusty on the outside and soft on the inside, try Ciambella. The dough is rolled out into a thick sausage and joined together in a circle shape to be baked. This is a rustic style of bread, which is typically found in the Puglia and Basilicata areas of Italy.
Pane di Segale – Italian rye bread
In Italy, there are very few brown loaves available. In virtually all areas the flour used is made from wheat which has been milled to produce white flour. However, you will occasionally come across loaves of bread that are made from rye. A particularly nice version of this style of bread is Pane di Segale. It is closely textured bread that has a thin crust, which is nonetheless soft and moist.
Coppia Ferrarese (Italian soughdough bread)
If you are a big fan of sough dough try Coppia Ferrarese. This unusual bread has PGI status, which stands for Protected Geographical Indication, which means it is hard to find truly fresh versions of this bread outside of the state of Ferrara. However, if you find yourself in that part of Italy, you really should try it. The bread gets its unique flavor from the fact that malt is used to make it. Plus, it has a very distinctive shape, which is created by twisting 4 strands of dough together into a cross-shape.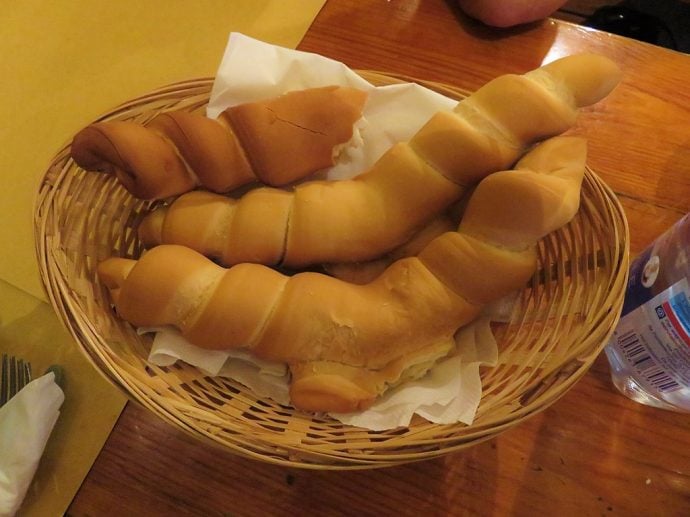 Tell us about your favorite Italian Bread!
We hope you have enjoyed this article and it has tempted you to consider travelling to Italy to try some of the wonderful food that is available throughout the country. If you have already been there and tried bread from Italy we have not mentioned here, please tell us about it below! As you know, our passions are food and travel. We are always looking for new foods and destinations to share with our readers, so we really want to hear about your discoveries.
—
Line Arias is a writer at Nonnabox.com. When she is not experimenting with food, she is either planning her next trip or writing Poetry.
Flavours Holidays organise trips to Italy, where you can sample these breads in an authentic environment. Check out the availability to plan your next trip.