At 7:00pm in Siena on the 16th of August, it is claimed the most intense 90 seconds in the world begins with a bang! The explosive charge booms from Piazza del Campo marking the start of a race. Thousands of spectators will have been eagerly waiting since the early morning hours to see the race in Siena – one of our popular visits during our Tuscany cooking holidays.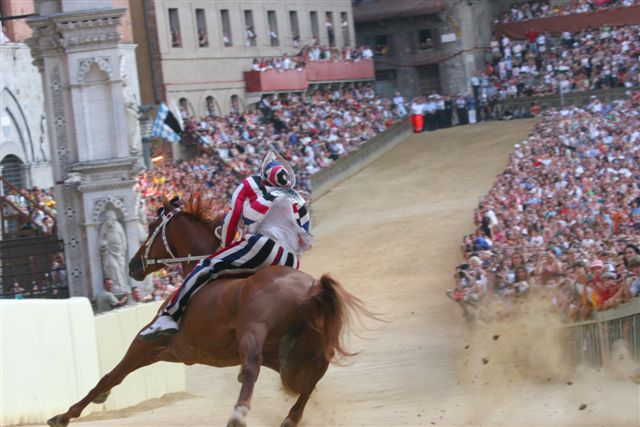 The race consists of three laps, 90 seconds and 350 years of tradition. The medieval horse race began as a competition between the 17 districts of Siena. The rivalry between them still remains strong and most of the town participate in the spectacle, adorning team colours and scarves. Not all 17 race at once, each year ten jockeys participate – seven who were not selected last year and three 'repeat' competitors. The occasion is also held twice a year, once in June and again in August. Double the chance to get in on the action!
Jockeys ride bareback and are allowed to get quite rough with each other. This often results in horses finishing rider-less, but is not a problem for cheering fans as it is the horse who wins the Palio – not the jockey.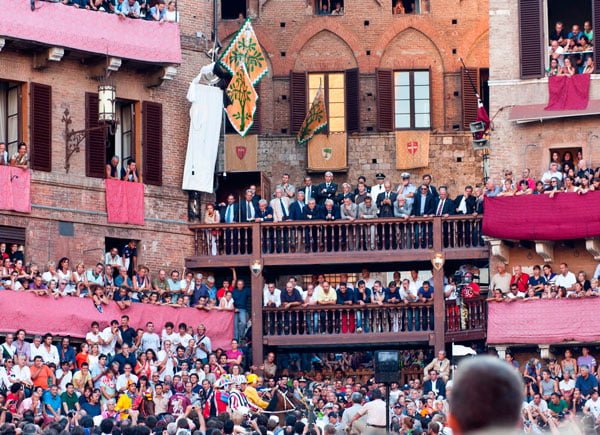 The winning horse is presented with hand decorated silk banner – a traditional prize which would have been awarded during the original medieval races. An interesting caveat of the Palio is the loser is not regarded as the last horse over the line, it is the second horse!
The festivities are not limited to a few minutes of racing. In the days before and after, many traditions are upheld through parades and pageantry, leading up to the pre-race chariot parade which displays the palio for all to see before the competition starts. This small city seems like the centre of the universe as everyone packs into the main square and surrounding streets. With an electric atmosphere and ground shaking action, the Palio in Siena is not to be missed.
Find out which Flavours Holiday will take you there during the festivities by checking our dates, chatting with us online or giving us a quick call on +44 (0)131 343 2500