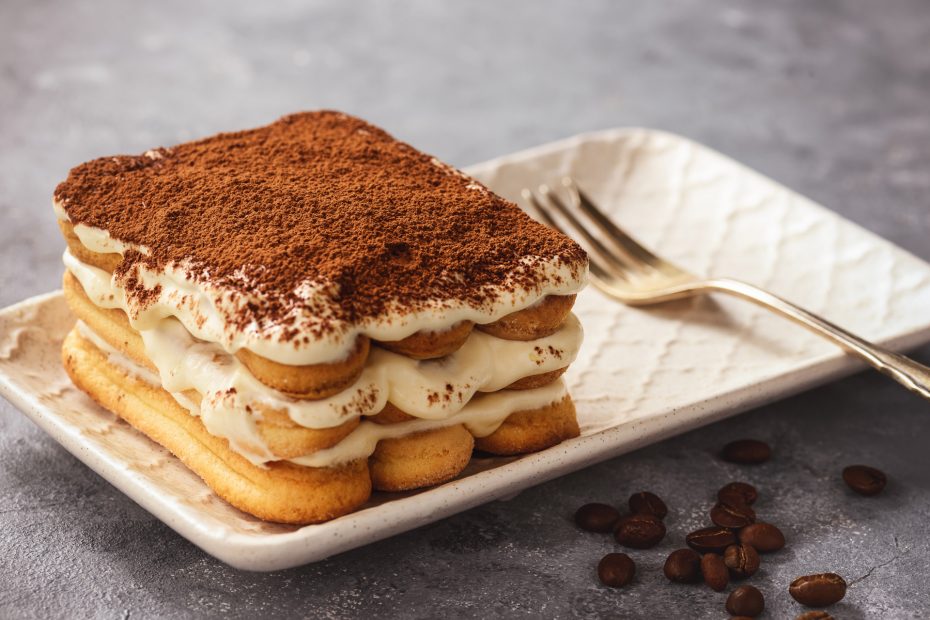 Tiramisu, with its combination of sweet mascarpone, bitter coffee and crumbling biscuits, is the perfect pick-me-up dessert. In fact, tiramisu translates into English as 'pick me up' or 'cheer me up'! Originally from the Veneto region of Italy, tiramisu is now a world-wide favourite when it comes to dessert. A subtle balancing act between sweet and bitter, the luxurious creaminess of this dish is cut through with the bitter cocoa and coffee flavours, ensuring that it is flavourful without being overpowering. This is definitely a dessert for indulgence, despite the simplicity of its creation.
Serves: 4
Cooking Time: 30 mins
Ingredients:
250g mascarpone
2 eggs
2 spoons of sugar
1 cup of Italian coffee (without sugar)
½ glass of marsala
Lady fingers biscuits
Cocoa powder
Instructions:
Separate the eggs, placing the egg whites in one bowl and the yolks in another.

Whip the whites until quite firm.

Whisk the yolks and the sugar until it changes colour and becomes pale.

Add the mascarpone to the yolk and sugar combination. Mix well.

Now gently fold the whipped egg whites into the rest of the mixture until combined. This is the cream for your tiramisu.

Mix the Marsala into the coffee, and dip the lady fingers into the coffee for just a few seconds. You can now start building the tiramisu by placing the damp biscuits at the bottom of your serving glass.

Cover the biscuits with a layer of the cream, then layer with more biscuits then some cream and some cacao powder. Keep repeating this until your glass is full, ensuring the top layer is cream.

Finish your tiramisu with a light dusting of cocoa powder.

Refrigerate for a few hours before serving, or it can be kept in the fridge for up to 2 days!
Tiramisu is Flavours chef Livia's favourite dessert, with its winning combination of simplicity and indulgence. Whilst Livia's dishes are always incredible, we can vouch that her tiramisu is worth raving about! Watch the video below to learn from Livia how to make this delectable dessert.