Art competitions are a great way to further develop your creative skills! By working on a piece with a specific theme or using a particular medium, entering a competition gives you a chance to focus on and evaluate your technical skills and personal style.
We've compiled a list of the 10 best UK-based art competitions you can enter in 2020. Read on to find the best one for you and enjoy your painting!
Want to learn new techniques and develop your skills? Check out our online painting classes to learn with our experienced tutors from the comfort of your own home!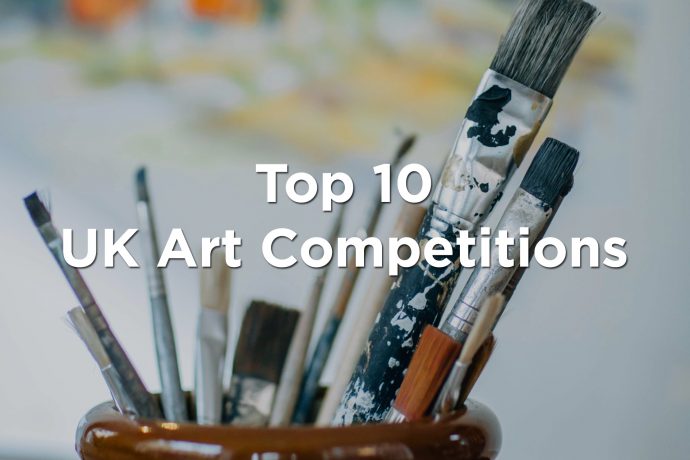 The Sir John Hurt Art Prize was established in 2012, as part of the Holt Festival in North Norfolk, and is now a major award and exhibition. With a first prize of £1750, all UK-based artists aged 16 or over are eligible to enter. Art of any medium is accepted and the closing date for entries is 1st September 2020.
The Visual Art Open is a not-for-profit event which aims to help establish artists' profiles in the contemporary art world. The award is open to all artists and age groups, with a prize fund worth £8,000. There are six key categories for entrants, including painting, drawing and photography. Applications close on 20th June 2020, and there will be an exhibition of all shortlisted entries in November at Chester Arts Fair.
3. The Sunday Times Watercolour Competition »
The Sunday Times Watercolour Competition is a celebration of watercolour and water-based media in all forms, and is the largest UK art prize for such. Now in its 32nd year, this competition is open to all UK-based artists, and accepts a range of styles – including abstract, figurative and traditional.

The Wirral Society of Arts (WSA) Open Exhibition is a biennial exhibition open to all artists at all stages of their artistic journey. The Society, begun in 1948, aims to make us all conscious of the relationship between art and life, and focuses on beautifying our surrounding environment. Entries for the exhibition close in July 2020, and work of any medium (excluding photography or digitally enhanced work) is accepted.
The Wells Art Contemporary (WAC) Awards is an open competition for contemporary visual art established by a group of artists in South-West England in 2012. Entries are accepted from both UK and international artists, in any medium – including painting, drawing and photography. Entries for the competition close on 1st August 2020.
6. Holly Bush Emerging Woman Painter Prize »
The Holly Bush Emerging Woman Painter Prize is a national prize aimed at supporting, encouraging and mentoring emerging women painters. Each year, 21 artists are selected from the competition to exhibit in London. Entries for the competition close on 26th June 2020 and all entrants receive a 10% discount with CassArt. The competition is open to any UK-based female artist, and work must be a painting in watercolour, oil, pastel or acrylic.
The London Group is the UK's longest-running artists' co-operative – operating since 1913 – and this will be their 85th open exhibition. They focus on encouraging artistic diversity and free-thinking in the art world. Works accepted can be of any medium, from both UK and international-based artists. Entries closed in August, and shortlisting will take place in September.

Now in its second year as an international open competition, the Wales Contemporary/Cymru Gyfoes was developed by the Waterfront Gallery in association with the Welsh Government. The competition accepts works in any medium except photography or film that is "inspired by Wales" – its history, heritage, landscape and contemporary culture. The deadline for entry is 1st September 2020.
A slightly different competition, the Postcards from the Trafalgar Way competition asks you to create an artwork based on the historic Trafalgar Way in south-west England, which runs from Falmouth to Cornwall. The competition is open to entrants of all ages, UK-wide, with 3 age categories (7 to 11 years, 12-16 years, and 17-adult) and a prize pool worth £10,000. Entries close on 1st September 2020.
The Royal Institute of Painters in Water Colours Open Exhibition is one of the longest standing UK art prizes, as it has been running for over 200 years! This competition celebrates watercolour and watermedia painting in contemporary art, with a first prize valued at £3000. The competition is open to both UK and international artists, with entries closing in January 2021.