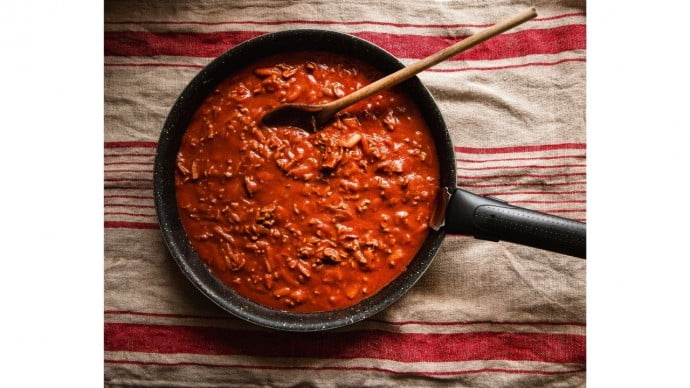 Italy's trademark pasta sauce "ragu alla bolognese" hails from Bologna. The term "ragu" is used for a meat sauce that's cooked over a low heat for many hours and is the secret for a rich meaty "Bolognese" sauce. Once cooked the ragu should be served with fresh tagliatelle. It is never, we repeat never, served with spaghetti in Bologna!
The official ingredients are a mixture of pork and beef mince, carrots, onions, celery, tomato paste, a little wine (red or white), and sometimes milk, plus seasoning. Surprisingly for Brits, Italians don't put garlic in their ragù.
Our recipe for traditional Bolognese ragu is from our local cook Livia and has been handed down through the generations in her family.
Ragu Bolognese
Ingredients
100g minced beef
100g minced pork
100g minced pancetta
1 medium size onion
2 celery stalks
1 carrot
1 glass of red wine
1 glass of milk
250g tomato paste
300ml of passata sauce
salt, pepper and olive oil
Method
Dice the onion, celery, and carrot into small cubes.
In a pan pour some extra virgin olive oil and add the vegetables to cook until they will become very soft.
Now add the minced pancetta and let it release the fat.
Now add the mixed pork and beef meat.
Let the meat cook very well then add a glass of red wine to give it a dark colour.
After the alcohol has evaporated, add the milk.
Milk is used to soften the meat and it will give the ragu a creamy consistency.
When you are able to see and taste that it is becoming creamy, you can add the tomato paste.
Add some passata sauce, to taste.
After you have mixed in the sauce, dilute it with some water.
Let the sauce cook for at least 2 hours at low heat, covered at the beginning, take off the lid only to see if the liquid is not reducing enough.
Ragu can be bottled and kept in the fridge for over a week.
You can also freeze it and it will last even longer!
Serve with tagliatelle and enjoy!
If you'd like to learn to make traditional Italian dishes, why not join one of our Italian cooking classes