All roads lead to Rome
It was a quiet Sunday morning in Siena when we met our walking guide, Beppe. The Flavours team all gathered in the lobby of our hotel ahead of our day of walking along the Via Francigena.
Our journey so far, well documented in Part 1, mainly consisted of meeting our colleagues in Italy, a bit of sightseeing and enjoying a meal or two together.
Geared up and ready to go, we walked with Beppe to Siena's city walls. A short transfer by car to join the Via Francigena and we found ourselves ready to walk along the pilgrim route.  We joined the route walking along dirt tracks surrounded by green fertile farmland, tall cypress trees, and horses.
Siena is famous for horses and its annual Palio horse race.  So precious is this tradition, the Italians turned down a request to send the famous race to Britain for the Queen's 90th birthday celebrations.  I suppose the Brits must have envisioned the race taking place in Horse Guards Parade, not quite the unique setting of Siena's Palazzo del Campo.
Roaming the Tuscan countryside on our first day
Siena slow beings to fade into the background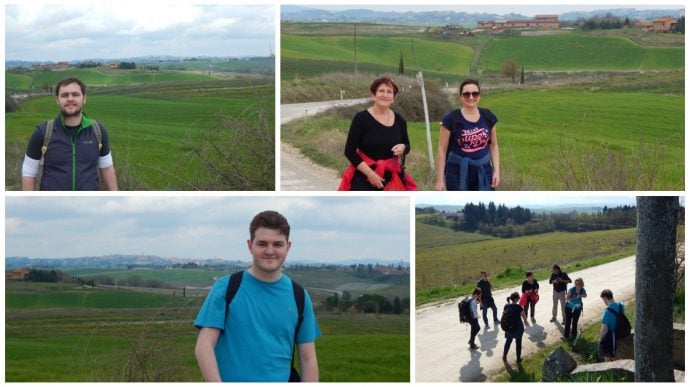 This was no race but we kept up a good walking pace while we followed the trail from marker to marker.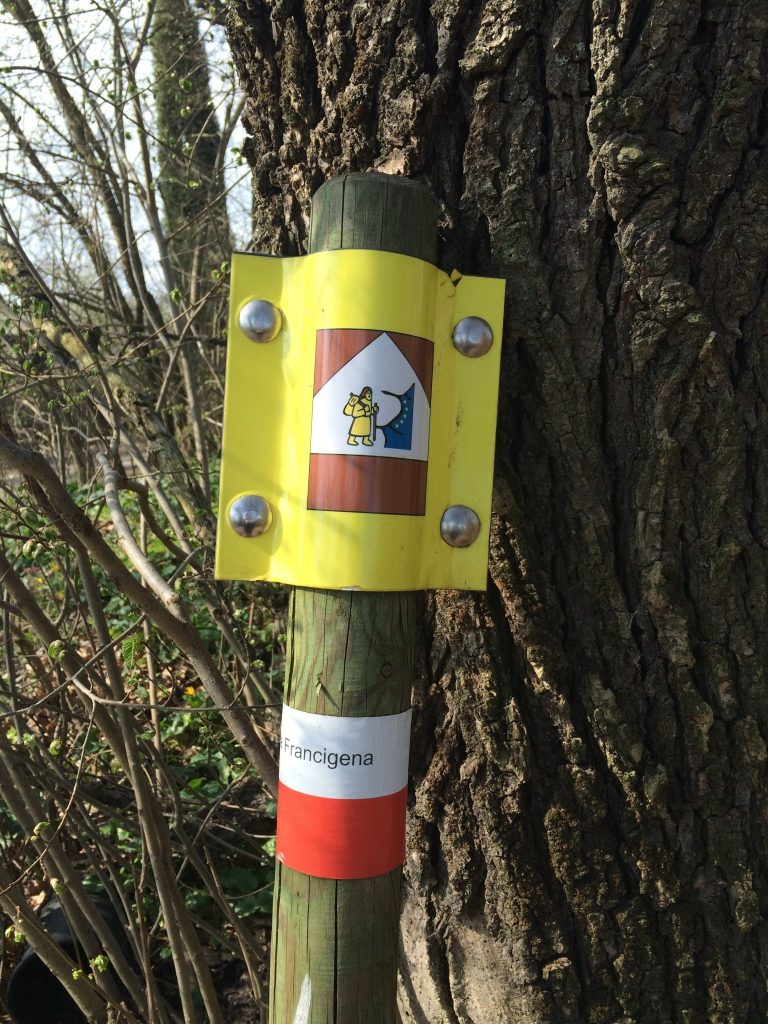 It was always reassuring to know we were going the right direction!
Time for a rest…
Although I am sure that we were burning off lots of calories, walking is a hungry business. We stopped for a picnic lunch of paninis to fill our empty bellies.  The chance to sit down for a well-earned rest was a welcome feeling.  Getting back up again was going to be difficult.  We had walked over 14 km in just a few hours.
Then, Beppe, our guide had something to announce….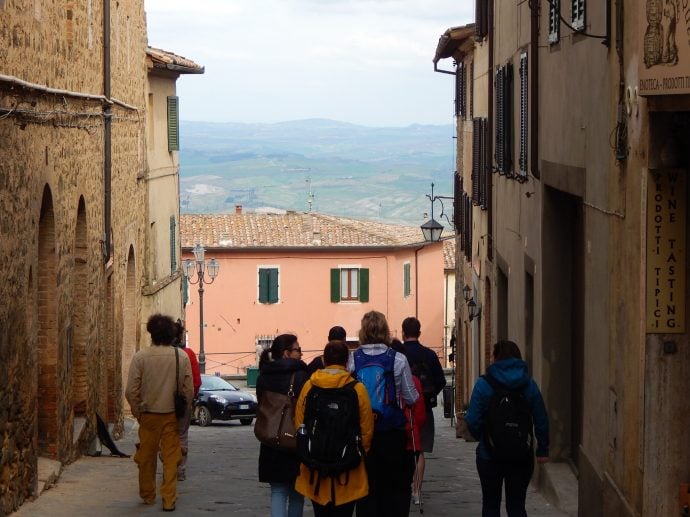 …We were stopping for the day. Instead, we could visit Montalcino.
Montalcino is a typical Tuscan hill top town and is known for its famous Brunello di Montalcino red wine. Although we didn't get to sample any of the wine, we stopped for a caffeine hit in a traditional cafe.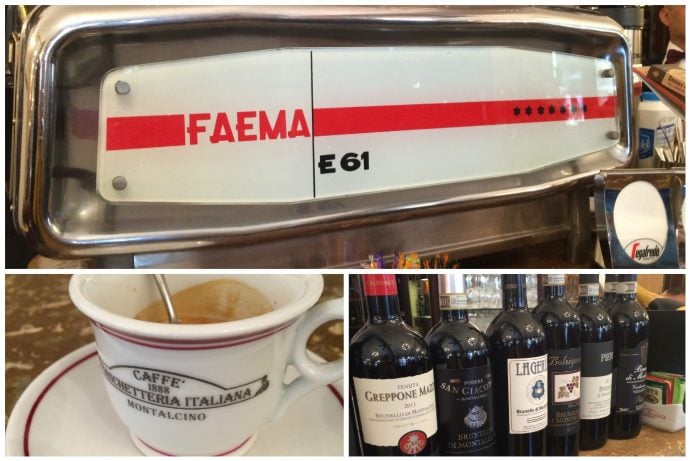 Staying at an Agriturismo
After a short drive from Montalcino, we arrived at our agriturismo Fattoria Pieve a Salti. It is situated in the heart of the Crete Senesi area of Tuscany which is breathtaking and in a stunning location.
I think we were all looking forward to some free time and a chance to relax after our long walk. We had dinner at the agriturismo. It is an active farm with horses and other livestock but the main produce of the farm is spelt. We had a presentation from the farmer's owner and we learnt a LOT about spelt. Luckily there was some Prosecco to take your mind off spelt…
Day 2: Monday
There are worst ways to start the week than setting off on a walk through the beautiful Tuscan countryside.
First, we visited the Abbey of Monte Oliveto Maggiore.  The Abbey occupies a commanding and dramatic hillside position in the Crete Senesi area of southern Tuscany. Well worth a visit if you are in southern Tuscany.
We continue our ascent through the Tuscan hills
We stopped off in the charming village of Chuisure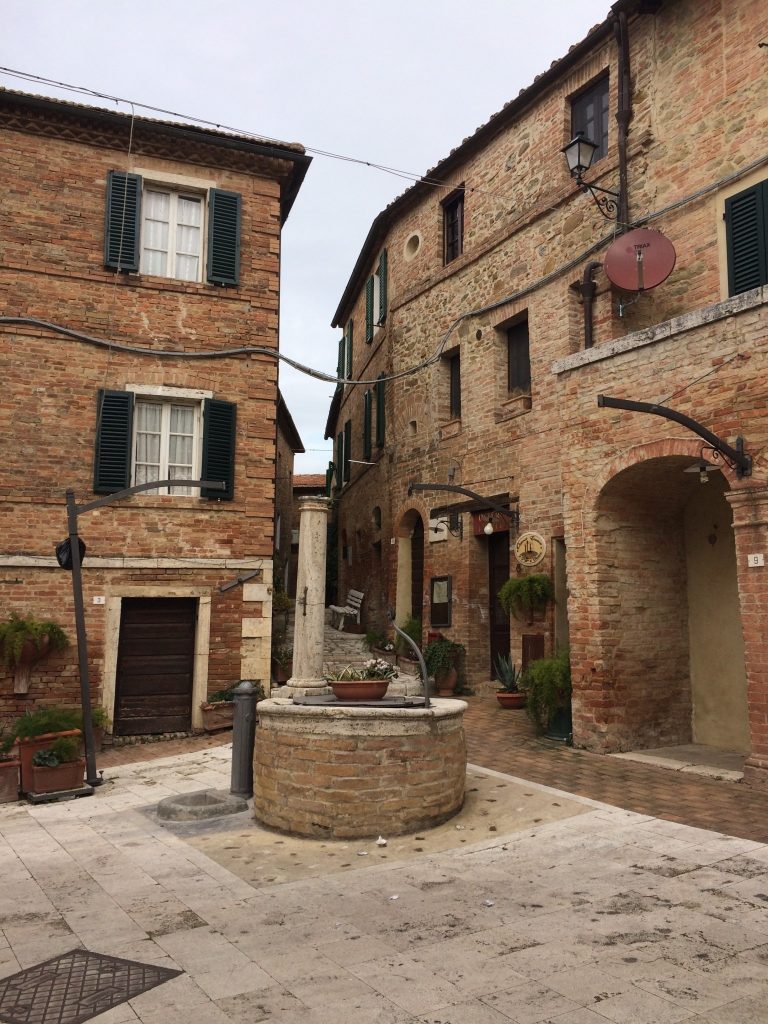 It was a bit of a hike to reach this hilltop village but it was a picture postcard with friendly locals. It would make an ideal spot for a bit of sketching or painting.
Although we had reached the top and were looking forward to the way back down, the undulating hills of Tuscany had other thoughts. The second-day walking was tougher than the first but the views were worth every aching muscle.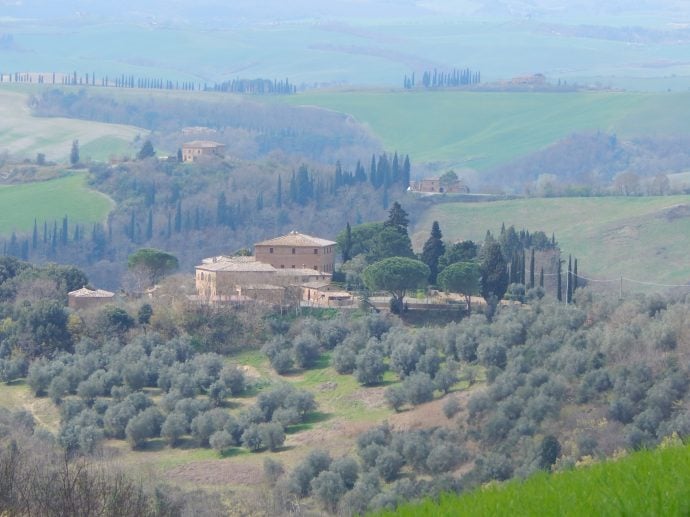 After an ALMIGHTY last hill, we finally reached the agriturismo. Over 10 km we walked and we were feeling the strain. We said good-bye to Beppe, our trusty Italian walking guide. And he left us with a brilliant idea….
…Next year it's a Vespa tour of Umbria.